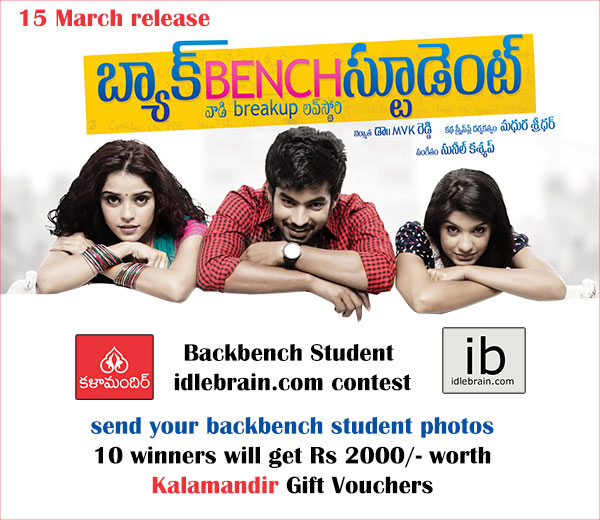 Contest period is over and results will be declared in a week (21st March)
Idlebrain.com in association with Kalamandir and Shirdi Sai Combines brings you a contest for Backbench Student film. All you have to send is your own backbench photos. If you have any photos taken by sitting in backbench of your class (can be current photos or photos from your college days), please mail us at idlebrain.contests at gmail dot com
All the qualified photos will be featured in facebook page of idlebrain.com. A total of 10 winners will be selected on two criteria. 5 winners on jury choice and 5 winners on popularity (no of likes, shares, comments and tags to right friends on that particular photo on facebook). All these 10 winners will be given a gift voucher of Rs. 2000/- each from Kalamandir. These vouchers can be redeemed in all outlets of Kalamandir across India.
The last date of the contest is 11 March 2013.
Disclaimer: idlebrain.com and Shirdi Sai combines hold the right to select the winners and nobody should dispute it.
Terms & Conditions:
1. The photos should be your own. you need to share those pix with your facebook friends once your photo is updated.
2. idlebrain.com and it's official facebook/twitter page get entitlement from you to upload those photos on facebook.