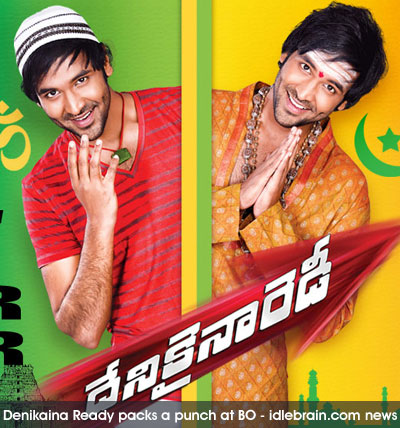 Hyderabad, India, October 26, 2012: Vishnu Manchu's most anticipated action comedy film got off on a high note with a fantastic opening backed by solid reviews, and that positive trend will continue this weekend with an addition shows in 150 new screens across Andhra Pradesh.
Denikaina Ready opened last Wednesday (24th October) in over 600 Screens in Andhra Pradesh, Karnataka and worldwide is the widest release ever for an action comedy movie in October. The movie is expected to hold extremely well and break Actor Vishnu Manchu's earlier Dhee record collections.
The movie has clearly resonated with a large portion of the movie-going population across all regions and it hopes to up Vishnu Manchu's popularity and confidence. The movie has garnered great reviews.
Vishnu's expectation is that the "Audiences will definitely turn out in much greater numbers as the weekend progress".
The movie packs a fine combination of laugh riot-kicking action and foot tapping songs that people can associate with for a fun filled weekend.
The action comedy film stars Vishnu Manchu, Hansika Motwani and the popular comic star Bramanandam, Prabhu and suman. The story is simple and so is the treatment with lot of action comedy twist because of the mistaken identities. In the process, it's a laugh riot for the audience more so when there are scenes between Bangara Raju and Suleiman/KrishnaSastry and between Bangara Raju and Sampangi Raju (MS Narayana).
The movie is produced by 24 frames factory and Dr. Mohan Babu. The music is scored by Yuvan Shankar Raja and Chakri. The film is directed by Nageswar Reddy known for his comedy films.