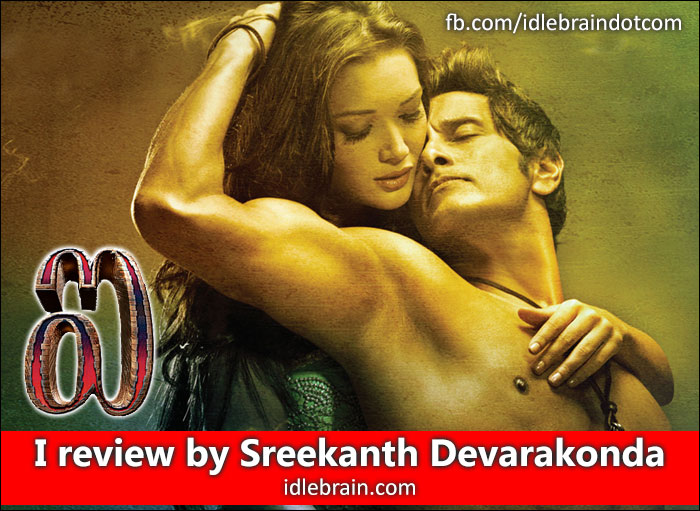 22 January 2015
Hyderabad
I watched Shankar and Vikram's "I" movie in Virginia on Saturday (January 17th) at the Regal theatres.
Shankar has been heralded as one of India's best film makers who redefined and upped the technical standards of Indian film industry with an amazing creativity, concepts and use of technology. Vikram has come to be known as the new age Kamal Hassan who gets into the skin of the role and is known for his passion for the craft. As a second film of the director/hero duo, following the blockbuster "Aparichitudu" (2005), the expectations were sky high for this movie.
Story:
Lingeshwar (Vikram) is a Mr. India aspirant and is a huge fan of Diya (Amy Jackson), a famous model. John (Upen) is a top male model and works with Diya on all major ad films. He pesters Diya to sleep with him and threatens to destroy her career if she fails to do so. Meanwhile, Lingeshwar wins Mr. Andhra and becomes a body guard for Diya. After John sabotages all of Diya's opportunities, she approaches Lingeshwar to work on an ad film in China.
To make Lingeshwar comfortable during the shoot and at the advice of her director, Diya tells him that she is in love with him. After a few misunderstandings, Lingeshwar and Diya fall in love. They become the leading model pair and their marriage date is set.
One day, Lingeshwar observes changes to his body. He starts losing his hair, teeth and develops ugly boils all over his body. He loses his charm and becomes a disfigured guy. How the hero finds out the truth and nails down his enemies is the rest of the story…
Thumbs up
Vikram is simply brilliant. He deserves a huge applause for his commitment and dedication. His look changes from a body builder, model, lean and waning individual suffering from a virus attack and finally a hunchback. He also appears as a werewolf in a song. He suited each and every look to the T. As an actor, Vikram, who has already garnered name and fame as one of the most natural and talented actors of India, will only reiterate the fact all over again with his unbelievable dedication evident in each and every frame of the movie.
Amy Jackson is smoking hot and extremely glamorous in the movie. Her onscreen chemistry with Vikram is worth watching.
This is an extremely unique story treatment where the hero's introduction shot is that of a hunchback with a totally disfigured face and body. "I" is a typical revenge story but told in an innovative way by Shankar.
The production and technical standards are just brilliant.
Song picturization is very rich and conceptual. I especially liked the canvas, locales and shots for all the songs.
Nuvvunte Naa Jathagaa song has the lead pair as a werewolf and angel (inspired from beauty and the beast).
Ladiyo Video (Amy's model intro song) where she is seen modelling for various brands. Very richly shot in the background of well-known brands.
Poolane Kunukemayamanta (love duet b/w the lead pair) has haunting vocals and background scores. Very beautifully captured by PC Sreeram.
Pareshanayya has Vikram enjoying his moments of falling in love. A very novel and concept oriented song, it has bikes, weight lifting equipment and TV changing into the heroine.
Aila aila is another richly picturized song with many colorful props. The song showcases the rise of the hero and heroine in the ad world.
Thumbs down
The fight sequences are a bit long.
Second half is predictable and lacks elements of surprise/thrill with the exception of Suresh Gopi's character.

Nativity issues: This film is bound to suffer from nativity issues especially with regard to Indian audience from B/C centers.
In one the songs, the lead pair appear as a werewolf and an angel. Basically, the heroine is an angel (beauty) while the hero is a disfigured guy (beast). The song is about the pain the hero faces that he is distanced to his sweetheart.
In another episode, when the transgender stylist cries at the rejection of love proposal by the hero, the audience reaction seemed to be more of an awkward feeling than a feeling of sympathy for the character. I could not help but wonder why the character could not have been a "normal" girl.
The revenge thread was intelligently narrated. However the aftermath appearances of villains will certainly make Indian audience squirm. In the US, where the society follows cartoon & fictional characters, it is easier to relate strange looking characters. For instance, after being burnt, one of the villains looks like Mr. Mucus from ad film for the Mucinex (a cold medicine in the US). However, audience from India may not relate so easily to odd appearances.
"I" certainly has its moments. It is certainly not the best movie of Shankar or Vikram. It does not have the universal appeal of their previous outing either. Despite its shortcomings, "I" is watchable for Vikram and his unbelievable dedication, rich production/technical values and Shankar's directorial sparkles (at times) in this magnum opus.
Sreekanth Devarakonda
[email protected]