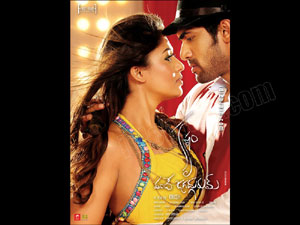 Hyderabad, India, November 30, 2012: The audience reactions are fantastic, with a large proportion of them wanting to see it again. The review of the movie is out on net already and the ratings are extremely good and positive. Theater owners world wide are elated. Rana's Krishnam Vande Jagadgurm which opened today is a sellout.
KVJ the most awaited movie of the week opened worldwide in 1000 screens today. Trade experts say we might see another Magadheera magic in screens.
KVJ is Rana's 6th film and the director Krish's 4rd film. The expectations were high ever since the promos and theatrical trailers were out since the last one month.
KVJ is an out and out family entertainer with thrilling action sequences by renowned action choreographer Fepsi Vijayan combined with a beautiful love story. Rana Daggubati and Nayantara are in the lead roles. The director of Krishnum Vande Jagadgurum, Krish said that this will be the milestone in Rana's career.
The music of the film also contributed immensely to raise the expectations level along with the breathless dialogues by Rana Daggubati penned by Sai Madhav Burra's dialogues backed by Dr. SPB and Shreya Ghoshal's enchanting voice. In the film superstar Venkatesh makes a very entertaining cameo appearance in the 'Sayyandri Nanu' song alongside Sameera Reddy.
Talking to Vijay who pulled his friend Kiran along with him for the first day first show in Cinemax said Rana Daggubati rocks, with his stunning fights and amazing dialogue delivery. Kiran is his new fan.
Sunitha a diehard fan of Venkatesh who watched the film with her family was equally enthralled to see Rana's performance and they enjoyed their favorite superstar Venkatesh in the cameo song where both uncle and nephew jived fabulously together.
The trade pundits say Krishnum Vande Jagadgurum has great potential to break records.