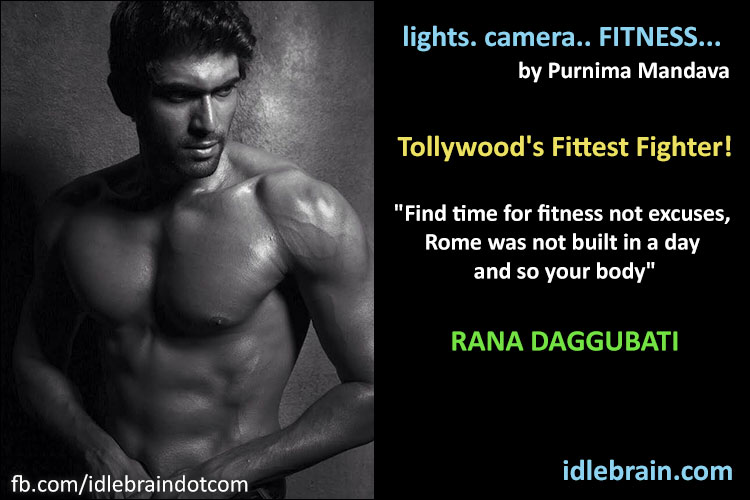 28 July 2014
Hyderabad
Introduction
Hola people! Want to learn how top celebrities maintain those hot bodies, healthy lives and young looking skins, here we come with the extensive list of celebrity workout routines and diet tricks. Yes, they crave junk foods, struggle to take off baby weight and even -- cellulite.. gasp! How do they still look young and sizzling on screen. Here's how! Get set to savour the latest trends in celebrity fitness, diet, health and lifestyle.
Shoulder boulders and fab abs! Rana Daggubati! One of the most ruggedly handsome actors of the film industry who stands at 6ft 3inches with uniquely broad shoulders at 48inches. No wonder he had been paired opposite, Bipasha, one of the tall & fit women of Bollywood in his debut movie from there. In an exclusive fitness chat, our happy and happening Rana not only divulges his workout secrets and diet regime to attain a chiseled body, but this towering hunk gets candid about his specific training regimes for his upcoming movies Baahubali and Rudramadevi. As I file this story, I think about all the talks we had and two common remembrances from everywhere; One is his genuine smile while he fun chats about his favourite food indulgences and few of his preferred places to eat in the city and the other is his common sense approach towards how he trains.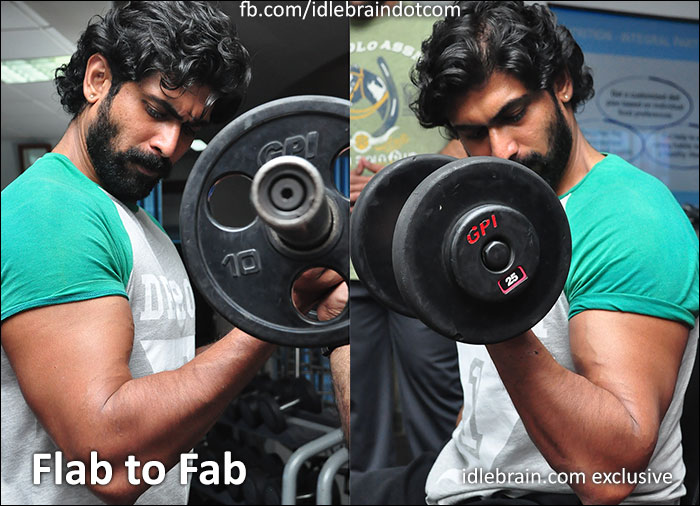 Flab to Fab
So Folks! Let's begin with how Rana began to get fit. If you all think Rana had been a fit guy and all he had to do was a bit of beefing up his already sculpted body, I'm afraid to say that you are mistaken and yes, hold your breathe before you read further! There was a time when the actor weighed 110 kilos and he had expertise in random things related to the film industry except for acting. Rana, as an entrepreneur, had a sedentary lifestyle owing to his odd working hours and just like many of us hyderabadi's, midnight biryani was his food too. He had a paunch and bingo wings weren't an exception. Perhaps, the people closest to him dint really think he would sport such a hot bod today, although destiny dictated otherwise. How did Rana drop all the extra weight to light up the big screen with his debut movie 'Leader?! Well, there's a lot of varied activity which helped in his weight loss & got him fit. "I've been through an intense and a regular physical training that involved boxing, martial arts, dance classes and pumping iron in the gym for five days a week along with a systematic diet plan for six days a week" reveals the actor. "This was a period in which I've discovered a lot of things about my body, things like what food works for me and what doesn't, for instance I've realised that fish sits well in my stomach and serves better for my protein intake than any other meat" adds Rana.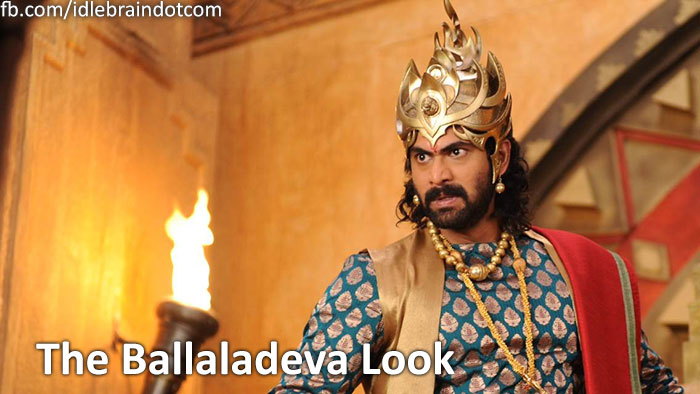 The Ballaladeva Look
To sport a fighting machine look in Baahubali, a period film from 8th century AD, Rana Daggubati worked out hard to build mega muscles with his broad frame being an added asset. Rana, now looks like the exemplary warrior of the olden days. Before we move on to explore his workout and diet plans, I shall share an interesting revelation by the actor. Fondly remembering the happenings of the shoot, Rana spoke about how they pump up the bodies just before going for an action shot, isn't it funny to imagine our stars doing random things like push ups on the spot, climbing the ropes, pull ups or lifting free weights, how do these stars manage, especially if it's an outdoor shoot?! Sporting a look like Ballaladeva which literally means, 'a man with weapons' needs him to look like an epitome of manliness, so there you go! Rana's trainer Dinesh, a well known trainer in town, shares with us the macho man's workout routine.
Workout Routine
Workout Routine

Monday

Chest, Triceps, Abs

Tuesday

Back, Biceps, Abs

Wednesday

Shoulder, Cardio

Thursday

Biceps, Triceps, Abs

Friday

Legs

Saturday

Cardio, Abs
"Rana likes going for conventional hardcore bodybuilding workouts, he doesn't go with the trending style of 12 or 15 reps or increasing or decreasing reps through the sets, Suppose it's a dumbbell bicep curl workout, he does all three sets to failure,that's until he feels the burn in the muscle. Rana does basic variations but they account to heavy duty workouts as all the sets he does are until failure. He is so passionate about his workout, there were times when he just landed at the airport and has come to gym straight away. Timings are irregular during shoots but he doesn't compromise on workouts, I've seen him workout late nights at the hotels where he stayed", recalls Dinesh.
And yeah, action sequences which involve horse riding and sword fighting require a lot of flexibility and also the body needs to have a quick reaction speed or agility as they call it. Having said that friends!I would say it requires a super human effort, a beefed up body doesn't support flexibility or agility (think about a body builder you know, have you noticed them jut their arms out and specially after a leg workout, you can see them walk weird)he ensures that he is striking a balance among all these by combining cardio and anerobic workouts along with good amount of strength training and stretching.Further,a great deal of core muscle strengthening goes into Rana's regime. Horse riding requires a warm-up session which involves more of lower limbs and back stretching. Sword fights or any action scenes involve warm up before every fight and warm down after that. Though Rana is donning the role of Chalukya Veerabhadra, a warriors role in Rudramadevi, he is made to look leaner than he is seen in Baahubali. Since Rana is into lifing tremendously heavy weights, he ensures that he is doing it under his trainer's assistance.
Diet Plan
This is the general diet followed by Rana since 1 year for Baahubali.
Meal 1- Two scoops of whey protein; Two bananas
Meal 2- Two cups of cooked oats; 8 scrambled eggs (6 whites and 2 whole)
Meal 3- One bowl of white rice; 200gm grilled fish; Veg salad
Meal 4- One bowl of quinoa rice; 200gm chicken(breast pieces); Veg salad
Meal 5- Roasted chicken breast, Brown bread sandwich ( extra meat and low fat sauces .No cheese, no mayonnaise)
Meal 6- Two scoops of whey. Two table spoons peanut butter. One Fruit of his choice
Meal 7- One bowl brown of rice. 200gma grilled fish. Veg salad with vinaigrette sauce dressing
This meal plan was specific to Baahubali. Since Rana's metabolism is very high, he needs frequent meals. If not for this movie he generally goes for medium carbs and high protein diet to stay lean. "Rana had been on this diet for one whole year without cheating on his meal plans and it's definetely not easy to eat same food everyday for one year" acclaims, the proud trainer.
Since last three months he is off this diet and cut down on carbs in the night to get lean for other roles. Wow! The actor keeps changing his routines according to his professional goals. From Aug 1st until the December 2014 Rana would be going back to his older routine.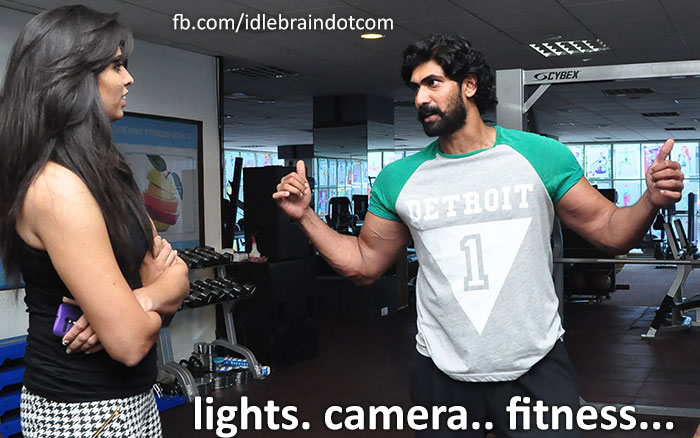 On asking about his cheat diet, the actor tee-heed and within a wink's time expressed his love for the mouth watering haleem, hyderabadi biryani . Few of this hyderabadi ladka's favourite foods from the old city happen to be 'Talawa Gosht', 'Chicken Afghani', 'Chicken Pakistani' from Shadab and Haleem from Pista house. Shadab is not like every other restaurant if you are a hyderabadi, even if you are not it makes you fall in love with old city. Rana has his meat tooth for few more delicacies from the restaurants like Aadaab. Rana confesses that if he is cheating on his food, it wouldn't be a single cheat food but a cheat food day, specially because it's Ramzan month.
So, Ladies and gentlemen! If you wanna treat your eyes, watch out for this tollywood's most massively built hunk in his upcoming magnum opus and I bet! You would all break into whistles!
by Purnima Mandava
About the author - Purnima Mandava:
The writer is a celebrity and corporate health & fitness coach by profession. She is a research scholar on nutrition from UCLA. Purnima is an International Athlete, a National level Basketball player and Volleyball player by passion, also a fitness writer by hobby.
Reach her at [email protected]