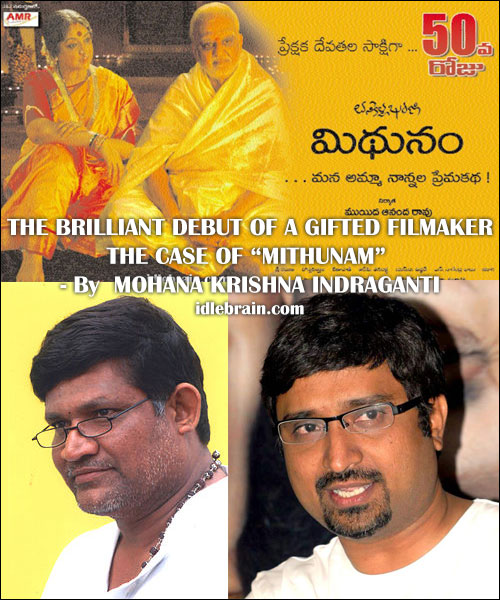 MITHUNAM is a wake up call for Telugu Cinema. For a film industry and culture that is mired in stock narratives, stock dialogues, stock songs and stock fights, here is a film that emphatically asserts that the much-needed bond between literature and cinema is not dead yet. The ace writer and actor Tanikella Bharani resoundingly announces his arrival as a filmmaker with a film that captures human emotion and the beauty of life with immense elegance, poetic flair and uncompromising artistry.
Many people have a wrong notion about literary adaptation. They think it's all about keeping the story in front of you and just shooting it! The truth is quite the opposite. Literature, although it's a great source of material for films, presents more problems and challenges than writing original screenplays. Especially when you adapt works that have cemented their places in the literary and popular world as classics. From that point of view, the decision to adapt MITHUNAM is indeed a daring one. It requires a lot of courage to choose a highly acclaimed work of literature that has already found massive readership and great critical acclaim. However, the decision to choose MITHUNAM is bold not just for this one reason. MITHUNAM's very difficult structure and tone throw enormous challenges at you from a filmmaking point of view. It really required a truly gifted and imaginative filmmaker to handle this story. Tanikella Bharani, needless to say, is the man.
At an external level, MITHUNAM is just a story of an old couple living in a secluded house in a village. Their children live abroad and talk to them occasionally on phone (as is the case with a lot of old couples nowadays) and so they have only each other to share everything--- their joys, their sorrows, food, time and, most importantly, their love. It is a daunting task to structure a two-hour long film revolving around only two characters but Bharani displays supreme confidence and command over the medium. The original story, which is quite episodic, is turned skillfully into a smooth cinematic narrative. Bharani adds his own variety of fragrant seasoning to this tasty dish by using animation, All India Radio music and voice-overs to create a visual and aural ambience that is at once immediate and replete with great emotion. The seemingly routine life of this couple is turned into a sparkling saga of true romance, gentle humour and vibrant humanity.
The performances of both S P Balasubramanyam and Lakshmi—both artists of great experience and understanding are absolutely surprising and deeply affecting. I had my own doubts about the suitability of SPB for the male lead (as the lead in the story is depicted as a much older man with a reed-like body— an image made more memorable by the visualization of the unparalleled artist Bapu) but his sincerity and effortlessness have driven away that doubt instantly. Lakshmi too is younger than the character in the story (both in Bapu's image and I am sure in most readers' imagination) but her charm and her ability to seamlessly move from one emotional terrain to another is truly a treat to watch. Her soliloquy after the husband's death is the most difficult scene in the film and could have easily slipped into morbid sentimentality if not for the sheer emotional instinct and acting prowess of this much under-utilized actress.
Everything in this film is used perfectly. The background score and song compositions by Veenapani have blended smoothly into the narrative and complimented the tone of the film beautifully. The photography by Tanikella Rajendra Prasad is both poetic and austere--- a difficult combination but an absolute must for a film like this. The costume and production designs are authentic without drawing attention to themselves. Everyone seems to have put his/her heart and soul into this gem of a film.
It is absolutely fantastic that a film like this (which is foolishly branded as an art film by a lot of people) has run for full fifty days in a single theatre without the kind of hype and hoopla associated with our so-called 'star' vehicles. It just proves that there are audiences for this kind of films. The enormous corruption of minds that is going on these days due to excessive exposure to meaningless violence and perverse sexuality needs fitting and resounding answers in the form of true works of cinematic art like MITHUNAM. Despite all the calculations people make about 'class' and 'mass' films and the film industry continuing to make its formula 'entertainers' in the name of giving 'relaxation to the tired masses (which unfortunately most people watch for the sheer lack of choice), it is films like MITHUNAM that prove that true relief and relaxation comes from seeing 'true' life and 'experiencing' true emotion and 'feeling' true feelings. The challenge is to make more such films and finding screens to take them to the audience. The urgent need is to rescue our Telugu cinema from the trappings of meaningless commerciality and lifting it to the level of healthy, meaningful and productively provocative entertainment. MITHUNAM sets the basic benchmark for the efforts filmmakers have to make to fulfill that need.