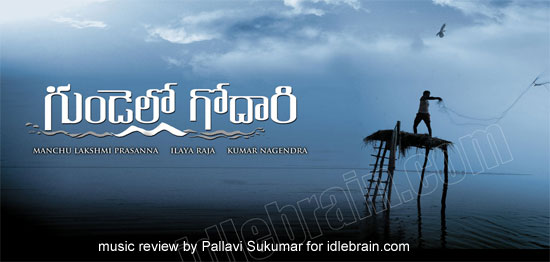 Being a maestro Magic of Ilayaraja is not seen in the recent telugu albums (which he did rarely), but this album, Gundello godari, cuts across such hindrances and comes as a decent album.
Aa Veedhi Kurrrodu is a good song sung by Ramya with good acoustic and simple rhythms, but comes as a good mass number, probably an item number. This has a beautiful tune, which sure will attract more mass pulse. Ramu has written catchy lyrics for the song.
Ekkadundi Naa Kodi is a good folk song sung by Mano and Anitha. Ananth Sriram has written good lyrics for the song and the highlight will be Mano's voice and the way he rendered this composition.
Then comes the best song of the album 'Gundello Godari' sung by the maestro himself. His voice has a sweet tenure, but in my personal opinion, this song would have been more exciting if S.P.B sang it. But still this is a beautiful number and which makes you go back to it and listen again and again. Chandrabose has written the lyrics and the hailessa chourus is a nice blend which gave a beautiful stream to the song. This is my most favourite song in the album.
'Vechani Vayasundi' is one more folk song which is adapted from an old song of Ilayraja sung by Gettha madhuri and written by Ramu. This song has simple instruments and Geetha madhuri's rendering is very nice.
'Jillumandi' comes next as a pleasant love song sung by Andrea Jeremiah and Hemachandra written by Ananth Sriram. Again, the voice of Andrea is amazing and has a good steam in it.
'Raathri' is a tamil song written by Palani Bharathi and sung by Sri Vardhini. Though many don't understand the lyrics, the music is great and shows one need not to know the meaning of a song to enjoy it.
'Nenu Nitho' is a beautiful melody sung by Ilayaraja's daughter Bhavatarini and written by Anath Sriram, which deals with beautiful inner feeling of the loved ones.

The title track 'Gundello Godari', 'Vechani Vayasundira' and 'Aa Veedhi Kurrodu' are good to listen and hummable songs. Few of the songs of this album are adapted from the original songs from Ilayaraja's old tamil tunes, but I bet you wouldn't complain on that. This album consists of several folk style songs and a minimalist arrangement, a sound we rarely get to hear these days.
Final verdict: Though this is a good album, as a huge fan of Maestro, I expect even a lot more from him a he is the God of music and can deliver greater albums.