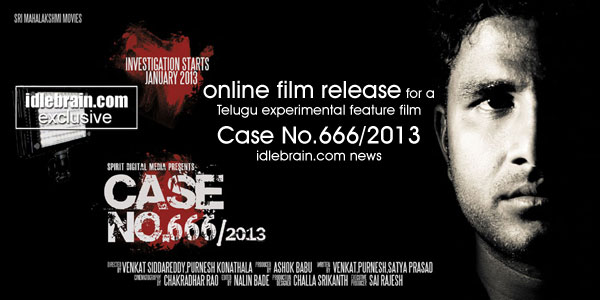 About the Film:
A film is an expression of a director. It is an experience of looking at story from the director's point of view. In any such films the characters enact the instructions of the director and every movement of the film is controlled by the director. In contrast to that, what if the characters show you the film in their perspective. What if each character holds a camera and you get to see the story from each of those characters' point of view? It results in a unique experience; an experience of not just watching a film but being a part of it.
"Case No. 666/2013" is the first Telugu Film ever made in "Found Footage" genre in its 80 years span.Found footage is a genre of film making, especially horror, in which all or a substantial part of a film is presented as discovered film or video recordings, often left behind by missing or dead protagonists. The very nature of film making in this genre gives a unique feeling and impression to the audience.
Story :Three buddies Bhaskar, Chaitanya and Durga along with a stranger, venture into a forest and stay in a haunted guest house.They carry two cameras through which they start recording interesting and mysterious happenings. As the mystery unfolds, the friends go missing one after the other. After six months of their disappearance, police investigate the case and recover three memory cards from their cameras which reveal a shocking truth. All these footages from the memory cards form the content of this film.
Cast: Charan Tej, Aditya, Nanda Kishore, Guru Charan, Anurag, Nikitha , Ashwini.
Crew: Director: Venkat Siddareddy, Purnesh Konathala. Producer: K Ashok Kumar, K Ravindra Babu, K Usha Rani. Cinematography: Chakradhar Rao. Writer: Venkat,Purnesh,Satya Prasad. Digital Edit: Nalin Bade. Sound Design: Ethiraj Sound Mix : Shyamal.
Produced by: Sri Mahaalakshmi Movies
Presented by: Spirit Digital Media
Date of Release: 26th Jan 2013
Online for NRI audience through zingreel.com
The link for booking the tickets is http://zingreel.com/movie_detail.php?id=6&type=2
.