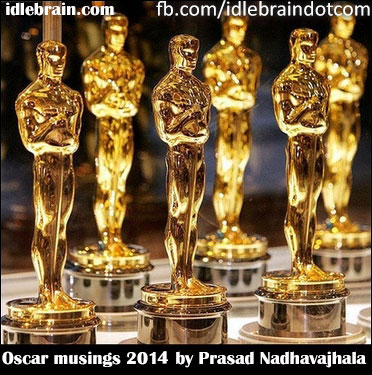 1 March 2014
San Francisco
They may not win in their respective categories but 2013 will be remembered as the year of "Gravity" and the director David O. Russell. 'Gravity' stunned the audience with its grand visual tale of the isolated human survival in space and took 3-D film-making to another level. This film is expected to sweep the awards on Sunday's Oscar night in Los Angeles. David Russell created a record of sorts with "American Hustle" by delivering another film with top five Academy nominations (Best film and all acting nods) in a row after 2012's "Silver Linings Playbook". No wonder he is the most-sought-after man in tinsel town for A-list actors to get some Oscar shine.
Race for 'Best Original Screenplay' is between Spike Jonze's sci-fi romantic drama "Her" and David O. Russell's 1970s crime caper drama"American Hustle" – both were produced by Annapurna's Megan Ellison (daughter of Oracle boss Larry Ellison). It is a virtual tie but I would take sides with Russell who penned the best movie line of the year – 'You're nothing to me until you're everything' (Amy Adams to her married lover Christian Bale in "American Hustle")!
'Best Supporting Actress' nominees include 84-year old June Squibb ("Nebraska"), last year's 'Best Actress' winner Jennifer Lawrence ("American Hustle") and a black newcomer Lupita Nyong'o ("12 Years a Slave"). Lupita Nyong'o made debut into movies right after finishing her film course at Yale and is a strong contender with her very first film. But the trophy may go to JLaw who gave a mind-blowing performance as a neurotic wife. In case if she is announced as the winner, expect some drama and jokes in Dolby theatre when she goes up the stage to receive the award. Bradley Cooper and Hugh Jackman will be anyway ready to rush to the stage to rescue her in case if she trips again!
Newcomer Barkhad Abdi had a cinderalla run this year from driving cabs in Minneapolis to Academy nomination in "Captain Phillips". Jonah Hill acted for free in "The Wolf of Wall Street" just to add Martin Scorcese to his acting resume and got a bonus with Oscar nomination. But 'Best Supporting Actor' award is Jared Lato's who returned to the screen after six years with a striking portrayal as a transgender AIDS patient in "Dallas Buying Club".
Amy Adams will one day surpass Meyl Streep's long list of Academy nominations. "American Hustle" is her fifth nomination but she never won an Oscar so far. In another year, 'Best Actress' trophy would have been hers as a con artist in "American Hustle". But it is already a lock for Cate Blanchett in Woody Allen's "Blue Jasmine". Blanchett gave a riveting performance as a delusional socialite melting down in the wake of the financial ruin of her husband. There was a recent spate of media stories on Woody Allen's past scandals to disgrace his work but all that propaganda is not going to stop this Australian actress from getting her first 'Best Actress' Oscar.
There was a global riot in 1998 when Leonardo DiCaprio was not included in 14 Academy nominations of "Titanic". But the actor returned to Oscars later with 'Best Actor' nominations in "The Aviator" and "Blood Diamond". Will he be third-time lucky with "The wolf of Wall Street" and finally end his drought? His Oscar campaign this year is unexpectedly facing rough weather from rom-com guru Matthew McConaughey. Ladies' man McConaughey shocked everyone by losing 40 pounds in "Dallas Buyers Club" and delivering an unbelievable performance as an AIDS patient in a total shift from his lover boy image. Academy adores this kind of transformation stories and will crown him as 'Best Actor' on Sunday night.
Though he has serious competition from Steve McQueen ("12 Years a Slave") and David O. Russell ("American Hustle"), Mexican director Alfonso Cuarón will glide away with 'Best Director' trophy for his innovative approach to film-making in "Gravity". Right from the jaw-dropping 13-minute opening scene to transporting the audience to a different world for 91 minutes, he crafted a space nightmare that will be the text book for future directors.
'Best Film' award should always go to the film directed by 'Best Director'. But the Academy is separating the two to reward equally-deserving movies. Further, 'Best Film' was never given to a Sci-fi film so far. With these odds against it, "Gravity" may lose 'Best Film of 2013' award to "12 Years a Slave". "12 Years a Slave", based on 1853 memoir by Solomon Northup, was a blistering portrait of slavery in the Southern antebellum plantations of pre-Civil War era. Many have complained that the film was too difficult to watch because of unbearable suffering and horror but the director Steve McQueen's visual masterpiece truly deserves the highest honor for its brutal honesty.
My predictions for Oscar night:
Best Picture: "12 Years a Slave"
Best Director: Alfonso Cuarón ("Gravity")
Best Actor: Matthew McConaughey ("Dallas Buyers Club")
Best Actress: Cate Blanchett ("Blue Jasmine")
Best Supporting Actor: Jared Leto ("Dallas Buyers Club")
Best Supporting Actress: Jennifer Lawrence ("American Hustle")
Best Original Screenplay: "American Hustle"
Best Adapted Screenplay: "12 Years a Slave"
Best Animated Feature: "Frozen"
Best Editing: "Gravity"
Best Cinematography: Emmanuel Lubezki ("Gravity")
Best Original Score: "Gravity"
Best Original Song: Let it go ("Frozen")
Best Costume Design: "The Great Gatsby"
Best Makeup & Hairstyling: "Dallas Buyers Club"
Best Production Design: "12 Years a Slave"
Best Visual Effects: "Gravity"
Best Sound Editing: "Gravity"
Best Sound Mixing: "Gravity"
Best Foreign-Language Film: "The Great Beauty"
Best Documentary: "20 Feet from Stardom"

Prasad Nadhavajhala can be contacted at [email protected]
Past articles:
Oscar musings 2013
Oscar musings 2012
Oscar musings 2011
Oscar musings 2010
Oscar musings 2009