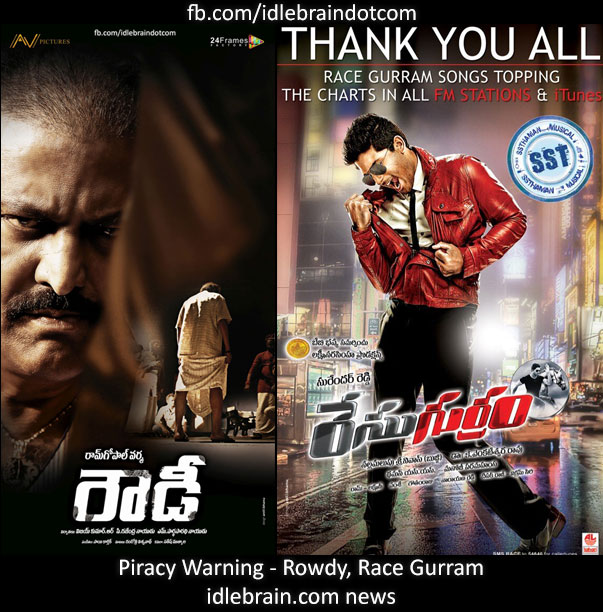 3 April 2014
Hyderabad
This is to inform you that the Anti Video Piracy Cell of A.P.Film Chamber Of Commerce holds the Copyrights for all the Telugu movies. "Rowdy" & "Race Gurram" will be released on 4th & 11th April respectively. If any individual / website are involved in posting full Telugu movies or a part of a movie in any torrent site, Forum, YouTube, Blog, linking or Host site is a crime & will be booked in Copyright Act & Information Technology Act.
Till now more than 185 infringing websites (Torrents, Forums, Blogs, Linking sites) has been seized/ shutdown & 74 operators (Uploaders, administrators, moderators, online & physical pirates, Camcorders) where arrested in Hyderabad, Vijayawada, Bangalore, Chennai, Nellore, Tirupati, Guntur, Eluru, Khammam, Warangal, Ananthapur, Vizag, Surat, Indore, Mumbai, Ahmadabad, Singapore, Malaysia, US, UK etc. . .
We are regularly monitoring all the infringing websites, uploader, moderators activity, if anyone posts any Telugu full or part of a movie further will be taken in to custody & strictly prosecuted. Sharing, downloading or posting an infringing movie links in YouTube, Facebook etc.. is also an offense.
Don't encourage piracy save our Industry. Please spread this message to control piracy.
Report Piracy:
Phone: 9000 40 10 20
email: [email protected]