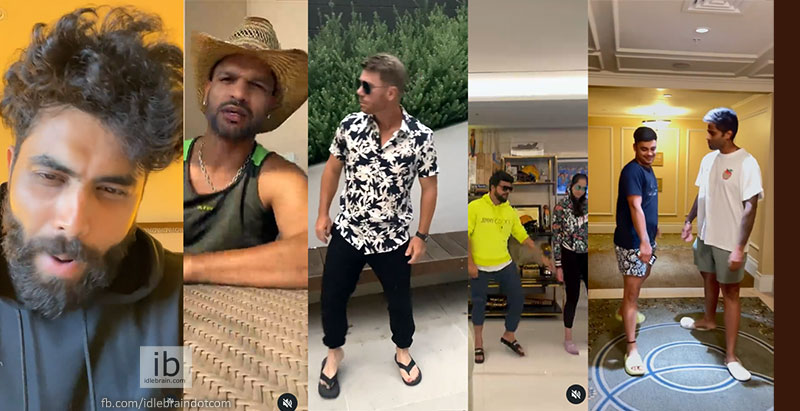 24 January 2022
Hyderabad

Pushpa proved to be fire. Besides setting the box office on fire, reels on Pushpa have taken the internet by storm. The film has been receiving praises from all over and recently, cricketers from our Indian cricket team, and others too have been going gaga over the film. Many of them even made reels with the iconic Pushpa dance step and 'Thaggedhe Le' dialogue.
Cricketers Ravindra Jadeja and Shikhar Dhawan made reels on turning Pushpa Raj and they took to social media to share the same. Allu Arjun, who is quite active on social media, saw Jadeja and Dhawan's performances and reacted to the same.
Ravindra Jadeja took to social media to share a still from his new photo shoot. He was so impressed by Allu Arjun's Pushpa and hence, he tried to recreate the same in his latest photo shoot. He wrote, "Pushpa ante Flower anukunnava? Fireuuuu. Swipe right for the surprise. P.S - This is just for graphical representation only. Cigarette, beedi and tobacco consumption are injurious to health. It causes cancer. Do not consume it (sic)." Replying to Jadeja, Allu Arjun wrote, "Thaggede Le (sic)," which is a punch dialogue from the film.
Shikhar Dhawan was also bowled over by Pushpa. He took to Instagram to share a video in which he can be seen lip-syncing a famous dialogue from the film. Sharing the video, he wrote, "Gabbar Pushpa (sic)."
David Warner, who an ardent user of social media, and follows a lot of our Telugu stars, has once again, won our hearts with his reel on our beloved Pushpa. This time around, Warner was seen shaking his leg to the tunes of Pushpa's song Srivalli and the video also garnered response from Allu Arjun himself. Arjun left a comment on Warner's as he used several laughing and fire emoticons.
Star cricketers, Ishan Kishan and Surya Kumar Yadav were also caught dancing to the Srivalli song from Pushpa: The Rise.
Two days ago, Suresh Raina performed a reel for Pushpa's iconic move with a couple of others and he did this right from the comfort of his come. Raina posted a clip of him dancing to the number and said, "I couldn't stop but try this myself." (sic)
Well, all these videos prove that Pushpa fever is still on, and will stay so. Many Bollywood actors are also all praises for Puhspa for the terrific performance by Allu Arjun. Once again, the Telugu film industry has proved that making films which can become pan Indian hits aren't a big deal for us.