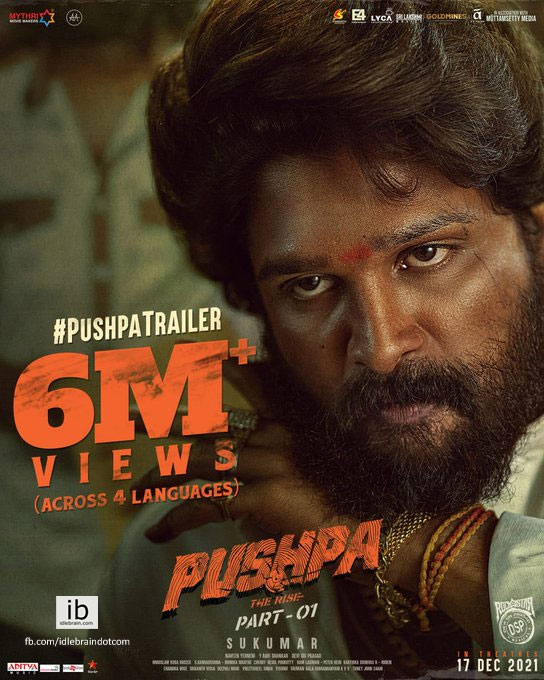 6 December 2021
Hyderabad

The trailer of Pushpa was released on the night of 6 December. It gives a taste of what you expect from the film. It's content is raw, intense and rustic. Yet, it's engaging and entertaining. Allu Arjun has a separate mass body language and local dialect for his character. It's matched by Rashmika Mandanna who also looks rustic with the local dialect. The best makeover is done for Sunil who looks really lethal. Each and every actor has gone through a transformation. And their makeovers are perfect. Though they look different, each of the actors look natural. Sukumar seems to have done a lot of homework in designing characters in a way we appreciate them. Sukumar's brand is evident the way scenes are written. Camera work is great. Production design matches the genre. The production values by Mythri Moviemakers are gigantic.
Here is the flow of the trailer -
The trailer starts with the voice over of character artist Ajay Ghosh equating red sandalwood to gold for Nallamalla forest area. The voiceover is followed up with the rugged looking Pushpa Raj (Allu Arjun) smuggling red sandalwood. Pushpa Raj's self-elevation as boss while physically tortured by police is good. This scene is followed by the love thread between Pushpa Raj and Srivalli. Rakshmika Mandanna matches Pushpa Raj in looks and mannerisms. The love thread is followed by a voiceover of Sunil who looks lethal and talks with a different tone. Meanwhile you get a few flashes of Anasuya, Dhanujay, Ajay and Ajay Ghosh. Anasuya hovering over a man with a blade between her teeth can only be noticed if you pause at 1:26 minutes. She looks deadly. The dialogue 'evadi yuddam vadide' signifies the mindset of Pushpa Raj. He thinks he is doing a war against police and terms it as the battle of axes and guns. After a few glimpses of scenes in a raising tempo, there comes the ultimate dialogue of the trailer 'Pushpa ante flower anukuntivaa, fairuuuu'. In the final frame, the face of a cop played by Fahadh Faasil is revealed. He asked 'Party Ledha Puspa'.
Devi Sri Prasad comes up with a great background score. Most of the trailer is filled with action elements with some romantic scenes. We can hear the Saamy background music for the romantic scenes in the trailer.
The trailer has all the ingredients to become a blockbuster. And remember it's just part one. Hence we might have to be prepared for an abrupt ending with a lead scene to part 2 (Just like Baahubali).
Meanwhile, Let's get ready for the party on 17 December!