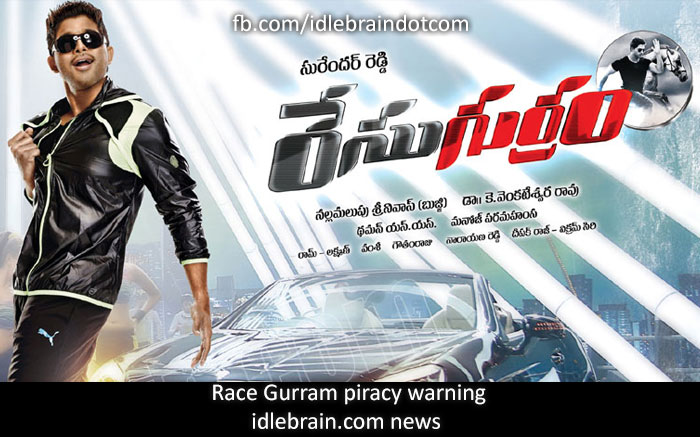 17 April 2014
Hyderabad
"Race Gurram" Starring Allu Arjun, Shruthi Haasan and Directed by Surender Reddy and The Movie World Wide released on Apr 11th 2014. Movie itself or any visuals or audio should not be screened/download/copied in any format (File sharing,Online Upload, digital, Download,Peer to Peer etc) by any individual or Organization illegally.
Warning to Pirates:
Please don't click/post any pirated links of the Telugu movie Race Gurram as we have uploaded 2700 links with virus. We will take very serious action if we come across
such postings in your website/blog/forums/File sharing sites etc without any warning. You are not even supposed to host/share/upload the links/torrents/files etc.
Our serious actions may include:
Blocking of your website with the help of your hosting providers.
Blocking of Domain Name with the help of your domain registrars
Blocking of your domain name permanently in India/US/UK with the help of respective Governments.
Blocking of your domain name's DNS Registry.
Please treat this as a severe warning and don't indulge in piracy of Race Gurram.
Please email the links or locations where you see the videos or content of the movie you can sent an email to [email protected]