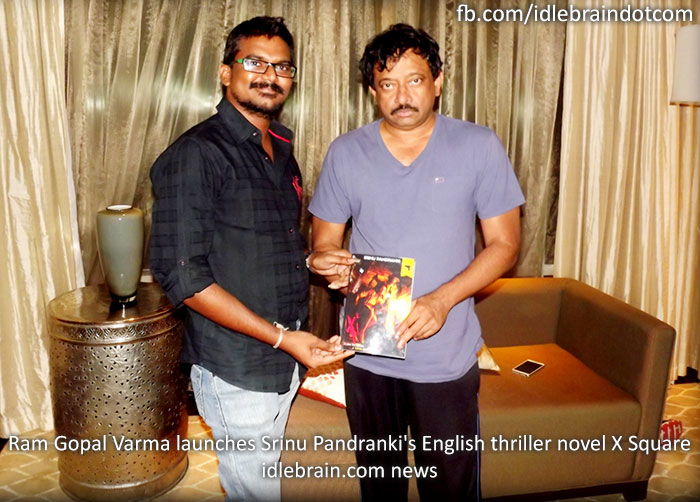 15 April 2014
Hyderabad
"X²" is a Murder Mystery English novel written by Srinu Pandranki which was launched by Ram Gopal Varma, Film Director on 13th April 2014. One can order the paperback copy and kindle version at Amazon website.
Synopsis:
The peaceful university town of Palo Alto, California, finds itself in terror. Three gruesome murders, three apparently innocent suspects. Angelina, a young Stanford Student is found dead in her apartment. Gayatri Prasad, an India- born immigrant and mother, has been pushed off her balcony, dead on impact with the pavement many stories below. Anne Martin, the beautiful tourist from France has been brutally raped and murdered in her relative's bedroom. Is it the work of a psycho? Are the murders related?
Shreya Dutt, an immensely talented police detective of Indian origins, joins hands with an enigmatic veteran, Kevin Holmes to unravel the mystery. Against them is, not only a powerful master criminal (?), but also their higher authorities who want the case to be closed as quickly as possible for political reasons. They set out on an adventurous journey that takes them from the grand locales of Palo Alto to Chinatown and to the grimy streets of East Palo Alto, in search of the seemingly elusive.
Fast-paced and emotionally charged, X Square is a novel about love, hate, deceit and the darkness of the fickle human mind.
Buy Kindle version at Amazon: http://www.amazon.com/X²-Srinu-Pandranki-ebook/dp/B00JMUL5NU
Buy Paperback version at Amazon: http://www.amazon.com/X²-X-Trilogy-Volume-1/dp/1497482267/
Author's Website: www.srinuthedirector.in
Watch the Trailer here: