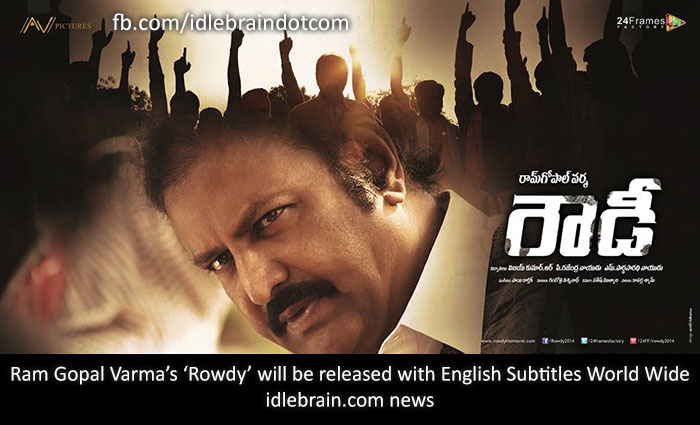 25 March 2014
Hyderabad
For the fans of Ramgopal Varma here is good news, the film 'Rowdy' starring Mohan Babu, Vishnu Manchu will be released with English subtitles in major markets worldwide to take full advantage of RGV film's pull across India and in the global markets.
The family action-entertainer set in the background of Andhra Pradesh Rayalaseema Faction ridden region is a spot on RGV style that has gripping drama and high voltage action sequences with scintillating music.
For the first time in his career of 40 years and 560 films, Actor Mohan Babu will look very realistic in 'Rowdy'. RGV who is known for realistic action dramas added lot of intense into Mohan Babu's Character in the film also convinced him to sport his natural look without toupee to create uniqueness to his character. Rowdy also reunites the yesteryear hit reel pair Mohan Babu and Jayasudha after a very long gap.
Actor Vishnu Manchu whose three recent films had a blast at the box office one after another will be seen alongside his father in 'Rowdy'.
The pre- release promotion of the film garnered excellent reviews and response. The internet and theatrical trailer of the film, a super catchy duet song on Vishnu Manchu and Shanvi and the title song crossed millions of views and shares virally.
We would like audience to savor our films that instantly connect with movie goers irrespective of the language they speak. English subtitles help expand audience base as worldwide film audience are willing to look beyond language, makers of the film says.
The film will be released on April 3rd in USA and rest of world on April 4, 2014.
For trade enquires please mail to [email protected]