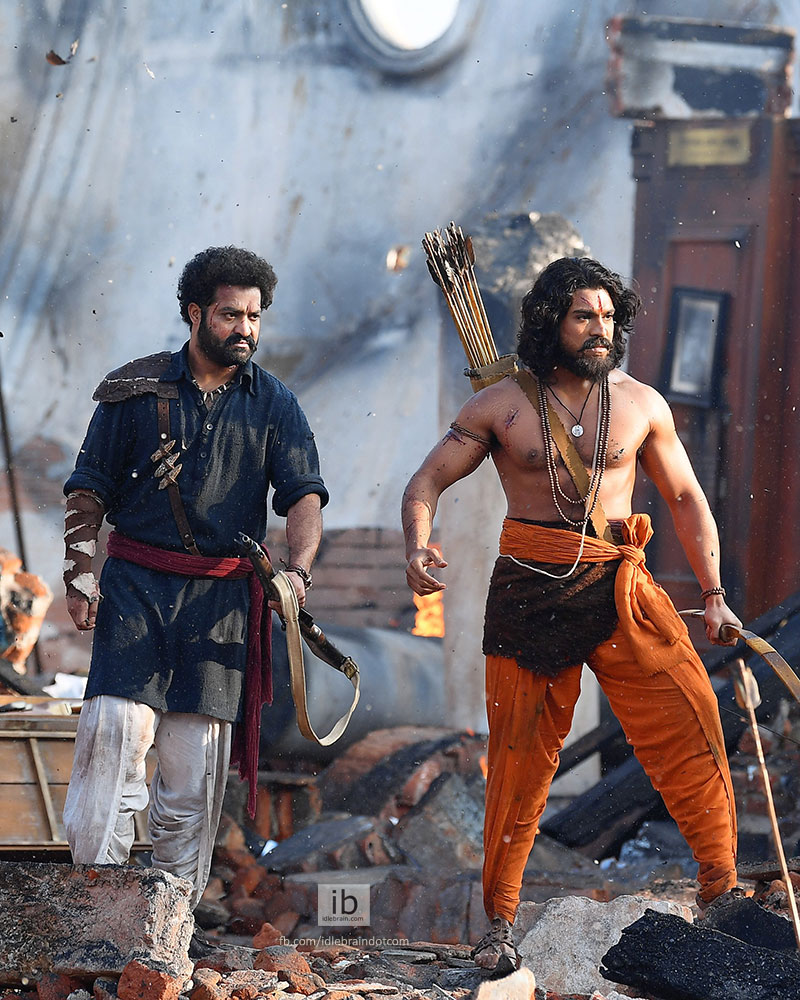 17 June 2022
Hyderabad

More than two-and- a-half months since it stormed its way into the cinema halls after the pandemic thwarted its earlier plans, SS Rajamouli's RRR, top-lined by Jr NTR and Ram Charan, continues to capture the imagination of the audience. You might wonder how, right? The period action drama with eye-popping visuals, breathtaking action, brotherhood and betrayal and great musical numbers, has dropped on streaming giant Netflix last May 20, and ever since the accolades haven't stopped flowing. Audiences from the US, UK and from other parts of the globe have taken immense liking to the film, sharing their positive reactions gleefully on their social media pages.
The hoi polloi aside, reputed names from Hollywood took to Twitter and started pouring in rapturous reviews for the film. A mere glance at the Twitter handle of RRR mirrors the same. Praising the film as "the craziest, most sincere, weirdest blockbuster I've ever seen," Doctor Strange and Sinister co-writer Robert Cargill wrote on Twitter, "Friends came over last night to initiate me into the cult of RRR (RISE ROAR REVOLT) and I'm here to report I am now fully, truly, deeply a member. This is the craziest, most sincere, weirdest blockbuster I've ever seen. I'm pretty sure Jess and I are watching it again this week (sic)."
Posting the widely praised dance portion from Naatu Naatu song, Larry Karaszewski, who was the co-writer on films such as Ed Wood, Agent Cody Banks, Big Eyes and TV series American Crime Story, had this to say on Twitter: "Those who say cinema is dead aren't looking in the right places. #RRR (sic)."
Christopher Miller, the director of The Lego Movie and 22 Jump Street, happens to be another admirer of the film. "RRR is over-the-top ridiculous insanity and it is AMAZING. It's like Michael Bay and Baz Luhrmann and Stephen Chow teamed up to make a movie. It was 3 hours long but it could have been 4 hours and I would've still enjoyed it (sic)," he posted.
Filmmaker Ashwin Gangaraju, who assisted Rajamouli for the two-part Baahubali, has experienced firsthand the kind of impact RRR had on a salesman, whilst he was on a trip to Turkey. "In Turkey, visited a random store outside a small town, when the salesman knew I'm from India, he got super excited like a kid and went gaga over a film he saw recently, he was like there were two superheroes and a girl named malli.. 'my goosebumps moment' there, #RRR it is he took out his phone to show me which one.idekkadi mass reach ra mowaaa.. crossing boundaries and how #RRR @[email protected] @tarak9999 @AlwaysRamCharan in the middle of nowhere, I'm the proudest Indian here (sic)," the director, who made his debut with Aakashavaani last year, wrote in a series of tweets earlier this week.
The reactions from viewers, critics and celebrities have been so overwhelming that the film got another release earlier this month in the US. Majority of the viewers who enjoyed the film and continue to do so are non-Indians. In fact, more screenings are planned in parts of the US if RRR handle is anything to go by. The film also holds the distinction of being the first Indian film to trend at number one for consecutive three weeks in the non- English films category on Netflix global chart. American daily USA Today and prominent American website ScreenCrush.com also featured it on their best movies list for the year so far, rating it alongside The Northman, Top Gun: Maverick, Everything Everywhere All at Once and Turning Red. Some American YouTube channels have made stories on how it was influenced by Mel Gibson (Rajamouli has made no bones about the fact that he is a Gibson fan, having been deeply inspired by his Oscar-winning historical war drama Braveheart).
For most Western audiences, RRR is a superhero flick, but with Indian emotions at its heart. From Ramaraju's (played by Charan) introduction as a fierce cop— where he navigates through a mob baying for his blood to nab a rioter at the order of his superior officer—to Bheem (NTR) unleashing a pack of wild animals to rescue Gond girl Malli from governor Scott's (Ray Stevenson) clutches after breaching security barriers right before the interval— to the two joining forces towards the end to lead their attack on the mighty British, the adrenaline rush and gooseflesh-inducing stuff was something they were seeing and experiencing for the first time from an Indian film (thanks to Netflix). With the emotions being universal everywhere, the connection was evident despite the fact that the digital version was a Hindi dubbed one.
For a film, which has clocked over 1000 crores in box-office receipts, the response from the global audience now is a new high, and is a testament to the fact that Rajamouli's vision transcends boundaries, and he has the wherewithal to achieve it come what may. And rightly so, the RRR team is celebrating every moment of it by sharing, quote-tweeting and retweeting what celebs and critics had to say. It is indeed a proud moment for Indian cinema.
-NAGARAJ GOUD.