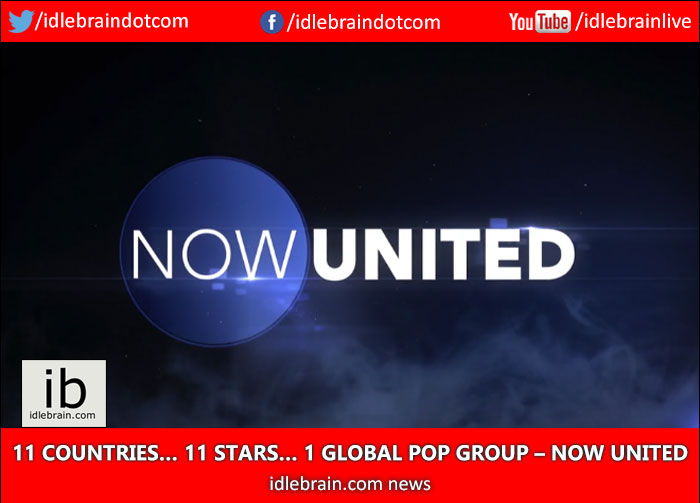 13 December 2016
Hyderabad
Music Visionary Simon Fuller Seeks Young Indian Singer / Dancer To Join His New Global Pop Group called Now United
(More about Now United via this video - https://vimeo.com/194614564 and the website : www.nowunited.com)
Mumbai/Los Angeles, Simon Fuller, the respected entrepreneur behind global entertainment hits including Spice Girls and the Pop Idol, American Idol TV format and the long-time business partner of icons David & Victoria Beckham, is launching a new global pop group - Now United and searching for a talented young boy or girl with a passion for performing, to represent India alongside artists from ten countries including Japan, Korea, China, UK, US, Mexico and Brazil.
Now United will be like no group before, combining an upbeat celebration of singing and dancing, with unprecedented real-time access to the group's music and lives, that allows fans to engage with their every move.
Talking about Now United and his search for talent in India, Simon Fuller Founder/CEO, XIX Entertainment says. "I have always loved the rich and colourful nature and scale of Indian music and dance, so in putting together this innovative global pop group, it was so important to me to have this as a strong creative influence. I am looking for someone extraordinary, who of course can dance and sing, but who can beyond that, can in every way represent India on a worldwide stage".
Talking about India, Fuller continues, "India, in particular, is so exciting for us because of the sheer diversity that exists around the country. The sounds, the instruments, the style and showcase of each region is so different from each other yet have such a strong connect to the country¹s overall culture. It's essential that we have the sound of India showcased in what we hope will become the biggest pop group in the world."
APPLICATION PROCESS
There are two ways to apply to join this band: Participants can either attend a national casting/audition day in Mumbai staged on December 21st, from 9 am to 6 pm True School of Music at Lower Parel in Mumbai where participants will be asked to audition for a part in the band. Those who cannot come to Mumbai on that day can also send in a 1-minute film singing and dancing as an online entry at www.nowunited.com 
SELECTION CRITERIA
Participants – between the age of 16 and 19 years need to be able to sing and dance, have a passion for performing with an attitude that demands entry into a dynamic, interactive global pop group.
AUDITION REQUIREMENTS:
Participants need to come prepared with one song to sing and one dance routine. Participants may also be asked to dance freestyle to a song of the judge's choice.
For further press/media led details, kindly contact:
BAZINGA ENTERTAINMENT
Divya Tejuja / Meghna Chadha/ Divya Chaturvedi
Email: [email protected]
ABOUT SIMON FULLER (Founder/CEO, XIX Entertainment)
Simon Fuller is one of the most influential forces at work in the global entertainment business today. The founder of XIX Entertainment, he's best known as the creator of TV blockbuster formats American Idol, Pop Idol, Indian Idol, So You Think You Can Dance although he spent his formative years as a music manager, discovering talent and breaking new ground at the cutting edge of pop culture.
Certified by Billboard as the most successful British manager of all time, the stars guided by Fuller - Annie Lennox, Kelly Clarkson, The Spice Girls, Amy Winehouse, Carrie Underwood and others – have amassed 500 No.1 singles and 240 No.1 albums around the world under his watch.
In 2011, Simon was honored with a star on the Hollywood Walk of Fame, one of only a handful of British producers to have been celebrated by the Hollywood Chamber of Commerce.
Fuller's interests today include the ownership of commercial ventures with iconic sportsman David Beckham and award-winning fashion labels run by Victoria Beckham and Roland Mouret, while his sports business has brokered deals for F1 world champion Lewis Hamilton, Tour De France winner Sir Bradley Wiggins and ATP No.1 ranking tennis champion Andy Murray.
In 2016 Fuller announced a new partnership with pop superstars ABBA to create a virtual reality experience that is set for launch in 2018.
Simon Fuller has a lifelong commitment to good causes including Greenpeace, Amnesty International, Save The Children, The Prince's Trust, Malaria No More, The United Nations Foundation and Comic Relief.

Simon Fuller lives in Los Angeles.