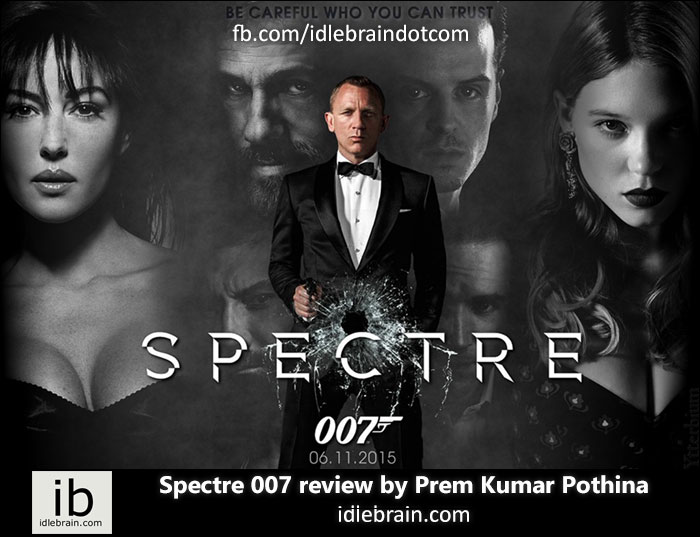 01 December 2015
Hyderabad
The latest James Bond movie 'Spectre', the acronym for 'Special Executive for 'Counter-Intelligence, Terrorism, Revenge and Extortion', tops the list of the 'worst' 007 franchise. Displace the 'r' from the word 'Spectre' to the last and it becomes 'Specter'; the dictionary of which is 'ghost', 'spook', 'a haunting or disturbing image' and the film justifies it. Sam Mendes has manifestingly made a spook of Ian Fleming's James Bond, with his hidden agenda to make James Bond jobless; a complimenting the film's plot to erase '00' Agents of MI6. Sam attempted the same in the earlier edition, 'Skyfall' but it turned out otherwise and collected US$1.1 Billion worldwide, and he accepted the consecutive assignment to complete the unfinished job. Assuming hypothetically, if he had been the choice in 1962 instead of Terence Young as the first Director, the Bond saga would have never taken off from 'Dr.No'. 'Spectre' is nothing but a haunting experience.
Terence Young refined 'James Bond' the character that Ian Fleming had created, and with the support of Sean Connery, it became iconic. Young made Bond a 'Superspy' right from the first movie, adding all those additional traits that Bond was identified with for fifty long years. There is no comparison of what was contributed by Terence Young, Guy Hamilton, Lewis Gilbert, Martin Campbell, etc., with Sam Mendes, despite he being an Academy Award winning Director. Mendes definitely had a secret agenda to destroy the Bond's iconic image that had become the most lucrative franchise ever in the history of cinema. The half a century old franchise could come to a screeching halt with the menace of Mendes.
'Spectre' is the only James Bond movie bereft of Fleming flavour, and it can be suspected as an unworthy attempt of Sam Mendes to achieve recognition along with the classic editions such as 'From Russia With Love', 'Thunderball', 'Dr.No', blending the action genre with a salt of his own drama. It could have been an excellent musical too if Daniel Craig had recorded some numbers for the movie.
Same Mendes should have experienced a boring and desperate childhood. Whether in 'Road to Perdition' or 'American Beauty' the core theme is about disturbed children and their fathers with grey shades. Skyfall, and Spectre also a sort of family drama about Bond, his parents and their sudden death in a skiing accident, Bond's foster father and a surrogate brother who later emerges as the super antagonist 'Ernst Stavro Blofeld'. The foster father is killed by his own son who grew jealous of his father's caring relation with the young Bond, and thereafter he vanishes and later emerges as No.1 in 'Spectre'. The supervillain explores the possibility of controlling the leading world governments by linking their intelligence agency as one under the name 'Nine Eyes'. The central idea of the movie has been hijacked from Tom Cruise's 'Mission Impossible-Rouge Nation', but it's no match to the entertainment rendered in the Cruise's fifth edition.
There were no 'awes' and 'ohs' from the packed audience, except during the opening scene; even which did not end with such gasps as in 'View to Kill', or 'Spy who loved Me', 'Golden Eye', 'Tomorrow Never Dies' or for that matter it didn't even improvise from 'Skyfall'. With a couple of millions apportioned for the budget, our own Rajamouli of Bahubali can successfully spin even a better opening sequence. The opening episode manifestingly inspired from 'For Your Eyes Only' is the only instance when the audience were hopefully excited of a roller coaster of entertainment, but what follows is sheer disappointment. Then follows the lullaby of Sam Smith; of which you don't even remember any tune or rhyme at the end of the movie.
JB fans come to the theatres for thrills, and they would like their favourite Icon with guns, gadgets and girls, but Same Mendes seems to lack the sense of entertainment due to his boring childhood, and his version of JB makes pot-shots with sarcastic smile ridiculing the earlier Bonds. Sam sadistically destroys the iconic Aston Martin DB5 in Skyfall, by which you can tell the amount of hatred he has for the entertaining Bond. Sam doesn't even spare the latest limited DB-10 version of the Aston Martin, which its manufacturer had proudly designed and introduced with the movie in limited edition of only 10 in number; but Sam gets sadistically happy by dumping it in the river.
Coming to Christopher Waltz's performance, sorry to mention, that he has a limited and unworthy scripted role. The man who rose to fame with Quentin Tarentino's 'Inglorious Bastards', and 'Django Unchained' and won an Oscar for each of those movies, had been given little to perform. As Blofeld, Waltz could not surpass Telly Savalas in the classic, 'On Her Majesty's Secret Service'; which of course is not his fault. It again is the conspiracy by Sam Mendez to show Bond's villains too as emotional, and idiotic. Sam ruins not only Bond but his villains, cars, girls, gadgets, and most important of all the potential to entertain his fans.
Judi Dench as 'M' was part of the innovation and improvisation shown by Martin Campbell in the first edition of Pierce Brosnan introduced as Bond, the 'Golden Eye'. Dench as 'M' the Chief of British Intelligence Agency, MI6, erased Bernard Lee from the memory of Bond's fans' despite his profound presence and unforgettable wits against Connery, in a dozen editions. Sam Mendes does even leave the 'M' character alone. He must have guessed that Dench will not agree to disgrace her role; hence he killed her in 'Skyfall'.
Andrew Scott, who heads the Joint Intelligence program, 'Nine Eyes' is nicknamed as 'C' by Bond himself because of its drone and satellite program. The best scene is where Ralph Finesse, 'M', and Andrew Scott, 'C' squabble accusing each other. 'C' calls 'M' a 'moron', as in return 'M' calls 'C' as 'careless'; makes one wonder whether we are viewing a Austin Powers hilarious version of the superspy. In his illustrious career where Ralph Finesse portrayed several unforgettable roles, such as 'Schlender's List', 'The English Patient', 'The Constant Gardener', 'Grand Budapest hotel', 'Red Dragon., etc. A day will soon dawn upon him when he regrets; why he had accepted a legendary character with a sloppy presentation. The new 'M' surely is a moron without 'balls' which Judi Dench had shown in all seven editions she donned the role.
It's time that the producers Barbara Broccoli and Michael G.Wilson, bring in director Martin Campbell to save the franchise and give respite to the fans. Campbell gave us the Bond with quick reflexes in Goldeneye and Casino Royale. It was Campbell who introduced Daniel Craig as the most physically fit Bond ever. The opening scene from 'Casino Royale' tops all bond films and the best scene in 'Spectre' comes far behind it.
I have been seeing Bond movies since 50 years, and I should have seen each of them almost two dozen times, especially the Connery and Moore editions; and I feel consoled by seeing one of them for cure the disturbance. Sam Mendes surely has made Bond an old relic; for he successfully destroyed the superspy's originality.
Prem Kumar Pothina
Mail: [email protected]