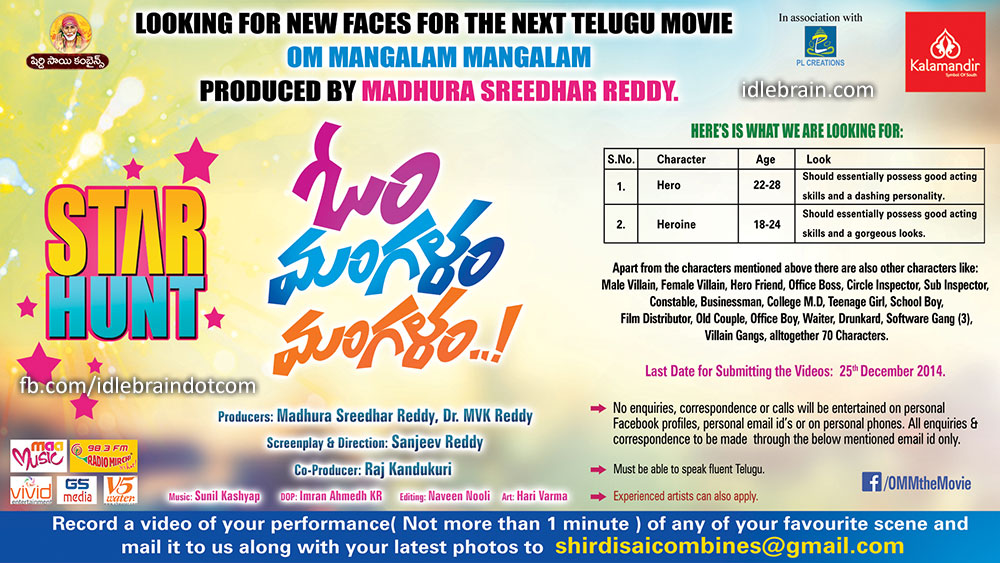 09 December 2014
Hyderabad
"Sneha Geetham, It's My Love Story, Backbench Student, Prema Ishq Kadal, Maya, Ladies and Gentlemen..." as a director, producer and co-producer, I endowed heaps of fresh talents to the industry in the form of artists and technicians.
I believe in the honestness of making concept based movies with small budgets. I really enjoy this kind of process heart fully. So, with this motivation, now I, along with Dr. MVK Reddy and Raj Kandukuri are going to produce Om Mangalam Mangalam movie under the banner of Shirdi Sai Combines. I am introducing my associate Sanjeev Reddy as a director through this film. We are doing a star hunt for this film in which not only the hero, heroine will be selected, but also the entire cast will be selected through this star hunt.
So, do you want to take part in it…?
Then, simply you have to do just one thing…
"Record a video of your performance (Not more than one minute) of any of your favorite scene and mail it to us along with your latest photos to…
Screenplay & Direction: Sanjeev Reddy.
Produced by: Sreedhar Reddy & Dr. MVK Reddy.
Co-Produced by: Raj Kandukuri.
Music: Sunil Kashyap.
DOP: Imran Ahmedh KR
Editing: Navin Nooli.
Art Director: Hari Varma.