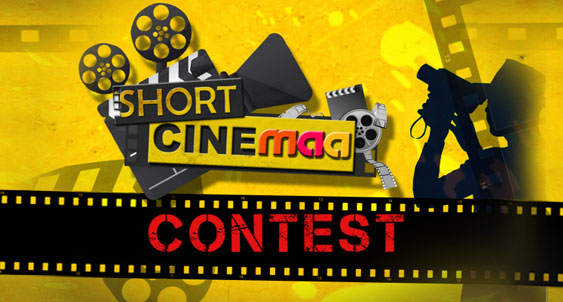 Hyderabad, Andhra Pradesh, India. 1st November 2012: Maa Television Network Limited is organizing SHORT CINEMAA CONTEST, where short entertaining movies are accepted and the best short movie is telecasted in Maa Movies, one of the sister channels of Maa TV Network. Short movies which has the theme of Social cause, dowry harassment, movies on terminal illness, child labor issues, physiological problems and others in same genre are not allowed. The short film should be entrant's original work and shouldn't infringe on any copyrights or any other rights of any third parties. The duration of the film must be under 20 minutes. The categories are divided into
1st Best film
2nd Best film
3rd Best film
The Prize money is as follows:
1st Best film Rs 3Lacs
2nd Best film Rs 2Lacs
3rd Best film Rs 1Lac
Contestants agree that they have obtained all required permissions regarding music, sound and/or images presented in short film. By entering the competition, the entrant agrees that the organizers of the Short Cinemaa Contest will not be held liable for any copyright infringements perpetrated by you or your short film. Short Cinemaa Contest Contestants will be required to sign an affidavit confirming that their short film is original and he/she holds all rights.
Participants should give non-exclusive perpetual rights of telecast to Maa Network channels and Maa Digital Media.
All submissions must have been shot within one year prior to the closing date.
Format: Whilst the films may be shot on any standard format (film or digital), all entries for consideration must be submitted on one DVD and .mov only, together with the completed deceleration form. Entry materials (DVD's, and .MOV) submitted will not be returned to the entrant.
Jury's decision is final.
Winners will get awards on the occasions of any of the prestigious Maa Music Awards or Maa Cinema Awards.
Participants will not have to pay any entry fee to enter the contest.
Participants should Submit their short films by hand at:-
MAA TELEVISION NETWORK LIMITED
# 6-3-663/b MRL House, Behind Topaz Building,
Punjagutta, Hyderabad-500082
Participants should carry their ID proof.
Postal/Email entries not accepted.
Entries open from 1st NOV 2012
Language of movies should be in telugu only
Dubbing movies aren't entertained
For Further Details, Please logon to www.maatv.com or www.maamovies.in
About MAA Television Network Limited:
MAA Television Network Limited as a corporate entity was formed in the year 2001 and the main GEC channel MAA was launched in the year 2002. The second channel MAA Music was launched in 2008. With the launch of MAA Movies in February 2011 and MAA Gold (another GEC with a focus on urban and youth audience) in February 2012, MAA TV has emerged as a major Telugu Television network with a bouquet of four channels.
In Telugu, Maa means 'ours', indicating the feel-good bonding with the viewers. Besides best known for vibrant, innovative, pleasant and interactive programmes, MAA TV has satellite telecast rights for about 700 films. A considerable number of these films are Tollywood blockbusters.
MAA TV promoters are accomplished personalities in their fields, and carry very rich and divergent expertise. Mr. N Prasad, the main promoter & Chairman is an accomplished first generation entrepreneur. Mr. K. Chiranjeevi and Mr. Nagarjuna Akkineni are top notch Tollywood heroes. Mr. Allu Arvind is a veteran film producer. They share a common vision and business philosophy.
MAA TV is known for its Events, which establishes a vital bond with the audience by providing a complete ground experience.
MAA TV has achieved considerable growth in its business in the last few years. In terms of programme ratings, MAA, the main GEC, is among the top 20 TV channels in India.