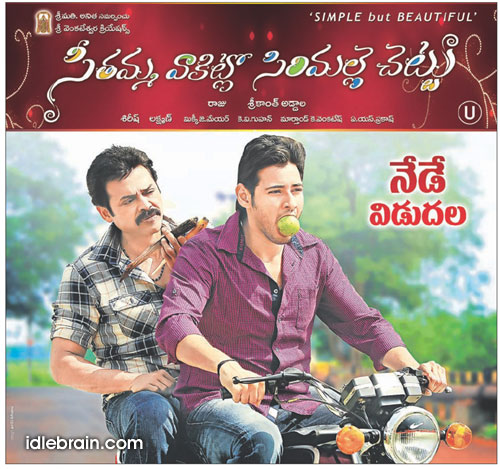 Human being in the world is used to moving so fast with such fury that we tend to love everything that is amazingly super-fast! For example: "IPhones from 2g, 3g now 4g, Ambassador to Bentley, Red Bus to Luxury Volvo Express".
Wondering where Vasu is heading with this topic. Not too far but right in to SVSC "Seethamma Vakitlo Sirimalle Chettu"movie – Of course, with enthuse and excitement filled in me & within whole of TELUGU crowd around the world – I hopped, jumped, sped away to the movie theater. The movie I much awaited like many Telugu movie lovers. The show started on time and we started to whistle/clap/scream at the sight of Venkatesh (Milk Boi) and Mahesh Babu (Dairy Milk Boi) the nick names where given in admiration to both stars, who carry themselves with such dignity personally and professionally.
During my 1st few minutes – I was so focused on Seethamma and the Sirmalle Chettu thinking there is some connection between both of them because of the title given to the movie. As the story started to unfold – I realized it's a movie which is much slower version of "HUM SAATH SAATH HAIN" 1999 movie of Salman Khan as the main Hero with mega casting of big league actors. This movie was slow and lengthy one. Which did reach its market price but people where used to songs, dances, and drama then family values? Same goes to SVSC "Seethamma Vakitlo Sirimalle Chettu"movie – In this fast pacing world where no human has minimum courtesy to turn around to ask if you are doing fine or even worry about family ties. This movie comes as fresh air – Show casing the culture that many Telugu people forgot to follow or live up to it. During this movie – my heart rested as the movie kept moving in its own pace with melodies music and "Slower version" songs which was really well written. My head moved to the tunes as eyes kept seeing the beautiful decor, country side home, with natural homely lifestyle of a middle class family.
The beauty of the movie show cases a human being who does not see any bad in any person, steps out of his way to say "Hello" or "Wishes everyone well" for few moments I saw myself in that PRAKASH RAJ but again, I was so mad at his too laid back persona feeling why isn't he being strong for his family and stands up to the society but in the end – "His views just took my feistiness away and made me realize – Who I am as person isn't actually a bad thing and it made me fall in love with his character of a KIND HEARTED/COURTEOUS HUMAN BEING" character of PRAKASH RAJ and the best part is yet to come as it show cases the egos of NEW RICHES "nadimantrapu siri", false prestige of people behavior and their open blindness to their unworthy success.
I just sat resting myself threw out the movie admiring the costumes of the leading ladies – What elegance and what finesse does Seethamma urff ANJALI wore her saree's. The traditional look of this young lady who actually brought back memories of true Telugu ammayi was just appreciable. Of course, her childlike act was little too kiddish but her maturity to star next to Venkatesh is just admirable again. To portray next to a mighty star and balancing it off with easy is just amazing. Samantha one of the leading ladies of the movie acted well and portrayed as a women who fell for the handsome lad Mahesh Babu. Her presence was elegant with amazing shalwar kameez attires.
C'mon now hang in there y'all – We need to talk about Rohini Hattangadi. One woman, I admire and her art is beyond a normal movie hoppers vision. And her act and equation with Mahesh Babu was just too adorable to watch. I must say – I would have loved to see her in as many scenes as possible as she was delight to watch. Jayasudha another simple beauty of Telugu industry – she is a women who makes you believe that it's her own family on the silver screen. She never disappoints anyone and surely, not me.
After initial whistling at Mahesh Babu and Venkatesh, I was so involved and got carried away with their scenes that it irked me at their silent communication/brotherly love for few moments. I could hear my heart getting restless with their connection. As these brothers kept arguing and affectionately communicating with each other over and over again - I realized one tiny story about ADI SHESHA (Snake of Lord Vishnu) and Lord Vishnu himself (in short – it's ANANTHA SESHA).
Once upon a time, Adishesha tells lord Vishnu – Dear Almighty (Anantha) how come in every avatar (incarnation) you have always been my older brother and here also, I am the second lead. It's my humble request dear lord – Can I be your older brother for ones in the next incarnation. Lord Vishnu – Smiles - grants Adishesha his wish and blessed him to be the 1st born. Adishesha mighty happy with lords blessing awaits for the next incarnation period (Dwaapara Yuga). As promised, Lord Vishnu is born as Krishna and Adishesha is born as Balaramudu (Balram) one with mighty power, extremely possessive, and short tempered, hasty persona, and indecisive mind. Of course, Krishna (born as a second child) was almighty – who knew the future and present. And every time, Balram had to take a decision, gets furious, makes hasty decision it's Krishna who handles the situations/solves his issues/calms him down. Balram (Adishesha) later realized even thou he was the 1st born he needed the guidance, approval from his younger brother Krishna. Just like (Treyta Yuga) where Adishesha was Laxman and Rama was lord Vishnu.
Must be wondering why I took you on a joy ride of religious story telling. Well, in this movie – I saw the same characteristics of ADISHESHA and VISHNU or BALRAM and KRISHNA between Venkatesh and Mahesh Babu brotherly inclination. And that's when the whole movie made sense – It's not the connection between Seethamma or Sirimalle Chettu. It's about bonding between brothers, a family and a community. Relationship between relatives, friends and venomous third party members who linger around a loving family, I connected with the movie since then onward. I didn't mind the slow pace of the movie nor did I get irked about the love between brothers.
And revisiting Bhadrachalam Sriramachandra Kalyanum was beautiful touch in the end (as my dad was Deputy Superintended of Police for 5 years) – I had the gracious/blessed experience of seeing the kalyanum and running up/down of the temple steps for many years. Mind you – Every movie is not about bashing up the goons, dancing with half naked women, or cracking humor – Sometimes, it's about values/culture/traditions and relationships that really meant something to all of us at one point of time.
Watch this SVSC for those memories that you out grew - Remember your loved ones and Trust me – You shall not be sorry for sitting thru this movie for 2+ hours.
By Vasudhara
bykerusso at gmail dot com