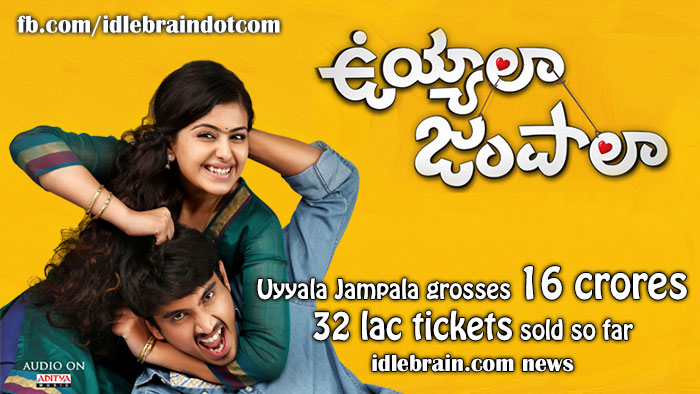 20 January 2014
Hyderabad
Uyyala Jampala film that was released for Christmas 2013 is going great guns despite of Pongal big releases. 32 lac tickets were sold so far and it has grossed approximately 16 crores till now. The positive mouth talk coupled with universal appeal of the subject is making this film made under 3 crores of budget click in a huge way. The total number of ticket sales are expected to cross 40 lacs in the long run..
Producer Ram Mohan who is known for making quality films has proved his grip on box office with this film. His debut film Ashta Chemma - an urbane comedy was also a hit. 17 lac tickets were sold for Ashta Chemma film and it launched Nani and Srini Avasarala who have become big now. It has also relaunched heroine Swathi and director Mohana Krishna Indraganti. Ram Mohan's second film Golkonda High School is touted as a good film and garnered critical acclaim despite not doing well at box office. His 3rd film Uyyala Jampala which is also patronized by Nagarjuna Akkineni (Annapurna Studios) and D Suresh Babu (Suresh Movies Distribution) has become a universal hit.
Uyyala Jampala has given break to new talent like Virinchi Varma (director), Raj Tarun, Avika Gor and Punarnavi Bhoopalam (zandu balm). It has also given new image to character artists like Anitha Chowdary and Ravi Varma.
Nearly after 30 days of it's Indian release, Uyyala Jampala is releasing on wide scale in over 11 centers (This film was screened for charity purpose in Cary in the past) in USA.