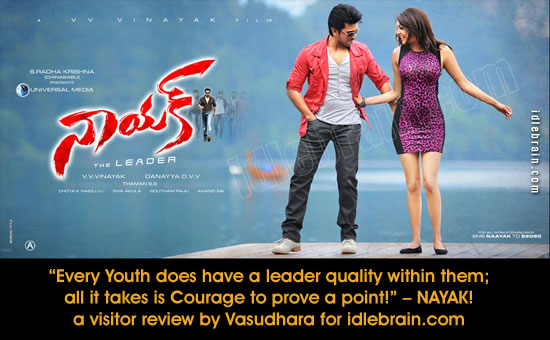 Cherry boi --- Totally swung his mighty power from both his mega dadda & power star uncle this time. Unknowingly, the theatre crew played the 2nd part in the beginning thinking it was the 1st reel and I was sitting their thinking – what a new concept to start a movie with a scene like RGV "kshana kshanam" during this time, I saw the surprise but it didn't kill my enthuse in me… I must say! Of course, within minutes, it was restarted from the beginning – With Title this time.
My heart was filled with humor/laughter from the movie – One liner quotes from Jaya Prakash Reddy/Posani Krishna Murali just made me stump my leg/clap my hands. I just couldn't stop laughing at Rahul Dev (Personally, I admired Rahul Dev since 1990's modeling days for his bronze looks & respect him – as he is a single father for a young lad as his wife passed away). Coming back to the Villian Rahul Dev – For the 1st time I saw him smile & fall for flattering word which was so cute to watch. Ha! Aapna Pradeep Rawat – all time TELUGU super villain. Who excelled in being the baddy boi again! His acting improved from being a goon to someone who can put fear in his scenes.
Must be wondering – where is our telugu legend comedians "Brahmi, MS Narayana, Venu Raghu Babu" – Well for ones – I really appreciated the director for twisting the humor on to JP REDDY/POSANI/RAHUL DEV and made Brahmi/MS/Raghu Babu supporter. Which was actually a fresh breeze of humor to enjoy and watch instead of continues old humor from same comedian actors. Venu did a tiny supporting role and his better half ALI missed from the whole movie itself… Last but not least – Rajeev Kanakala is known to be a good actor and portrayed his role with dedication and dignity.
All the men must be wondering --- aayii aayii! Why am I not talking about the leading Lady KAJAL AGARWAL. Well not much to speak about her except her chippery self who acted with elegance, dignified persona. She gave an adorable performance with ease. Amala Paul for the 1st time I saw this lady who carried the name of the most respected lady in the industry. And I wasn't impressed by her look or dressing sense because she during her 1st song with Cherry Boi. Her color combo was miserable and she tying the saree was more like a lungi which was tied around her neck as well. Her dance steps weren't graceful at all in that song "Shubhaleka Rasukunna". Lord – Radha wore much gracefully than this young lady. She lost points right here maybe mass would love to see her thou! Later, she picked up her act but she wasn't that impressive.
High time to speak about the HERO – RAM CHARAN TEJA – Cherry! I was impressed by his change from his 1st movie and he surely matured in his performance. Thanks to lady love Upsana. His dressing has picked up so much not too bright but mellowed to more reasonable attires and appropriate to the scenes. We all know – he is a real good dancer but EVERY SONG in this movie had different steps. Hats off to Choreographer -Amazing mix of TWIST/HIP HOP/TEEN MAAR/MASS – perfectly matched the tunes and he moved like a twizzler candy. Of course, without matrix fights, flying goons, smashing punches DESI movie never ends but it's done really nicely too for the masses. Let me say – Maghadheera 100 goons continued here but it was split accordingly threw out the movie haha!
My favorite song is just one LAILA O LAILA not because other songs were bad. I had a connection with this song for many reasons. Firstly, mixed perfectly with 1970's Big B movies & Bappi Lahiri music – every time the clapping went off in the song – SNAP –Feroz Khan Saab movie JAANBAAZ song "Ek To Kam Zindagani" http://www.youtube.com/watch?v=3vGcOO9NgyM popped into my head. I totally got hooked to this song. I liked the NAYAK title song also but it was complete mass song which is okay!
Before I bid adios – Let me speak about the story – It's a clear cut neat story line of Humanity/Justice. Which is good to see and this movie is worth watching to initiate goodness in human beings and for the HUMOR!
Note: Don't dislike someone because he isn't his father or uncle. Appreciate him for improving and learning! Leaving you all with movies highlight song: http://www.youtube.com/watch?v=rOUjPhS2xRc
By Vasudhara
bykerusso at gmail dot com