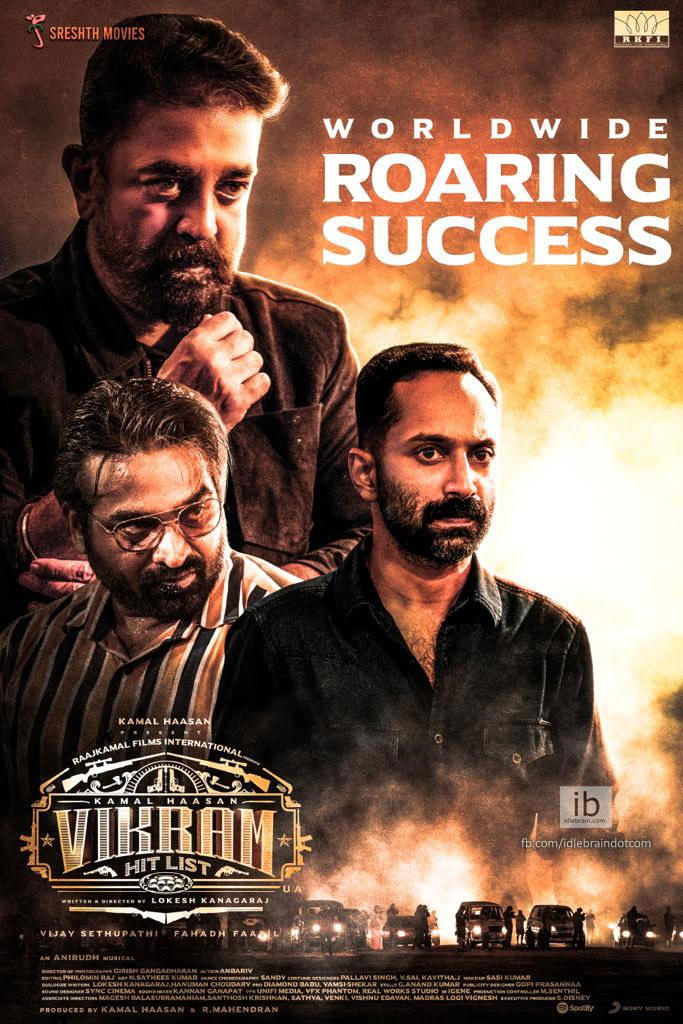 7 June 2022
Hyderabad

Vikram which is making waves worldwide is released amidst decent fanfare in Telugu. But picked up due to heavy word of mouth. Sudhakar Reddy (Nithin's father) has bought Telugu rights from Kamal Haasan for a decent ₹6 crores. It was supposed to be a high price as Kamal Haasan had his last hit 9 years back.
Trailer and promos of the film created a good craze. And the opening was decent. And collected ₹1.47 crores in Telugu states on Friday. Did well on the weekend. The surprising fact is that it collected ₹1.22 crores on Monday. Bought for ₹6 crores, this film has collected a share of ₹6.25 crores by Monday.
It collected ₹56 lakhs in Nizam on Friday and ₹54.65 lakhs on Monday (almost equal to Friday collection).
Vikram broke even in all areas of Telugu states by Monday. Sudhakar Reddy kept Nizam and Ceded with himself. All the distributors are going to mint money as Vikram is in for a long haul in theaters.
Here is the break uu of share:
Friday:
Andhra: ₹68,15,576
Ceded: ₹23,12,530
Nizam: ₹56,06,422
Total: ₹1,47,34,528
Saturday:
Andhra: ₹73,52,464
Ceded: ₹24,15,579
Nizam: ₹70,44,812
Total: 1,68,12,855
Sunday:
Andhra: ₹83,70,304
Ceded: ₹26,65,827
Nizam: ₹77,41,410
Total: ₹1,87,77,541
Monday:
Andhra: ₹52,20,166
Ceded: ₹15,85,265
Nizam: ₹54,65,773
Total: 1,22,71,204
Grand 4 days total share:
Andhra: ₹2,75,74,129
Ceded: ₹89,79,201
Nizam: ₹2,59,52,693
Grand Total for 4 days: ₹6,25,06,023