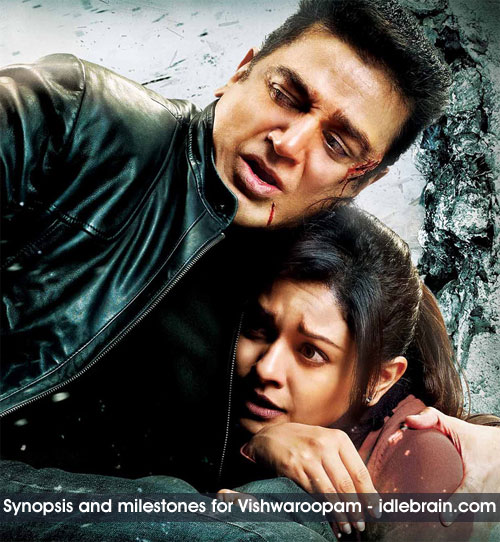 Short Synopsis of the Movie:
It is an action movie set on the lines of bomb based action movies like Peacemaker in Hollywood. The entire plot is mounted on a very grand scale in the US and Afghanistan. Kamal Hasan is the protagonist with different shades to his character. Sekhar Kapur, Rahul Bose, Andrea and Pooja form rest of the main cast.
Other milestone points:
For the first time ever in the history of Indian Cinema, Vishwaroopam in Tamil and Telugu and Vishwaroop in Hindi is being telecast through DTH as a premiere show, one day before the theatrical release. It is being telecast across all the six DTH platforms in India (Tata Sky, Airtel, Videocon, Reliance, Dish and Sun). Viewers can watch the movie by paying Rs 1000/- for the Tamil version and Rs 500/- for the Hindi and Telugu versions.
This is a revolutionary concept that has set off a raging debate in the film industry with the exhibitors supporting and opposing the move. Kamal Hasan promoted the concept and held discussions with various stake holders over the past few weeks resulting in the decks being cleared for a grand theatrical as well as DTH release. Dr Dasari's Siri Media is releasing Vishwaroopam in Telugu and Ekta Kapoor's Balaji Films is releasing Vishwaroop in Hindi. Rajkamal films is releasing it across Tamil Nadu
There is an unprecedented buzz and excitement around Vishwaroopam/Vishwaroop jointly produced by PVP Cinema and Rajkamal Films International. It is going to be screened across more than 1000 screens across the country and targetting 3.5 crore subscriber base across the nation.