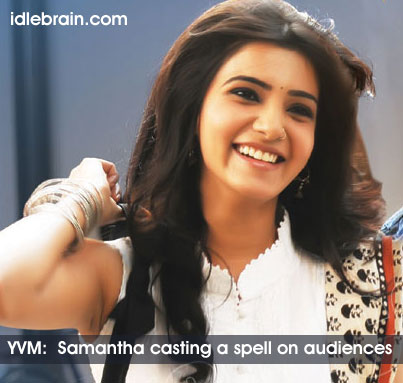 Samantha has won hearts of audiences as Jessi in Ye Maaya chesave and ever since each of her films have become block busters.
Now with Yeto Vellipoyindhi Manasu, audiences are just falling in love with her. As Nithya she is just casting a spell with her mesmerizing performance.
Samantha also said in an interview to a TV channel that she considers this as her best performance till date. She also said she is very happy about the way songs were picturized in YVM. They are so real.
Together with Nani's compelling Varun, YVM is becoming a rage with audiences. And all multiplexes have reported all shows houseful until Monday.
Meanwhile Allu Sirish, younger brother of Allu Arjun who is making his debut as a Hero very soon, tweeted in the evening saying how much he liked YVM.
Actor Lakshmi Manchu , Mohan Babu's daughter and sister of Manchu Manoj and Manchu Vishnu tweeted : 1st day morning show #YVM. In love. @nameisnani brilliant. @samanthaprabhu2 beautifullllll :) .. Naa manasu yeto vellipoyindi.. ahh