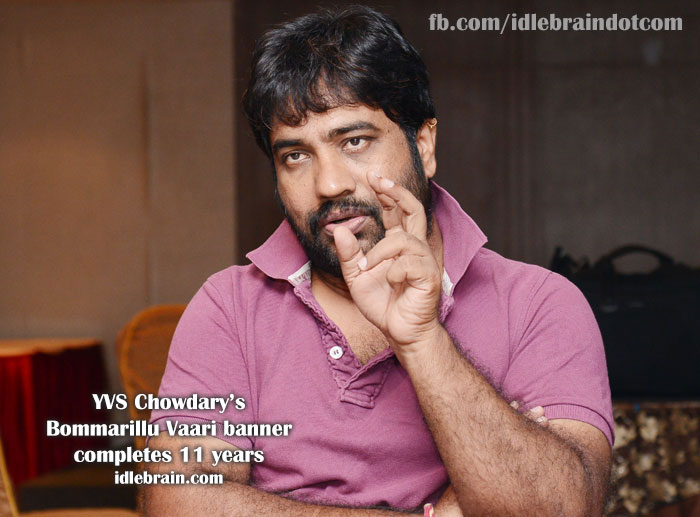 1 May 2013
Hyderabad
Lahiri Lahiri Lahirilo is the first film in the production of YVS. Bommarillu varu banner has completed 11 years. YVS Chowdary has shared his experiences with the media. Here are the excerpts –
Journey as a producer
It was NTR who inspired me to become a film crazy person. It was Nagarjuna who has given me immense support by producing my first film and subsequently acting in another film Seeta Ramaraju. It was Hari Krishna who blindly accepted to do Lahiri Lahiri Lahirilo as main hero without verifying my ability to produce a film. In Telugu we used to refer cinema as 'bomma' in mass circles a few decades back. Bommarillu stands for cinema hall in that sense. That's the reason why I named my banner as 'Bommarillu vaari'.
On the release day of L3, I have given away a paper advertisement announcing the 100 days function venue as Gudiwada and function time as August second week. And we have celebrated the function as well. During the release of Seetayya film, we have announced 100 days venue as Ananthapuram and date as December 1. But couldn't hold that function there due to famine.
In the 11 years, I had five releases L3, Seetayya, Devdas, Okka Magadu and Nippu as producer on Bommarillu Varu banner.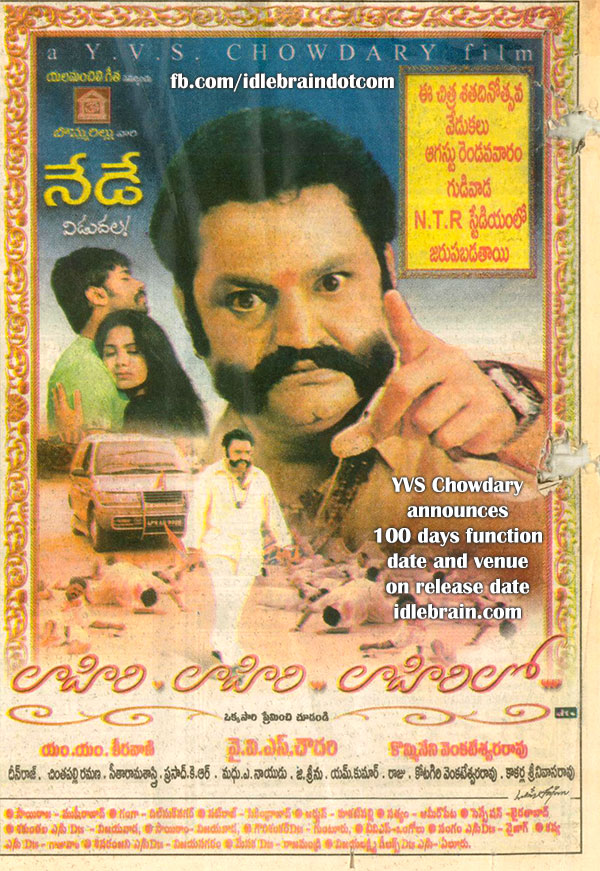 Rey will collect a minimum of 30 crores
Rey film and L3 film are similar in the sense that I am at the same position. I have the same burning desire to make a hit and prove my mettle as director. Rey is the sixth film on Bommarillu Vaari banner. Rey introduces Sai Dharam Tej (nephew of Chiranjeevi) as hero. This film sports Saiyami Kher (niece of Shabana Azmi) as positive heroine and Shraddha Das as negative heroine. First half of the film has Caribbean backdrop and second half has USA backdrop. Music and lyrics are given by Chakri and Chandrabose respectively. The entire comedian gang including Brahmanandam, MS Narayana and Jaya Prakash Reddy is there in the movie. Incidentally shooting of this film is also completed at 5am on 1st May 2013.
We had small films with love stories in the recent past. But we didn't have love stories with huge commercial potential like Prema Desam, Devadas and Desa Muduru in recent times. Rey is one such love story with huge canvas and wider appeal in love musical genre. Rey will target the youth and create magic at box office. I am expecting a minimum of 30 crores share with Rey.
Sequels Galore
I am going to produce and direct several films. All the scripts are ready. I might direct all the films. I will definitely produce all the movies. Here is the lineup of my future projects.
1. Krishna Mukunda Murari (It's a sequel of Lahiri Lahiri Lahirilo)
2. Yevari Maata Vinadu (It's a sequel of Seetayya)
3. Thanks Baby (nannu preminchananduku)
4. CM (Common Man) – this film will have a big star cast.