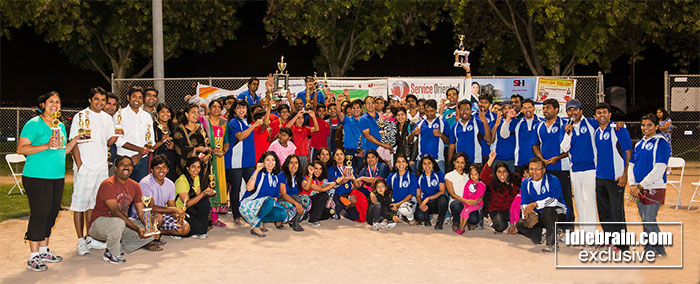 To feature your NRI communty news in idlebrain.com, please mail us at [email protected]
22 July 2013
Hyderabad
3 weekends, 4 categories, 90 teams, 116 games, over 540 players – all for a noble cause!  10th Annual BATA Cricket Cup was an Unparalleled Success!!!
Bay Area Telugu Association (BATA) in association with Service Oriented Solutions organized the 10th Annual BATA Cricket Cup between June 29th & July 20th sparring 3 weekends. BATA donated the proceeds from this 6-over-6-aside tournament to Sankara Eye Foundation(SEF).  BATA is a recognized Partner in Service for SEF. Ravi Tax Services & Sirisha Homes are the Platinum Sponsors, cbazaar.com is the Gold Sponsor, You Smile Dental & Shree Jewellers were the Bronze Sponsors, Swagat Restaurant, Peacock Restaurant, Country Oven, Chaat Bhavan and ITU are the other sponsors for this event. CricBay, TennisBall Cricket Association (TCA) and San Ramon Cricket Association (SRCA) supported this event.
This year was a record of sorts with a whopping 90 teams registering for the tournament in 4 categories – Men, Women, Youth & Recreational. San Ramon games were conducted in the weekend on June 29th/30th. Titans won the San Ramon league & Sahara were the Runners up. First rounds of Fremont games were conducted in the weekend of July 13th/14th. The games were conducted in 5 grounds with games starting at 8AM and going till 8PM with a new game every hour. Teams battled hard to advance into further rounds. Right Arm Lollipops, Assaulters, Titans & Sahara advanced to Mens Semis, Cloud Chargers and Tornedos advanced to Recreational Finals & Warriors and Cricket Zeal Academy (CZA) advanced to Youth Finals.
The grand finale of 10th Annual BATA Cup was hosted in the picturesque Silliman Community Center Park in Newark on July 20th. Weather at High 70s was perfect for a beautiful day of cricket. The grand finale kicked off at 1PM with the Recreational finals.
Cloud chargers were defeated by Tornados convincingly. Then followed the highlight of the tournament – The women games. 24 women from Mirapakaayas, Fast & Furious (NCAA), IABA & Pleasanton Patakhas teams dressed in their trademark team jerseys displayed amazing passion, enthusiasm & energy in a very closely fought matches and were ably cheered by huge spectator crowds. Reena from Mirapakaayas scored the highest individual score in 10th BATA Cup – 43 runs with 4 6s and 3 4s. Fast & Furious (NCAA) was the Runners up and Mirapakaayas was the winner in Women category.
A new category this year on popular demand, the Youth games were next. This was meant to promote cricket among youth (age 15 & under). Warriors batted first and scored 50 runs. Batting 2nd CZA scored 30 runs in 6 overs. This was followed by Mens Semis. Right Arm Lollipops faced Assaulters in the first Semis and Right Arm Lollipops comfortably won the game. The second semifinal between Sahara and Titans was very closely fought. It went till the last ball but Titans managed to pull it off and entered the Finals.
The much awaited Mens Finals was next. Titans won the toss and decided to bat first. They scored 55/2 in 6 overs with Gagan doing much of the damage. Then came the surprise and specially packaged Half Time Show. It started off with a peppy rendition of Dard-E-Disco by the talented & versatile singer Anand Kannan. Following this was a surprise Flash Mob performed by around 40 members from BATA team & the spectators. Dancing to the current day popular members they had the crowd on their feet the whole time. Right Arm Lollipop started their chase of 56 convincingly but faltered in between, thanks to tight bowling and fielding by Titans. Eventually Right Arm Lollipops were restricted to 33 in 6 overs with Titans lifting the 10th Annual BATA Cup.
It was an electrifying grand finale – Music & Entertainment, Fun games for women and Kids, Jumper for Kids, tasty dinner and cheering from the enthusiastic spectators (consisting of spouses, children, family & friends). Delicious food for everyone was provided by Swagat Restaurant, Peacock Restaurant, Country Oven & Chaat Bhavan.
Here are the results of 10th Annual BATA Cricket Cup:
Youth – Runners Cricket Zeal Academy (CZA)
Youth – Winners Warriors
MVP – Youth Aravind
Recreational – Runners Cloud Chargers
Recreational – Winners Tornados
MVP – Recreational Rajesh V
Women – Runners Fast & Furious (NCCA)
Women – Winners Mirapakaayas
MVP – Women Reena Katoch
Men – Runners Right Arm Lollipops
Max 6s (Men) Manju (SOS)
Man of the Finals Gagan (Titans)
MVP – Men Prasanna (Titans)
Men – Winners Titans
Vijaya Aasuri kicked off the presentation ceremony with an introduction about BATA and how it has actively been involved in Cultural events, Social & Community causes for the last 41 years. She requested Prasad Mangina, Ravi Thiruveedula & Srilu Veligeti (past BATA Presidents) to share their thoughts. She then invited Kamesh Malla, the current President of BATA, to the podium. Kamesh mentioned that BATA takes up multiple non-profit initiatives every year such as Volley Ball tournament, Cricket Cup & various fund raiser concerts raising funds to several NPOs such as India Literacy Project(ILP), CIF etc. He thanked all the sponsors for their sponsorship to this event. He thanked all the teams for their participation and support. He specially thanked Cricbay, TenniaBall Cricket Association (TCA) & San Ramon Cricket Association (SRCA) for their unconditional support to this event without which this would not have been possible. Kamesh then introduced BATA committee consisting of Kalyan Kattamuri (Vice President), Sirisha Battula (Secretary), Yaswant Kudaravalli (Treasurer), Sumanth Pusuluri (Joint Secretary), Vijaya Aasuri, Veeru Vuppala, Sridevi Pasupuleti, Srilu Veligeti, Kiran Vinnakota & Taraka Deepti. Kamesh also thanked BATA members Ravi Thiruveedula, Prasad Mangina, Ramesh Konda, Karun Veligeti, Ranga Kurmapu, Hari Chikoti & Ratna for their help in conducting this event.
The dignitaries for the event included Alan Nagy (Newark City Mayor), Bill Quirk (Hayward Assembly Member), Anu Natarajan (Fremont Vice Mayor), Ro Khanna (served as the Deputy Assistant Secretary in the United States Department of Commerce under President Barack Obama and Democratic Party candidate for the United States House of Representatives), Jayaram Komati (Community leader, Philanthropist & head of Swagat group), Dr. Romesh Japra (Chairman, Federation of Indian Associations) and Yogi Chugh. The guest of honor was legendary India Leg Spinner Sri. B.S.Chandrasekhar. The dignitaries applauded BATA's diligent efforts in doing cross-regional & cross-cultural events that bring community together and pledged their continued support in the years to come.
Kalyan invited all the sponsors for this event and BATA team felicitated them. Govardhan & Ravi from Service Oriented Solutions (SOS), Ravi Gondipalli from Ravi Tax Services, Sirisha Sinha from Sirisha Homes, Prasad Vasireddy from Peacock, Kavitha from CBazaar, Murthy Vuppala from Your Smile Dental & Vijay Gariney from Shree Jewellers. The sponsors congratulated all the participating teams and appreciated BATA for a job very well done.
BATA Team presented the guest of honor Mr. B.S. Chandrasekhar with a special memento. B.S.Chandrasekhar "Chandra" congratulated all the teams & said playing in right spirit made all of them true winners. He said that the event was conducted in a very professional and organized manner to the audience & players delight. He applauded BATA's efforts to support various non-profits organizations and assured to be part of such noble causes in the future as well.
BATA team presented the donation check to Venkat Maddipati from Sankara Eye Foundation (SEF). Venkat mentioned that BATA is a recognized "Partner in Service" for SEF and thanked BATA team for their unwavering support over the years and expressed his wish to do many such collaborative events in the future. Sri. B.S. Chandrsekhar along with other dignitaries & sponsors awarded the teams with the trophies. MVP of the tournament received a specially autographed bat from the cricketing legend Sri. Kapil Dev. Along with the trophies, BATA also awarded a check of $500 to the Winners (Men) & $250 for Runners (Men) Kalyan then invited all the volunteers who helped in conducting the event and BATA team felicitated them: Sunil (NCCA President), Gaya (TCA), Sunil Shenoy (CricBay), Satyen & Sridhar (SRCA), Raghu from Cricket Zeal Academy, Krishnan Iyer, Srinivas,Shyam,Vishnu, Manish Nadkarni,Rohit Chakravarthy,Pramod (SOS),Raja (SOS), Kranthi, Sujit, Ratna, Ravindra, Ranga,Rama Komati,Naresh Gajula , Anand Sudhini, NIshant, Vishnu (Chargers), Abhishek (Panthers), Kiran & Rafhee. Special thanks went to Manoj from Chauka.com for helping with the Live Score feeds on the Finale day. Kamesh also thanked Harish (videography) & Srikar Boddu (photos) for their help with the event
While rejoicing the success & applauding all the participating teams and supporting organizations, Kamesh promised to make this event a much bigger spectacle the next year!
BATA Cup – Cricket for a Noble Cause & where every participant is a winner!