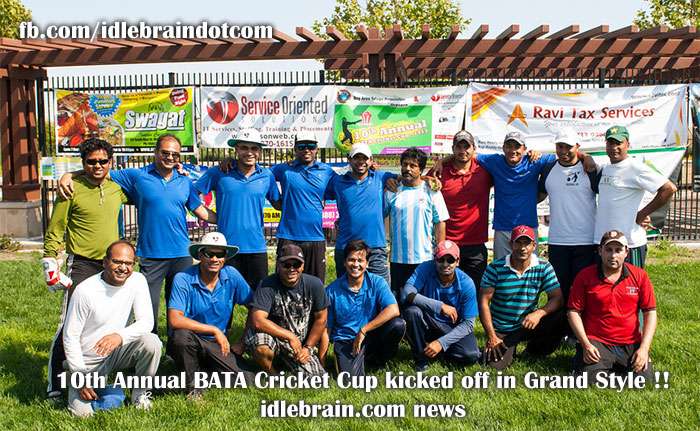 To feature your NRI communty news in idlebrain.com, please mail us at [email protected]
01 July 2013
Hyderabad
Scorching temperatures of 100 degrees+ did not dodge the enthusiasm of cricket lovers nor their determination to raise funds for Sankara Eye Foundation (SEF) in its mission to eradicate curable blindness in India. 10th Annual Bay Area Telugu Association (BATA) Cricket Cup kicked off in Grand Style in San Ramon the past weekend of June 29th/30th. BATA & Service Oriented Solutions presented this event which is a fundraiser to SEF. Ravi Tax Services & Sirisha Homes are the Platinum Sponsors, cbazaar.com is the Gold Sponsor, You Smile Dental & Shree Jewellers were the Bronze Sponsors, Swagat Restaurant, Peacock Restaurant and ITU are the other sponsors for this event. San Ramon Cricket Association (SRCA) supported this event. At the award ceremony, guests also paid tributes to the Uttarakhand flood victims and donated part of the funds to the victims benefit.
Beautifully landscaped Monarch Park, overlooking deep valleys & hills, welcomed the teams as the games kicked off at 9AM on June 29th. Smaller ground and the unique 6-overs-6-aside format meant high scoring games with a flurry of 6s & 4s flowing at will. Strategies & unique field placements made every game a nail biter with many games going till the last over. Dublin Dynamites, Titans, Green Caps, Sahara & San Ramon Challengers won their respective groups and represented the Top5 teams. Sahara, Titans & Dublin Dynamites qualified for the Semi-finals while San Ramon Challengers & Dublin Green Caps battled out an extra game with San Ramon Challengers clinching the 4th spot.
Titans easily chased the target of 20 set by Dublin Dynamites and entered the Finals while Sahara edged out San Ramon Challengers in a closely fought 2nd Semi Finals. The finals between the 2 strongest teams of the tournament - Titans & Sahara kicked off at 430PM. Winning the toss, Titans batted first and scored a whopping 73 in 6 overs (highest score of the tournament). Sahara tried to give a fight but regular wickets tilted the game in Titans favor. Titans won and are declared the Winners of the San Ramon edition of 10th BATA Cup. Titans & Sahara from San Ramon directly qualify into the Top16-20 bracket of BATA Cup to be played on July 14th.
Here are the results from the tournament:
Winners(San Ramon): Titans
Runners(San Ramon): Sahara
MVP of the tournament(San Ramon): Gagan (Titans)
Max 6s(San Ramon): Meer (Sahara)
The concluded San Ramon games are just the first weekend of 10th BATA Cup. Next games will happen in Fremont on July 13th/14th where over 60 teams will compete. There will be separate groups for women & youth (recreation). Semis & Finals will be held under flood light on July 20th in Newark
Peacock restaurants provided sumptuous free lunch to all the teams on Sunday. Country Oven provided mouthwatering Pastries & Snacks for the Finals.
The glittering presentation ceremony included Ace Indian Leg Spinner Sri. BS Chandrasekhar (Guest of Honor), Bill Clarkson (Mayor of San Ramon), David Hudson (Vice-Mayor of San Ramon), Raja Vallamsetla from Service Oriented Solutions(SOS), Prasad Vasireddy from Peacock restaurants, Sirisha Sinha from Sirisha Homes & BATA Committee and volunteers. Kamesh Malla (BATA President) thanked all the sponsors for their sponsorship to this event. He thanked all the teams for their participation and support. He specially thanked San Ramon Cricket Association (SRCA) for its unconditional support to this event without which this would not have been possible in San Ramon. Kamesh mentioned that BATA takes up multiple non-profit initiatives every year such as Volley Ball tournament, Cricket Cup & various fund raiser concerts raising funds to several NPOs such as India Literacy Project(ILP), Spandana, CIF etc.
Prasad Mangina then introduced and invited the Guest of Honor, Ace Leg Spinner, Sri. BS Chandrasekhar to the podium. B.S.Chandrasekhar "Chandra" congratulated all the teams & said playing in right spirit made all of them true winners and he also applauded BATA's efforts to support various non-profits organizations. Kalyan Kattamuri thanked Bill Clarkson & David Hudson for the excellent cricket infrastructure they developed in San Ramon and for the support they've been giving to the cricketing community and then cordially invited them to the podium. Bill Clarkson & David Hudson expressed gratitude for the kind words showered on them and mentioned that they will continue to be supportive of Indian community who's been an integral part of San Ramon. They said the San Ramon City Council will be supportive of these tournaments for good causes and expressed their willingness to be a part of it. Kalyan then invited all the sponsors & SRCA committee members Satyen & Sridhar to the podium.
Raja from SOS expressed happiness in being associated with this event and congratulated BATA for a job well done. Sirisha Sinha from Sirisha Homes mentioned that she watched a live cricket game after a long time and thoroughly enjoyed it. She was delighted to part of this event and congratulated all the participating teams. Prasad Vasireddy said that this tournament not only provides the platform for the enthusiastic cricket players in the Bay Area, but also provides financial support to Sankara Eye Foundation. He was thanked for the excellent food provided. Satyen & Sridhar from SRCA extended their wishes to BATA for conducting a successful tournament at a short notice. They expressed confidence that SRCA in collaboration with BATA can make this event much bigger in the coming years.
BATA team then felicitated Sri BS Chandrasekhar, Bill Clarkson, David Hudson & SRCA with special mementos.
Kamesh thanked Srinivas Gubbala, Ranga Kurmapu & Ratna who helped in umpiring for the San Ramon games & Srikar Boddu who helped with the photos and videos for the event. Special appreciation and accolades went to Kiran Vinnakota who oversaw the overall logistics for this event. Kamesh then introduced BATA committee consisting of Kalyan Kattamuri (Vice President), Sirisha Battula (Secretary), Yaswant Kudaravalli (Treasurer), Sumanth Pusuluri (Joint Secretary) & Vijaya Aasuri. Kamesh also thanked Veeru Vuppala, Prasad Mangina, Karun Veligeti, Ravi Thiruveedula, Ramesh Konda, Ratna & Ranga for their help in conducting this event.