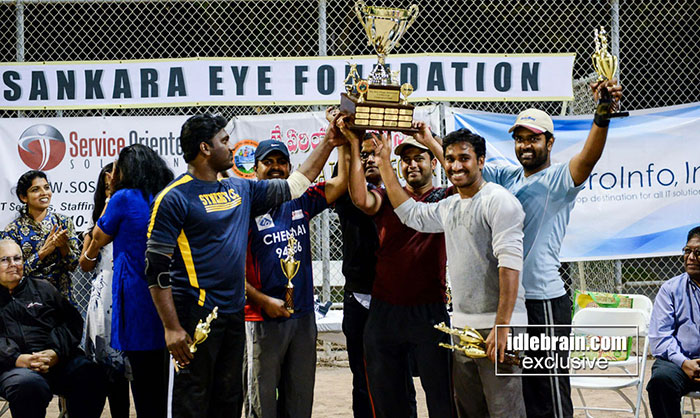 To feature your NRI communty news in idlebrain.com, please mail us at [email protected]
20 August 2014
Hyderabad
3 weekends, 4 categories, 84 teams, 116 games, over 540 players – all for a noble cause! 11th Annual BATA CricBay Cricket Cup was an Unparalleled Success!!!
Bay Area Telugu Association (BATA) in association with CricBay organized BATA CricBay Cup in Fremont. San Ramon edition of BATA Cup was done in association with San Ramon Cricket Association (SRCA). Dr. Prakash Advani DDS – Family Dentist in Sunnyvale was the Platinum Sponsor for this event. BATA donated the proceeds from this 6-over-6-aside tournament to Sankara Eye Foundation(SEF). BATA is a recognized Partner in Service for SEF. Service Oriented Solutions (SOS), Micro Info & Single Tree Realty are the Gold Sponsors. Peacock Restaurants was the food sponsor for this event.
First rounds of Fremont games in weekend-1 were conducted in 5 grounds with games starting at 8AM and going till 8PM with a new game every hour. Teams battled hard and the Top 8 teams entered into the QFs. The grand finale of 11th Annual BATA Cup was hosted in the picturesque Silliman Community Center Park in Newark. Beautiful weather kicked off the QFs at 12PM followed by Recreational finals. Peacock team won the Recreational category and Cloud Chargers were the deserving Runner-up. This was followed by some very close matches in the Men Semifinals. Namo Power Seamers & Anchors came out victorious and entered the Men Finals.
Then followed the highlight of the tournament – the women finals. NCCA & Queens teams dressed in their trademark team jerseys displayed amazing passion, enthusiasm & energy in a very closely fought matches and were ably cheered by huge spectator crowds. Queens was the Runners up and NCCA was the winner in Women category.
The much awaited Men Finals was next. Anchors won the toss and decided to bat first. They scored 50/2 in 6 overs with Sandeep Sagi doing much of the damage. Namo Power Seamers started their chase of 51 convincingly but faltered in between, thanks to tight bowling and fielding by Anchors. Eventually Namo Power Seamers were restricted to 39 in 6 overs with Anchors lifting the 11th Annual BATA CricBay Cup.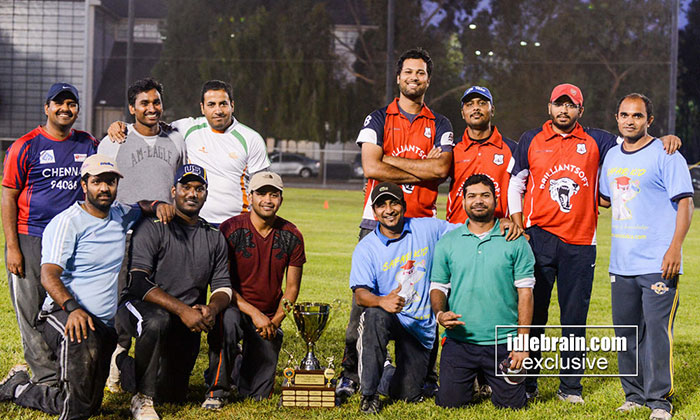 Special mention has to be made of the surprise - a specially packaged Half Time Show. 4-7 year old kids dressed in traditional Indian costumes mesmerized everyone with their beautiful dances and ending with "Yeh Mera India". Dancers from AAA & BBB groups then treated the audience to some peppy dance numbers from the latest chartbusters. BATA team thanked all the half-time show participants for their kind gesture in hosting & performing in the half-time show.
It was an electrifying grand finale – Music & Entertainment, Fun games for women and Kids, Jumper for Kids, tasty dinner and cheering from the enthusiastic spectators (consisting of spouses, children, family & friends). Delicious food for everyone was provided by Peacock Restaurant.
San Ramon games were conducted at Windemere and Monarch grounds. Games started at 8AM and a record number of 6s were hit in the day with teams managing huge scores. Swaggers, Giants, Sahara & Kings reached the Semi Finals. Swaggers defeated Giants comfortably to reach the finals. Kings edged out Sahara in the other Semis to clinch the spot in the finals. The finals commenced at 6PM. Kings batting first only dealt in 6s and scored 99, which is the new record for maximum runs in an innings in the 11 years of BATA Cup. Swaggers tried their best to chase down but the total was too big to get by. Kings were victorious in clinching the San Ramon edition of BATA Cup.
Here are the results of 11th Annual BATA Cricket Cup:
Fremont Games

Recreational – Runners

Cloud Chargers

Recreational – Winners

Peacock

MVP – Recreational

Raj (Peacock)

Women – Runners

Queens

Women – Winners

NCCA

MVP – Women

Reena Katoch

Men – Runners

Namo Power Seamers

Max 6s (Men)

Pramod (SOS)

Man of the Finals

Sandeep (Anchors)

MVP – Men

Sandeep (Anchors)

Men – Winners

Anchors

San Ramon Games

Men – Runners

Swaggers

Max 6s (Men)

Kamaldeep (Kings)

Man of the Finals

Vishad (Kings)

MVP – Men

Sanketh (Kings)

Men – Winners

Kings

Vijaya Aasuri kicked off the presentation ceremony with an introduction about BATA and how it has actively been involved in Cultural events, Social & Community causes for the last 42 years. Kalyan Kattamuri, the current President of BATA, mentioned that BATA takes up multiple non-profit initiatives every year such as Volley Ball tournament, Cricket Cup & various fund raiser concerts raising funds to several NPOs such as India Literacy Project(ILP) etc. He specially thanked CricBay, the partner organization, of BATA CricBay cup for their unconditional help and support to this event. He also thanked San Ramon Cricket Association (SRCA) for their support with the San Ramon edition of BATA Cup. Kalyan Kattamuri introduced the BATA Team – Sirisha Battula(Vice President), Yaswant Kudaravalli (Secretary), Sumanth Pusuluri (Treasurer), Harinath Chikoti (Joint Secretary). Logistics Committee – Srikar Boddu, Naresh Gajula & Hari Moyyi. Steering Committee: Prasad Mangina, Ramesh Konda, Karun Veligeti, Ravi Tiruveedula & Kamesh Malla. Advisory Board - Vijaya Aasuri, Veeru Vuppala & Jayaram Komati. Cultural Committee: Sridevi Pasupuleti, Srilu Veligeti, Kiran Vinnakota, Taraka Deepti & Rathinavel Pandian.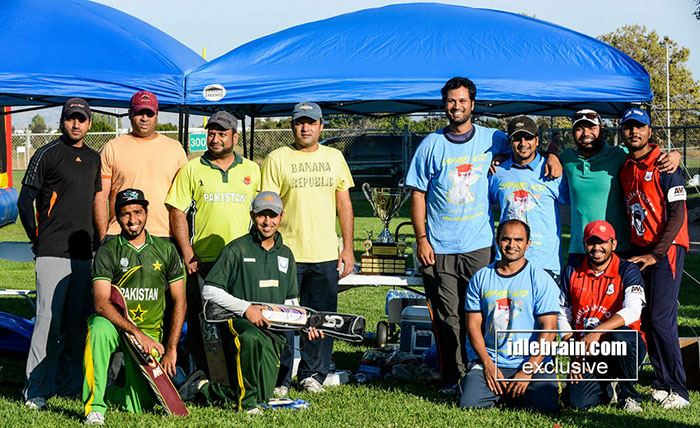 The dignitaries for the event included Alan Nagy (Newark City Mayor), Ro Khanna (Democratic Party candidate from the 17th District for the United States House of Representatives), Jayaram Komati (Community leader, Philanthropist & head of Swagat group). The dignitaries applauded BATA's diligent efforts in doing cross-regional & cross-cultural events that bring community together and pledged their continued support in the years to come.
Kalyan then invited Naresh Gajula, the overall coordinator for this year's BATA CricBay Cup. Naresh thanked all the teams for their participation and all the sponsors for their support. He thanked Veeru, Kamesh, Prasad, Ravi, Ratna, Sumanth & Yaswanth for their relentless efforts on & off the field. Special mention was made of CricBay team of Sheshu, Subraya, Krishnan & Neeraj for their help with the event logistics. He then mentioned members of team Talons provided incredible help & support volunteering for the tournament – Anand, Venkat Pavan, Dattu, Devender & Naveen. Chirag Panchal, Dileep Patel & Rohit Chakravarthy were also mentioned for their help with umpiring. All the volunteers were felicitated with a medal from BATA Team. Kalyan thanked Srikar and Anurag for the photo & video coverage of the event.
Sheshu Shenoy from CricBay expressed happiness about the success of BATA CricBay Cup and thanked CricBay community for their fantastic support to the event. He hoped that the collaboration between BATA & CricBay can do much more in years to come and create a much bigger impact to the society.
Umesh Ramaswamy from SRCA thanked BATA for working with SRCA and bringing this tournament to San Ramon. He pledged his support to make this event a much bigger spectacle in San Ramon the next year. Satyen from SRCA thanked SRCA teams for their solid support yet another year.
BATA team then felicitated all the sponsors for this event. Dr. Prakash Advani DDS Family Dentist in Sunnyvale, Raja Vallamsetla & Ravi Thoutam from Service Oriented Solutions (SOS), Appi Reddy from Micro Info & Venkata Ramanan from Single Tree Realty. The sponsors congratulated all the participating teams and appreciated BATA for a job very well done. BATA Team also felicitated Sheshu Shenoy & Subraya Mallya from CricBay as well as Umesh Ramaswamy & Satyen from SRCA.
BATA team presented the donation check to Murali Krishnamurthy from Sankara Eye Foundation (SEF). Murali mentioned that BATA is a recognized "Partner in Service" for SEF and thanked BATA team for their unwavering support over the years and expressed his wish to do many such collaborative events in the future. He said the funds raised in BATA Cup 2014 will provide free eye surgeries to about 250 people back in India.
Dignitaries & sponsors awarded the teams with the trophies. MVP of the tournament received a specially autographed bat from the cricketing legend Kapil Dev. While rejoicing the success & applauding all the participating teams and supporting organizations, BATA team promised to make this event a much bigger spectacle the next year!
BATA Cup – Cricket for a Noble Cause & where every participant is a winner!