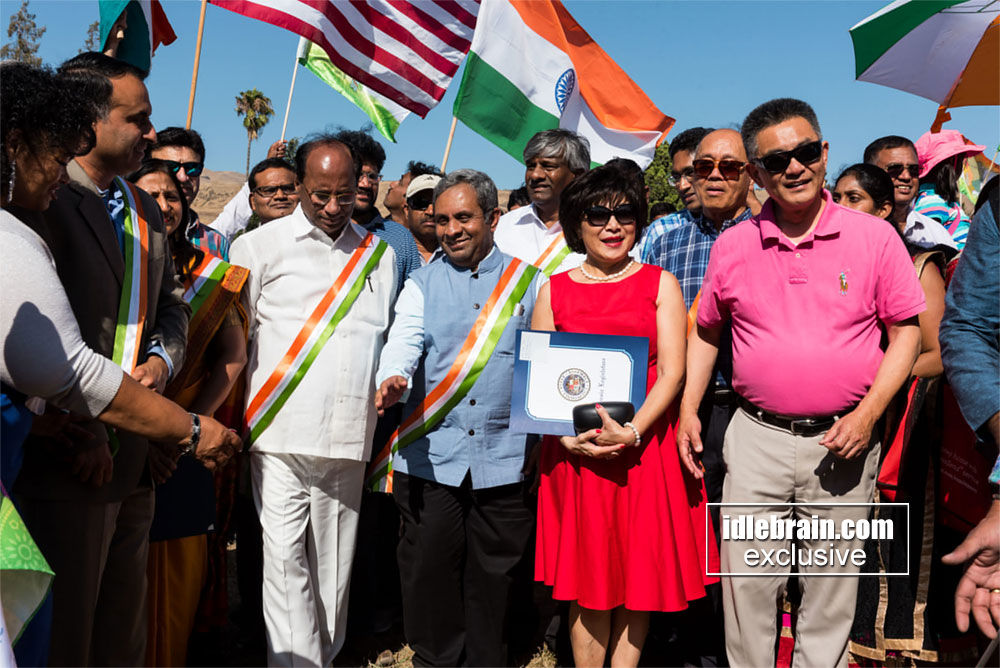 To feature your NRI communty news in idlebrain.com, please mail us at [email protected]
10 August 2016
USA
Association of Indo American's (AIA), Desi 1170 AM & Bolly 92.3 presented "Swades", to celebrate India's Independence Day. It is a unique outdoor festival, first of its kind and was supported by over 21 Indian organizations in Bay Area. With over 10,000 attendees, Swades was refreshingly endearing, visually stunning, totally engaging, and entertaining with pure patriotism all around. This mega event was presented by Sanjiv Gupta CPA.
The event started at 11AM and went all the way till 8PM. There were live Characters - Chhota Bheem, Ballala Deva, Hanuman, Bala Ganesh, Bala krishna, Spiderman, Capt America & many more that mingled with the crowd and were a raging hit among kids and adults. There were several carnival games & slides for kids. Jungle Book, Tea Cup ride, Rock wall, Bungee Jumping and Shaktiman rides were a runaway hits with kids. And there were two train rides and various popular carnival games.
One of the key mottos of Swades was to showcase and propagate Indian Culture and Art forms. The daylong cultural programs did that in style. Kuchipudi, Bharatanatyam, Kathak & Classical dances (by kids and adults), Foot tapping Bollywood and Tollywood dances thoroughly entertained the audience.  Talented singers presented super hit songs.  Added to this, there were some special shows – Unicycle Show and still walker.
Desi Food Festival with brought various delicacies with unique presentation under one roof. Peacock Restaurants, Cakes & Bakes, Shalimar, Kukee's, Rasoi, Pista House, Tirupathi Bhimas, Ulavacharu etc catered the food for the event. What's a desi mela without shopping and Swades provided ample opportunities for the same. Over 60 vendors displayed booths spanning clothing, jewelry, dentist, mehendi, real estate, after schools, IT training & health services
One unique feature at this mela is a special sporting event which attracted over a couple of hundred enthusiastic participants of all ages from 5 years to 75 years, with 100, 200, 400 and 800 meter running races with fun picnic games like lemon and spoon, three legged race and sack races. All winners and participants were given certificates and winning ribbons.
There was a free health checkup offered by PAMF and dental care services offered by You Smile Dental. Which were highly appreciated by the elderly community and students.
This amazing festival featured grand parade led by Sri Venkatesan Ashok (Consul General of India, SFO), Sri Kodela Siva Prasad (AP State Legislative Assembly Speaker), Jayaram Komati (AP Government Special representative for North America), Mayor Jose Estevez (City of Milpitas), Ro Khanna (Community Leader), Ash Kalra (Councilmember of City of San Jose), Savitha Vaidyanathan (Vice Mayor of City of Cupertino), Kensen Chu (Assemblymember of California state), Lily Mei (Vice Mayor of City of Fremont), Tara Martin-Milius (Councilmember of City of Sunnyvale ), Sister Susum ji (Brahma Kumaris of Silicon Valley) & K Venkata Ramana (Consulate General of India ).   Indian and American flags were hoisted amid cheers and applause from a large gathering of passionate Indo-Americans. AIA team felicitated all the VIP guests.
Speaking at the occasion all the guests congratulated the AIA team for bringing such an incredible event that binds the community together and promised unwavering support in the coming years.
AIA team thanked and felicitated the event sponsors. Wells Fargo, Solar City, Munshi 24*7, North Western Polytechnic (NPU), You Smile Dental, PNG Jewelers, ZenBanx, JEI Learning.
Here is the complete list of all organizations
Asha Jyothi,
Bay Area Telugu Association (BATA),
Bay Area Tamil Manram (BATM),
Bihar Association,
GOPIO (Global Org of people of India Origin),
India Literacy Project (ILP),
Kashmiri Association (KOA),
Punjabi Cultural Assoc (PCA),
Rajasthan Assoc of NA (RANA)
Spandana,
Sankara Eye Foundation (SEF)
Telugu Assoc of North America (TANA)
Telangana Cultural Assoc (TCA),
UPMA (Uttar Pradesh Mandal)
Veda Temple

Swades – the sheer name transforms us into true patriots. But Swades event lived up to and in fact crossed all expectations by a few miles. Every attendee went home with lots of smiles & lots of memories of an independence day they will cherish for a very long time. AIA team thanked the Bay Area Indian community for their support & promised a MUCH BIGGER & BETTER festival next time.