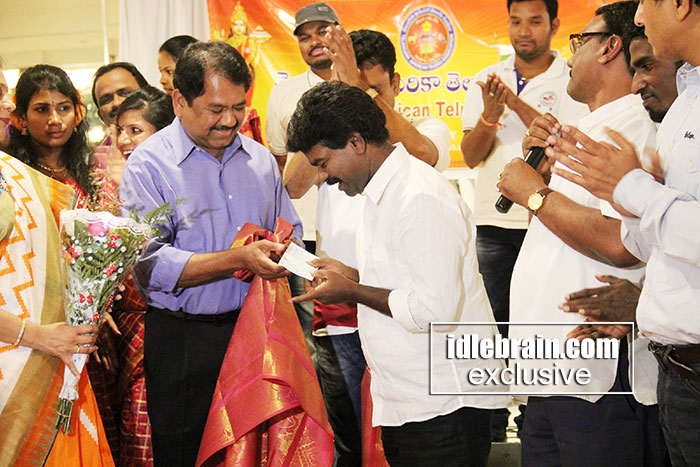 To feature your NRI communty news in idlebrain.com, please mail us at [email protected]
22 July 2016
USA
Dhoom Dham an art of expressing the social conditions in Telangana was dominant in the past. The form continues to date albeit culturally. These songs and dances made an indelible mark in the minds of the citizens and they are highly liked among the masses.
Telangana American Telugu Association (T.A.T.A) conducted Dhoom Dham event in New York. The entire event was sponsored by Chair, Advisory Council Dr. Pailla Malla Reddy businessman and philanthropist from New York. This exclusive musical event was led by Rasamayi Balkishan, MLA and chairman of Telangana Samskrutika Saradhi, with the troop of 15 people performed on various hits of Telangana folk songs. The troop mesmerized audience with their singing and dancing on Telangana albums. There was more entertainment in the form of Mimicry artist Ramesh and songs by singer Anudeep enthralled the audience with thought provoking and fun filled songs.
The event was attended by T.A.T.A. Board Director Dr. Sudhakar Vidiyala, Madhava Reddy and Phanibushan along with the community leaders Venigala Sambasiva Rao, Purna Atluri, Jay Talluri, Raghava Rao Polavarapu, Mohan Badhey, Mahesh Saladi, Nagendra Gupta, Sharath Bhumi among others.
As the event progressed Chair, Advisory Council Dr. Pailla Malla Reddy was highly impressed with the commitment shown by the singers and donated 1.3 million rupees by handing over the check to Rasamayi Balkishan, MLA and Telangana state Saamkruthika Saradhi towards the cause of Telangana cultural artists. Speaking to the large audience he reiterated T.A.T.A's commitment towards the cause of Telangana and especially supporting its rich history and culture. He also stated that T.A.T.A is committed to the service of Telangana people, especially helping farmers, Education and entrepreneurship.
NY Team RVP, RCs, National Committee Chair, Co-chair and Adhoc committee helped in organizing event logistics with grand success. NY RVP Ranjeeth and NJ RVP Dhanraj thanked the attendees, the management of the venue and all artists.