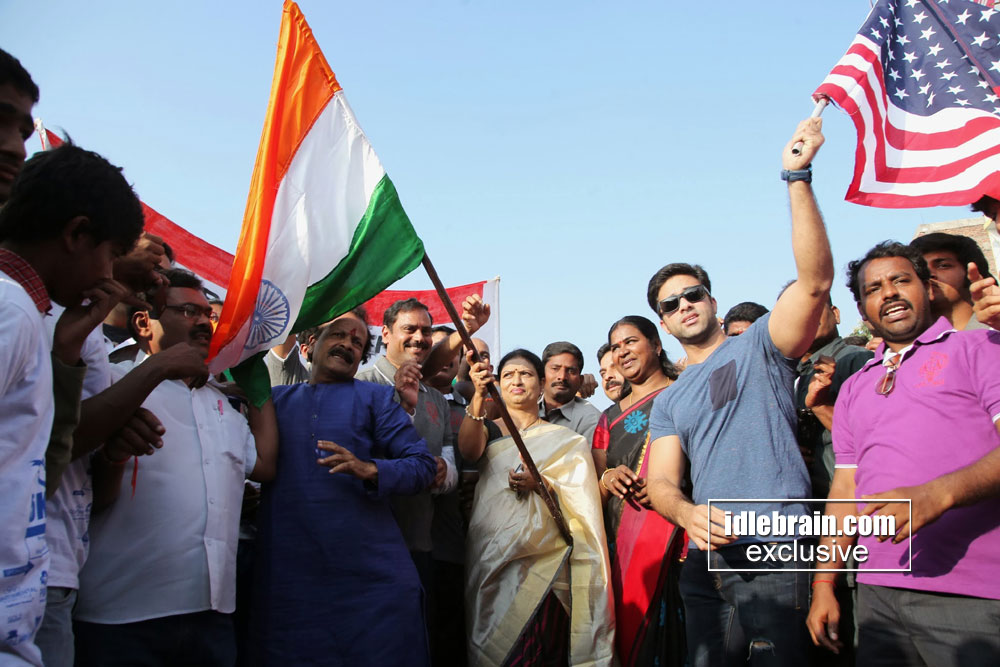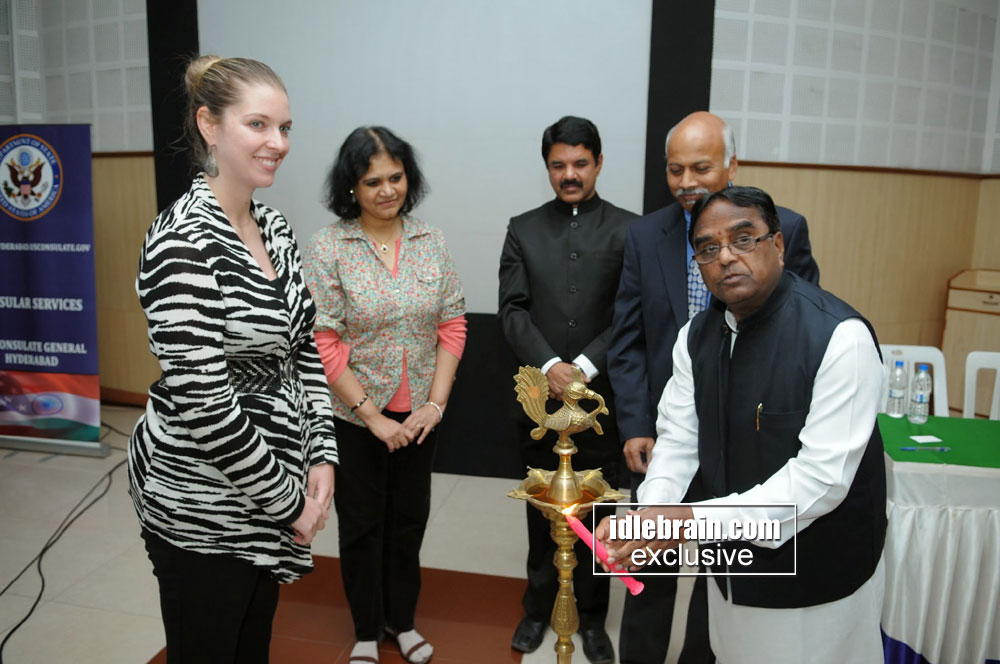 To feature your NRI communty news in idlebrain.com, please mail us at [email protected]
25 December 2013
Hyderabad
5K Run:
To create awareness on breast cancer, heart diseases in women, anti-piracy, women safety and domestic violence, American Telugu Association (ATA) organized a 5k run on December 1 at Necklace Road, Hyderabad. More than eight thousand participated in the run and Chief Guests for the event was Smt.D.K.Aruna, Minister for Information, and AP. Students & Youth in large numbers from schools and colleges have come to participate in this run for a noble cause. On this occasion minister for information and public relations ,DK Aruna has praised ATA's noble concern for womenempowerment. Speaking on the occasion ATA president R Karunakar Madhavaram said that there was an immediate need to create awareness on breast cancer, heart diseases in women, anti-piracy, women safety and domestic violence. He said that the recent Nirbhaya and Abhaya cases had pushed them to create awareness against harassment on women. Other speakers were Event coordinator Suresh Kaleru, Dr. Bhasker Rao, CEO for KIMS, Dronacharya award winner Arif, Hockey player Mukhesh, and Sports Authority chair P.R Mohan, Cine Hero Navdeep. Dr. Surender Reddy's song on ATA Vedukalu was welcomed with dances and applauses. The run was a great success in creating awareness on a great cause among the attendees and general public through the media.
Medical/Health Camps:
ATA organized medical & health camps in remote villages of Manaboobnagar and Warangal district as a part of the ATA noble program 'Adopt A Village'. On Dec 2nd with the help of about forty doctors and physicians ATA organized health camp in Amnoor village in Wanaparty Mandal Next day on 3rd in Mangalikuntapally village, Balmur Mandal, Mahabubnagardistrict. Both of these health camps were inaugurated by District Collector Mr. Girija Shankar. The health camp was organized benefitting about 1000 people. Medical & Health camp was also organized in Station Ghanpur, Warangal in association with Maaillu organization.
Educational & Women's Seminars:
"Education USA" was the theme for the educational seminars which was attended by over 500 students from all across AP. Sri. Ponnala Laxmaiah AP minister for the IT was the chief guest and inaugurated the seminars, which was organized by Prof.Rajasekhar Vangapaty Registrar NY and ATA education committee chair. The main speakers for the seminars were Sri. Ponnala Lakshmiah, IT minister as Chief Guest, US Viceconsulate General Ms. Courtney Klein, Ms. Renuka Raja Rao, USIEF national coordinator, Ms. Tanushka, USIEF, coordinator Following educational seminars, the women's seminars were organized focusing on "Domestic Violence and Women's Safety" which was inaugurated by Smt. Sunitha Laxma Reddy AP Minister for Women development. Other speakers were. Dr. Surender Reddy, ATA overseas coordinator, Sri. Devanatha Jeeyar swmiji, Sr. Ahobila Swamiji.
Grand Finale Cultural Programs:
Evening cultural program was grand success with over 100 artists showcasing their talent with the ATA 13th conference focus on Telugu Charitha, Telugu Yuvatha & Telugu Bavitha. The program started with a lighting of the lamp by Chief Guest Sri.Venkat Reddy AP minister for Horticulture, Invitees Sri.Koamatireddy Rajagopal Reddy MP, A.P. Jithender Reddy Former MP, P. Sudhakar Reddy MLC, MRG. Vinod Reddy, APCC Secretary, Dr. Nagam Janardhan Reddy, MLA, and ATA President Karunakar Madhavaram. Cultural programs started with the welcome speech by Rammohan Konda, ATA Vedukalu coordinator, followed by President's speech by Karunakar Madhavaram. Inaugural classical dances by Padmaja Reddy troupe with over 100 kids and youth participating to dance to the tunes of 13th ATA Conference inaugural song. The highlight of the evening was the performance of mrugdangam by legend and world record holder Sri.Yella Venkateshwar Rao. Entire audience was into the tunes of mrudangam and whole audience gave a standing ovation to the legend as he finished his entertaining performance. ATA recognized various personalities for their dedicated service in their respective fields. Mr. Yella Venkateshwar Rao was honored for his contribution to music; later evening was enthralled by performance from Rela Rela Relare fame Ravi and traditional folk dances by koyas.
ATA President Karunakar Madhavaram introduced and thanked the ATA team members below who participated in ATA activities from December 1st to December 7th. Dr. Padmaja Reddy, ATA VedukaluCultural Committee chair, Tammareddy Bharadwaj, Cultural committee advisor, Dr. Surender Reddy, Overseas coordinator, Suresh Kaleru, 5K run coordinator, Sudhakar Perkari, President Elect, Ananth Reddy Pajjur, Secretary, Narender Chemarla, Treasurer, Ramchandra Reddy, Jt. Treasurer, and Finance Committee Chair, Parmesh Bheemreddy, Convener, Balwanth Kommidi, conference director, Karunakar Asireddy, BOT, Satyanarayana Reddy, BOT, SatishReddy, BOT, Laxman Anugu, BOT, Ram Reddy Toomukunta BOT, Rammohan Konda, ATA Vedukalu coordinator, Ajay Reddy, Adhoc committee member, Dheeraj Akula, Bylaws committee chair, Mahee Sanapareddy, AB chair, Raghuveer Bandaru, Ethics committee chair, Hari Prasad Reddy Lingala, Media Chair, Dr.Rajasekhar Vangapaty, Education Chair, Arvind Muppidi, RC, Dallas, Raghuveer Reddy, RC NJ, Rao Nerusu, RC, Detroit, Vijay Thupally, RC, LA, Lokesh Reddy, Conference Security chair, Ravi Bojja, RC DC, Venkat Kondapolu, RC, DC, Manohar Enugu, Conference NRI committee chair, Ramakrishna Joolakantla, Planning committee chair, Srikanth Gudipati, Chair, Corporate Sponsorship, Sravan Poreddy, Vishu Kalwala and other ATA members. The evening ended with recognition of all the volunteers and vote of thanks to sponsors (KIMS Hospitals, Prathima Medical Sciences, Phoenix Builders, Continental Hospitals, Golden Gate Properties, OSI Consultants, Krushi Builders, Bharath Institutions, LIC, Mount Litera Z School), Media, and the the management of Shilpakalavedika for their support for the ATA Vedukalu/Seva program(s). ATA also extends warm wishes to all Telugus a happy and prosperous New year 2014.