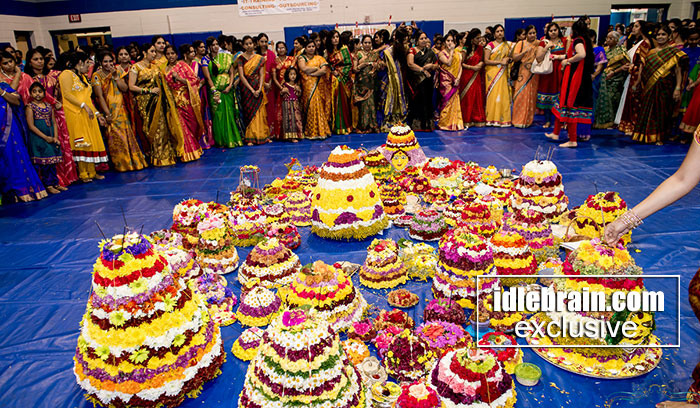 To feature your NRI communty news in idlebrain.com, please mail us at [email protected]
30 September 2014
Hyderabad
The unique Telangana Festival of Flowers "Bathukamma" was celebrated with great enthusiasm by Telangana Community in Atlanta on Saturday, September 27th at South Forsyth Middle school. This event is organized by Telangana Community Inc.(TCI) - www.telanganacommunity.org. A record number of folks showed up which is almost 1200 and added lot of color to the event with wide variety of Bathukammas.
The event kicked off with lamp lighting ceremony by the women, then followed by an hour long cultural programs with participation by cute little kids with various song and dance performances. Songs by local artists cheered up the crowd. It was the 10th year of Bathukamma celebrations in Atlanta organized by Telangana community Inc., which is, apart from promoting Telangana culture abroad, it is heavily involved in charity work in Telangana region back home in India.
Sponsors Pramod Sajja, Kiran Pasham & Ravi Chander addressed the crowd and appreciated the efforts of TCI Board for organizing such a successful program. Every year TCI holds a contest to encourage women to arrange beautiful Bathukammas, this contest was judged by several ladies, selected randomly from the audience. The prize distribution for the cultural program participants, volunteers, Bathukamma winners is followed by actual Bathukamma celebrations. The women started Bathukamma play with traditional pooja followed two hours long dancing for various Bathukamma songs. Finally, the Bathukammas for immersed into the water with a warm and cheerful send off.
TCI appreciates the generous support of the below sponsors who made the event possible.
Gold Sponsor:
Promod Sajja ( Paramount Software Solutions )
Silver Sponsors:
Kiran Pasham ( EIS Technologies )
Ravi Chander ( eTelangana )
Mahesh Nilagiri ( IT Division Inc., )
Bronze Sponsors:
Arun Katpally ( Orpine Technologies )
Karunakar Asireddy ( InfoSmart Training )
Madhavi Gangasani ( Solid Source Reality )
Dr. Bharat Naravetla
Madhu Tata ( Swapna Indian Cusine )
Venkatramana Gaddam ( Dream Reality Group )
Prabhakar Putta
Chandra Solipuram
Vivek Reddy

TCI board thanks all attendees, volunteers, donors and the community for their support throughout the years.