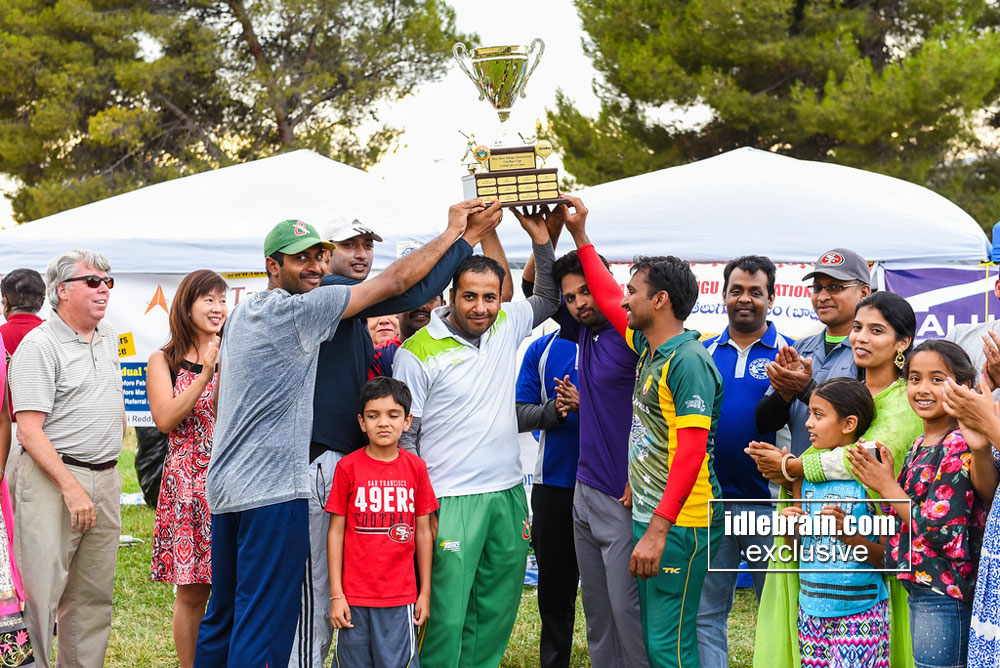 To feature your NRI communty news in idlebrain.com, please mail us at [email protected]
23 July 2015
Hyderabad
12th Annual "BATA - CricBay Cricket Cup" – A resounding success!!
48 teams, 66 games, 300 players, 5 grounds – all for a noble cause! 12th Annual BATA CricBay Cricket Cup was an Unparalleled Success!!!
Bay Area Telugu Association (BATA) in association with CricBay organized BATA- CricBay Cup. Service Oriented Solutions (SOS) was the Platinum Sponsor for this event. BATA donated the proceeds from this 6-over-6-aside tournament to Sankara Eye Foundation (SEF). BATA is a recognized Partner in Service for SEF and donated over $75,000 so far from BATA CricBay Cup over the past 12 years.
Beautiful weather welcomed the games which were conducted in 5 grounds with games starting at 8AM and going till 8PM. Teams dressed in their trademark team jerseys displayed amazing passion, enthusiasm & energy in very closely fought matches and were greeted by cheering spectators.
Here are the results of 12th Annual BATA Cricket Cup:
Fremont Games

Recreational – Runners

Bahubali

Recreational – Winners

Cloud Chargers

MVP – Recreational

Rupen (Cloud Chargers)

Women – Runners

Sivagamis

Women – Winners

4 Roses

Max 6s (Men)

Teja (C-None)

Man of the Finals

Vijay (C-None)

MVP – Men

Anand (SOS)

Men – Runners

SOS

Men – Winners

C-None
Vijaya Aasuri kicked off the presentation ceremony with an introduction about BATA and how it has actively been involved in Cultural events, Social & Community causes for the last 42 years. Kalyan Kattamuri, the current President of BATA, mentioned that BATA takes up multiple non-profit initiatives every year such as Volley Ball tournament, Cricket Cup & various fund raiser concerts raising funds to several NPOs. Kalyan Kattamuri introduced the BATA Team – Sirisha Battula (Vice President), Yaswant Kudaravalli (Secretary), Sumanth Pusuluri (Treasurer), Harinath Chikoti (Joint Secretary). Logistics Committee – Srikar Boddu, Naresh Gajula, Prasanth & Arun. Steering Committee: Ravi Tiruveedula & Kamesh Malla. Cultural Committee: Sridevi Pasupuleti, Srilu Veligeti, Kiran Vinnakota & Taraka Deepti. Advisory Board - Vijaya Aasuri, Veeru Vuppala, Jayaram Komati, Prasad Mangina, Ramesh Konda & Karun Veligeti.
Kalyan then invited Naresh Gajula, the overall coordinator for this year's BATA CricBay Cup. Naresh thanked all the teams for their participation and all the sponsors for their support. He specially thanked CricBay, the partner organization, of BATA CricBay cup for their unconditional help and support to this event. Special mention was made of CricBay team of Sheshu, Subraya, Krishnan & Neeraj for their help with the event logistics. All the volunteers were felicitated with a medal with a special mention to Kondal (BATA), Hari Vinod, Venkat, Praveen P, Dattu, Pramod, Praveen K & Abhilash. Kalyan thanked Srikar and Yagnik for the photo & video coverage of the event.
The dignitaries for the event included Milpitas City Vice-Mayor Carmen Montano,
Newark City Councilmember Michael Hannon, Fremont City Councilmember Lily Mei. Speaking at this event, the dignitaries applauded BATA's diligent efforts and pledged their continued support in the years to come.
Subraya Mallya from CricBay expressed happiness about the success of BATA-CricBay Cup. He hoped that the collaboration between BATA & CricBay can do much more in years to come and create a much bigger impact to the society.
BATA team presented the donation check to Murali Krishnamurthy & Venkat Maddipati from Sankara Eye Foundation (SEF). Murali mentioned that BATA is a recognized "Partner in Service" for SEF and thanked BATA team for their unwavering support over the years and expressed his wish to do many such collaborative events in the future. BATA team then felicitated all the annual sponsors – Ravi Tax Services, You Smile Dental, Cal Homes, DESI 1170AM, Lavanya Duvvi Realtor, Scopus Consulting Group and International Technological University (ITU).
While rejoicing the success & applauding all the participating teams and supporting organizations, BATA team promised to make this event a much bigger spectacle the next year!
BATA Cricbay Cup – Cricket for a Noble Cause & where every participant is a winner!