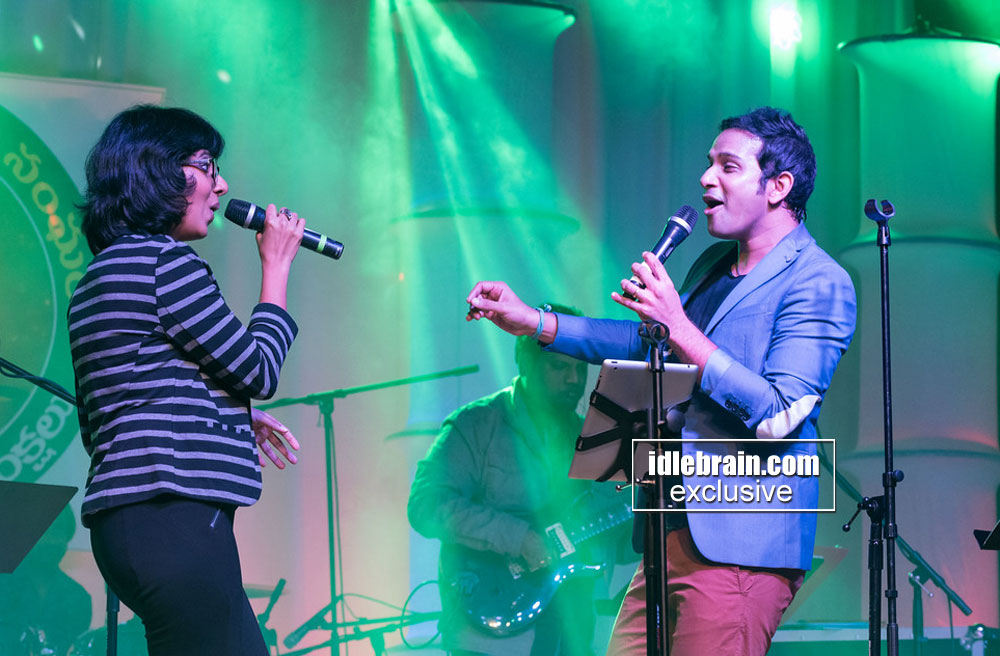 To feature your NRI communty news in idlebrain.com, please mail us at [email protected]
6 November 2015
Hyderabad
BATA Deepavali Dhamaka Grand Success !!! Singer Kartik rocks Bay Area Audience.
Bay Area Telugu Association (BATA) celebrated "Deepavali Dhamaka" in a grand style.  It is a BATA "flagship" event and is the most popular in the Bay Area Telugu community. The event was sold out with more than 1,500 attendees throughout the day. The event started at 2:00 pm and went till 11:00 PM.
Lavanya Duvvi (Intero Real Estate) was the grand sponsor, powered by YouSmile Dental. Other sponsors include Ravi Tax Services, CalHomes, Profitics, Nitin Jewelers, Swagat Indian Cuisine, Scopus Consulting, UlavaCharu Indian Cuisine & International Technology University (ITU).
Media partners Virijallu, Desi 1170 AM & Telugu Times promoted the event.
The auditorium was very well decorated with diya's and flowers. Lot of clothing, Jewelry and other vendor booths added to the festive atmosphere.
The program started at 2:00 pm. Vijaya Aasuri (BATA advisor) welcomed all the guests.
Program Highlights:
Boochamma-Boochodu - Halloween continues at BATA Diwali and that too in Halloween ishytle. With colorful Costumes, Characters involving both Kids & Adults.
Sanfrevale (San Ramon + Fremont + Sunnyvale)
Stellar dance segment showcasing supremely talented 100+ kids and youth from across Bay Area.  .
Charuseela tho Bahubali - This hilarious musical takes us on a journey of 3 passengers and a cab driver interspersed with amazingly choreographed dances that are part of the story. Witty one liners, choreographed comedy sequences and the unexpected climax left audience in splits. (Laughs)
America Lo Soggallu - There's a major problem eating away the brains of NRIs. And there are a few VIP's (Politicians, Actors etc ) coming all the way from India to solve this. What is that problem? Who are those coming from India? Audience were entertained by this laugh riot.
Deepanjali - A unique and spectacular diya dance
Ananda Bhairavi - Classical arts are always a big part of BATA Cultural Programs. We will showcase a mesmerizing classical dance ballet featuring Mythri Natyalaya Artistic Director: Shirni Kanth

Singer Kartik, Shakti Shree, Madhu Iyer & team presented rocking, high energy and Amazing live music concert.
Some of the songs presented are:
Magahanapathim (Prayer song), Okamaaru (Ghajnai), Omkaranadanu (Sankara Bharanam)
Chilipiga choostavala (Orange), Yeduta Nilichindi (Vaana)
Arere (Happy days), Nijanga (Kotta Bangaru Lokam)
Mehbooba (in honor of RD Burman), Gunjukunna (Shakti Shree)
Sir VastaVasta Raa (Business man) , Itu Raaye (Dookudu)
Niluvaddamu (Nuvvostanante Nenoddantana), Nee Jathaga (Yevadu )
Paccha bottesina (BahuBali) , Oh my friend (Happy days)
Hey nayak (Nayak) , Poovai poovai (Dookudu)
Dil se (Gabber Singh) , Choodadantunna (Pokiri)
Unplugged : Aakuchatu , OO Paapa laali, Em Maaya Chesavey.
BATA & Sankara Eye Foundation gave an update on the new hospital planned in Hyderabad. More than $300,000 are raised for this prestigious project.
Speaking on the occasion Kalyan Kattamuri (President) thanked all the volunteers for their hard work & specially showered praise on Kartik and his team for a fabulous show.
Kalyan introduced BATA executive committee consisting of: Sireesha Battula (Vice President), Yaswanth Kudaravalli (Secretary), Sumanth Pusuluri (Treasurer) &  Harinath Chikoti (Jt Secretary) "Steering Committee" - Ravi Thiruveedula & Kamesh Malla. 
"Cultural Directors" includes Sridevi Pasupuleti, Srilu Veligeti, Kiran Vinnakota, and Taraka Deepti.
"Logistics Committee" consists of Srikar Boddu, Naresh Gajula, Prasanth Chinta Kondal, Rao & Arun Reddy.
BATA "Advisory Board" Jayaram Komati, Vijaya Aasuri, Veeru Vuppala, Prasad Mangina, Karun Veligeti and Ramesh Konda congratulated all the volunteers in making the program a grand success.
BATA team thanked the sponsors for their continued support and presented them with plaques.