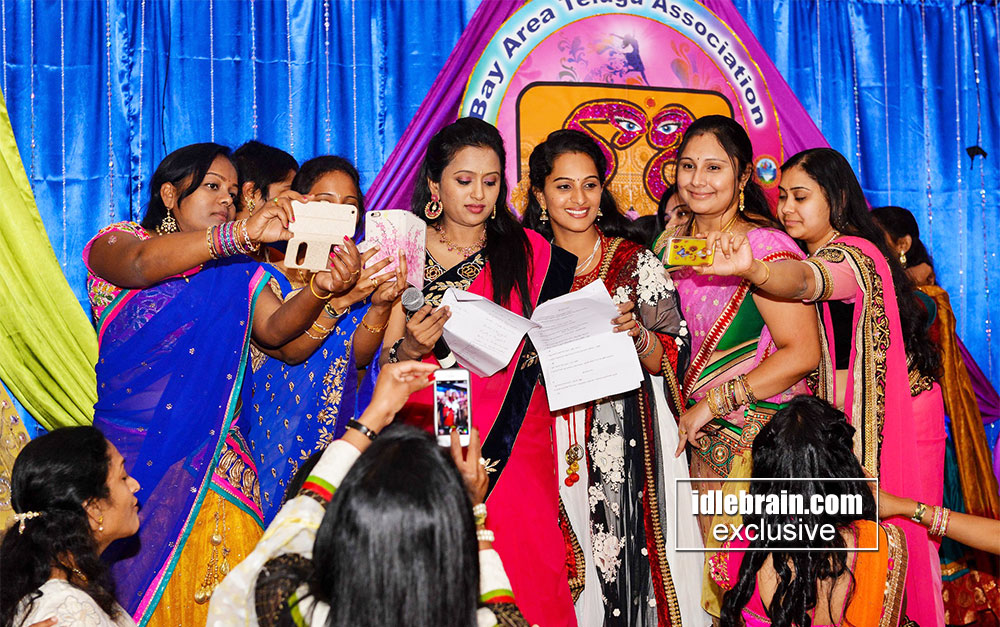 To feature your NRI communty news in idlebrain.com, please mail us at [email protected]
17 May 2015
Hyderabad
'Naari', a program dedicated specifically to women was hosted for the second time by the Bay Area Telugu Association. Last year's event even at its conception created such a sensation that this year's entire event was sold out a week after tickets went on sale. What makes this event, so special is that it was entirely dedicated to women and organized by women. An event to celebrate women by providing an evening of entertainment and a venue for all the Naaris(attendees) to relax, pamper, and enjoy themselves in an exclusive, stress free and luxurious environment.
The Naari team has truly outdone themselves this year. The evening started at 5:30pm at the elegant Mediterranean ballroom of the Airport Garden Inn in San Jose. A team of colorfully clad and wonderfully bejeweled women welcomed the attendees at the reception table and directed them to a spacious reception area where, they were greeted by an opulent Casino table to play and win big which was an instant hit. Over at a near by table many were eagerly waiting to get their fortune read by a mysterious fortune teller, while many surrounded two circular tables to pick up their free packs of jeweled Bindis. There was a stream of women emerging from a corner of the reception area giddy with beautiful bouncy curls and angelic eye make up done by a competent beautician who added her magic touch to all the pretty faces. This new service definitely gained instant popularity with all the Naaris. If you could peel yourself away from all this excitement, two rows of warm, mouthwatering appetizers were waiting for you along with two bar areas to provide you with a variety of drinks including tasty mock tails. There were also some booths selling their newest collection of fine gold jewelry, costume jewelry and clothing. In the center of the reception area was a small elevated stage decorated with Bangles and exhibiting the words "Naari". This spacious decorated area with signs such as 'Queen', 'Rocks', etc, for props provided a creative space for all the women and their dear friends to pose for fun pictures and selfies. It took everyone back to being kids again.
At about 7pm, the doors to the main ballroom opened. As you entered the venue, one could not miss the grandeur filled stage, which dazzled with a crystal backdrop topped with a beautiful circular bejeweled Naari logo as its centerpiece and embellished by large gold paisley décor on either side to complete the look of luxury. As you sat down, the surrounding rose pink and contrast green décor was dreamy and eye catching. Every table was carefully decorated with matching napkins, silverware and a silver tree with dainty pink flowers surrounded by crystals reminiscent of romantic springtime cherry blossoms. As they settled, most of the ladies subconsciously migrated to the center stage striking their best poses for the camera to show off their glamorous outfits and artistic bangles & bindis in front of a dazzling background.
The corner to the left of the stage was designated as the Naari wall. Here many attendees have brought to display their collage of pictures or passages depicting themselves in various roles of their lives, their interests, dreams and passions.
As the show opened for the evening, Young ethereal models clad in wonderfully designed latest Indian clothing gracefully walked down the stage to melodic music displaying the current fashions. Towards the end of the fashion show, two models quietly escorted a lady whose face was hidden under the veil of her Saree. The anticipation from the crowd was not just palpable, it was booming with people already clapping, shouting and cooing. Once on stage, the head cover was unveiled and the star of the evening, prominent anchor Suma was revealed. All the ladies were on their feet clapping and yelling loving slogans to welcome their favorite star. Even the star herself seemed pleasantly surprised by the level of enthusiasm and excitement at her arrival. She managed to calm down the crowd with her witty remarks in a friendly matter of fact style. With a humorous twist in each sentence, she picked 3-4 people at each table and asked them a quick witty question, which they had to answer with the help of others at that table. Determined to interact with ladies at every table by the end of the night, Suma stepped down from the stage and went in to the crowd to most tables and with the help of the Naari committee members, conducted engaging games including trivia questions about telugu movie stars and random engaging games with balls and scarves between two competing tables. Upon the request of the crowd, she even posed for pictures on the stage with attendees from many tables. The Naari team had to work extra hard to move this obviously popular star from being over taken by the die-hard fans in the crowd. Suma denied taking a break to eat or even drink for four and a half hours straight just to be able to interact with attendees at each and every one of the 56 tables. While the entertainment continued, various tables were escorted in an orderly fashion to the buffet tables where a variety of festive dishes were served along with an amazing tasting biriyani, which was so greatly favored by the crowd.

It finally came to that time of the night where awards were to be given for the best participants of the evening. At this time, Vijaya Aasuri who was also part of the committee and a driving force for this event introduced the organizing committee. The Naari Organizing Committee included Madhavi Pothireddi(Food), Madhavi Gorrepati(Food), AshaLatha Pokala(Personalized Gifts),  Swati  Malla(Reception), Deepthi Taraka(Music & DJ), Kalyani Chikoti(Music & DJ), Krishnapriya Mangina(Reception),Sridevi Pasupuleti (Logistics), Srilu Veligeti(Logistics),  Sireesha  Battula(Gifts) and Vijaya Aasuri(Logistics).  Naari  event  volunteers  included  Shravanti, Manasa, Durga, Prinyanka & Anantha. The  Naari  event  committee thanked the current BATA committee members and BATA Advisory Board Members  for  their  invisible  support  that  made  this  event  such  a  great success. More raffles were drawn including, the Grand raffle prize of a saree presented by Vijaya from Livermore temple. Other prizes for raffles included movie  tickets  from  Serra  Theatres, Towne3Cinemas, and Gift certificates from Swagat, Peacock & Ulavacharu restaurants.
Subsequently, Suma bestowed the Naari awards - miss congeniality, most active participant, all round Naari participant, best dressed and the lady dressed closest to Ms. Suma herself. All the winning ladies were adorned with silk sashes and buttons. Then she had the fun task of reading through the Naari wall to pick a winner who she felt honored her mother most of all. The lucky lady was also awarded a Sash along with the reward of two tickets to Shaan concert.
The sponsors for Naari were duly recognized on the stage. YouSmile Dental & Trinethra Super Market were the presenting sponsors. Other sponsors include Shree Jewellers, Candos PS, Maitri Movies. Swagat Indian Cuisine was the food sponsor.
DESI1170AM, Virijallu, TV5, INDTV were the media partners for the event. Srikar Boddu secured some great captures from the event.