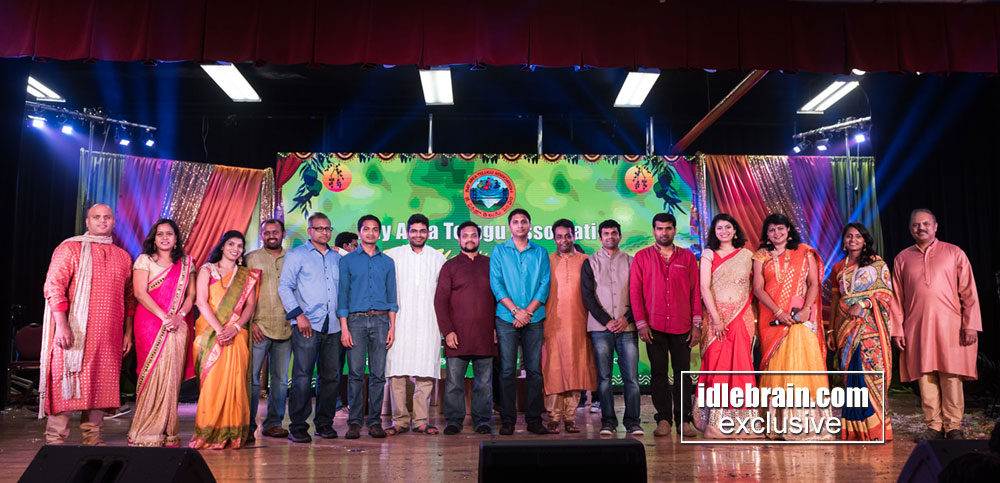 To feature your NRI communty news in idlebrain.com, please mail us at [email protected]
18 April 2016
Hyderabad
Towards the end of the recent Ugadi program, the new elected committee for the year 2016 was introduced. Speaking on the occasion the out-going president Kalyan Kattamuri  thanked everyone for all their support. He said he is very happy with some of the new initiatives like MayaBazaar and the New Year Party under his tenure as president. Kalyan then introduced the new President, Sireesha Battula.
Speaking on the occasion newly elected BATA president, Sireesha Battula, said she is very humbled for the election and is very excited to lead the dynamic BATA team and congratulated all the volunteers in making the Ugadi celebrations a grand success. Sireesha requested the Telugu community and especially the next generation to take an active role and be a part of the BATA team of volunteers.  She also shared her vision of BATA for the coming years specifically geared towards the children and young adults in the audience and advised them to make this organization a part of their life even as they grow older so their kids can also have the opportunity to reap the fruits of such a rich cultural organization. 
She also recognized and praised the telugu school Paatasala which has grown multifold since its inception in 2013 by BATA in association with Telugu Times and had encouraged kids to learn Telugu and be fluent enough to converse with friends and family members.  She conveyed that her team would strive to bring this wonderful educational experience to students of all ages and drive it even further in the coming years.
Newly elected BATA executive committee team for the year 2016:
Sireesha Battula (president )
Yaswanth Kudaravalli (vice president)
Sumanth Pusuluri (Secretary )
Harinath Chikoti  (Treasurer)
Srikar Boddu (Joint Secretary)
"Steering Committee" consisting of Ravi Thiruveedula & Kamesh Malla.
"Cultural Committee" includes Sridevi Pasupuleti, Srilu Veligeti & Taraka Deepti
"Logistics" Committee: Naresh Gajula, Kondal Rao, Arun Reddy & Prashant Chinta
BATA "Advisory Board" Jayaram Komati, Vijaya Aasuri,  Veeru Vuppala, Prasad Mangina, Ramesh Konda & Karun Veligeti.