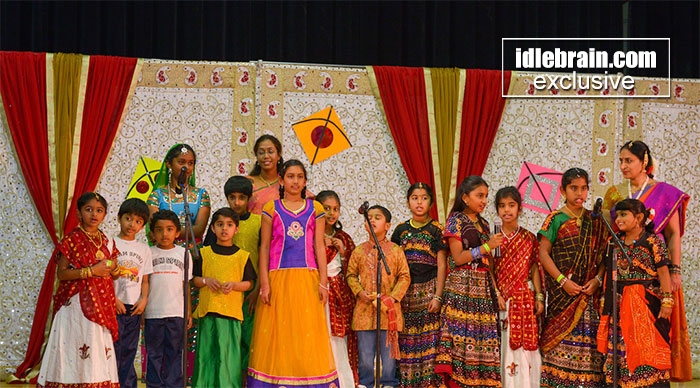 To feature your NRI communty news in idlebrain.com, please mail us at [email protected]
22 January 2014
Hyderabad
Bay Area Telugu Association (BATA) celebrated Sankranthi festival in a grand style  by hosting various activities such as Cooking and Rangoli competitions, "Paatala Pallaki" musical concert,  "Nuvva Neena" on-stage game show, hilarious comedy skits ("Rade Cheli" and "Book Ai Poyaanu") , folk and film dances.  Over 700 guests attended the glittering event which started at 3:30 pm and went until 10:30 pm with various activities and programs. Media personnel from IND TV, TV Asia, Desi 1170AM, Virijallu radio, Telugu Times and others covered the event.
The auditorium was decorated promoting ethnic and festival look of Sankranthi , and the main stage had multicolor backdrops and colorful kites. The decorations coupled with the traditional outfits by the audience, participants & BATA volunteers reflected a festive atmosphere.
The program started with cooking competitions for adults (Super Chef & Supreme Chef -Live Cooking) and kids (Little Chef) and also colorful Rangoli contest. Kids got the ingredients from home and  prepared a food item of their choice on the spot without any assistance from parents. Over 20 kids demonstrated their cooking prowess with a wide variety of items. The enthusiasm and excitement shown by the kids and the wide range of food they prepared from pasta, Quesadilla, aloo parata, macaroni cheese,  Pizza, fruit custard, sandwich to payasam  made it a very difficult decision for the judges.
Super Chef & Supreme Chef showcased the cooking talents of men and women; there were over 30 participants. Appetizers, Main dish & Desserts were the three categories. The participants prepared variety of 'yummy' Sankranthi Special Ariselu, Bobbatlu, Payasam, Pulihora, Kaakara Kaya fry, pulao, Aloo Kurma, Bendi fry, Masala Vada, Mirchi Bajji, Jantikalu, Punugulu, Appachulu, Gaareku, Boorelu, Laduulu, Dhokla etc. Judges had challenging time to select the winners. Yaswanth and Sumanth coordinated the cooking competitions and Jayaram Komati (Swagat Indian Cuisine) and Prasad Vasireddy (peacock restaurants) led the judging team.
In parallel, Rangoli competitions were kicked-off .  Vijaya Aasuri and BATA President Kamesh Malla welcomed the Rangoli participants. All of the participants came in traditional outfits to show case their  talent. The finished Rangoli was a sight to see and brought nostalgic memories of colorful rangolis in the front yards of villages in India.  Sridevi, Pavithra & Sudha coordinated these competitions.
Along with the cooking  and Rangoli competitions, "BATA Karaoke Team"  consisting of  talented local singers presented super hit songs . There were more than 20 singers (kids & adults). The songs were very popular numbers from Telugu movies, with a mix of old melodies and peppy new numbers. Audience cheered every song and encouraged the singers. Some of the songs presented were: Jallantha Kavvintha, Neenani Neevani, Andamgaalena, Enno Janmala Bandham, Palike Gorinka, Ninnu Kori Varnam, Tolisari Mimmalini.  Sankar, Priya, Swapanthi, Pratima, Swaapnika, Rithika & Suchitra are some of the singers who participated in this segment.
The main cultural program started at 5:30pm. Vijaya Aasuri (BATA Advisor ) officially kicked off the evening cultural program by inviting all the kids for "BhogiPallu" in front of the bommalakoluvu. The congregation of 100 kids & devotional songs by  parents and grandparents made it seem like a big family gathering – "VasudhaikaKutumba". The elders gave the blessings to the little one's .
The evening cultural program started with Kuchipudi Dance ballet by  the students of Sunitha Pendekanti (Kuchipudi Dance Academy).
Next was "Maata Aata Paata"  showcasing the kids from "Paatasala" (a recent initiative by Telugu Times and BATA to  promote and teach Telugu language) .  In Bay Area there are 6 locations with over 100 students. The kdis presented songs, poems, prayers,  play  & Folk dances.   It started off showcasing the grandeur & attires of Indian traditional outfits with over 100 participants . The vibrant & colorful costumes, the choreography and smiling participants thoroughly mesmerized the audience. The teachers from the Paatasala also performed "Kolattam" and it was very well received.  Vijaya Aasuri,  Sridevi Pasupuleti & Kiran Vinnakota  choreographed the dances.
Smt Katyayani Vidmahe (noted litterateur)  who received the prestigious  "Sahitya Academy Award" from Govt. of India attended the program as special guest. She briefed the audience about her work in  telugu literature and expressed her happiness to see the efforts by BATA in promoting Telugu Culture.  BATA President Kamesh Malla along with the committee members honored her with shawl . Paatasala teachers & co-ordinator's Dr. Geeta Madhavi, Padma Sonti, Manasa Colluru , Padma Vishwanath, Sri Durga, Gayatri Palepu, Narendra, Prakash,  Ram Dasu, Srinivas Abburi, Chinna VeeraSwamy & Sridevi were specially acknowledged for all their efforts.
"Rade Cheli" was a rib-tickling comedy skit that showcased a satirical representation of a married couple in the USA. This skit was performed by Sireesha, Anil, Srinivas, Venkata Manikanta, Kiran and Kalyan. This skit was written and directed by Kalyan Kattamuri.
Next to follow was high energy dances to recent movie song hits. Ratna Pandian choreographed this segment.  Deepthi, Jyotsna, shruti & Kiran were part of this dance group.
"Nuvva Neena" -  A popular On stage quiz competition with Audio and Video trivia and many more entertaining games. The quiz was conducted in a very interactive manner where both the participants and the audience thoroughly enjoyed the program especially the grand finale.
"Paatala Pallaki" a beautiful medley of both old and new hits was the next program to follow. This was another highlight at the event.  The audience thoroughly enjoyed the program  and encouraged all the singers.  Mallelu Poose, Sundari Neeve, Telisindi Le, Nuvvadindi, Ide Teeyani Vennela Reye, Pratidinam, Hello My Reeta & Aaradugula Bullettu  were some of the hit songs. At the end of the program Prasad Mangina who co-ordinated this segment introduced all the singers and thanked them for their participation and making the program a grand success. Prasad Durvasula, Murali , Sreedhar, Krishna Kanth, Keerthi, Harini, Manasa, Jytosna & Shilpa were part this program.
Another highlight of the evening was "Book Ai Poyaanu" comedy skit about Facebook and the craziness it brings with it. It is written and directed by Kalyan Kattamuri. Kamesh Malla, Deepika, Chakarapani, Anil, Vani, Sravanti  and Kalyan acted in this skit which left audience in splits with one liners and anecdotes and they responded with thunderous applause..
There was a huge support for this event from the businesses.  Prasad Mangina thanked all the sponsors for their continued support and Invited  them on the stage. Ravi Tax Services was the Grand Sponsor of the event. Other sponsors include Scopus Consulting Group, Swagat Indian Cuisine, Peacock Indian Cuisine, International Technology University (ITU), Shree Jewelers, PNG Jewelers & You Smile Dental. Virijallu Radio, Desi 1170am,Telugu Times, Ind TV & TV Asia were the media partners of the event..
The prize sponsors for various competitions for the event were Ravi Tax Services  (Nexus 7 - Raffle) , Swagat Indian Cuisine (Supreme Chef), Peacock Indian Cuisine,  Andhra Bhavan and Dosa n Biryani  (Super Chef), You Smile Dental (Little Chef), PNG Jewelers (Rangoli)  and Shree Jewelers  (OnStage Quiz contest)
Kamesh Malla, President of BATA, thanked all the audience for gracing the occasion and making it a big success. He thanked all the participants for their enthusiastic participation in the competitions and cultural programs. He also thanked all the sponsors for their invaluable support to the organization over the years.
Kamesh introduced BATA committee consisting of  Kalyan Kattamuri (Vice President ), Sirisha Battula (Secretary ), Yaswanth Kudaravalli (Treasurer ) , Sumanth Pusuluri (Joint Secretary)
"Steering Committee" consisting of former BATA presidents Prasad Mangina , Ravi Thiruveedula & Ramesh Konda.
 "Cultural committee"  includes Sridevi Pasupuleti, Kiran Vinnakota, Hari Chikoti, Taraka Deepti & Rathna Pandian.
BATA "Advisory Board" Jayaram Komati, Vijaya Aasuri & Veeru Vauppla congratulated the team for making the program a grand success.
BATA Committee thanked all the volunteers Srikar (photo & video) , Naresh, Jhansi, Krishna Priya, Swathi, Anantha, Kalyani, Sravanti, Madhavi, Sudha, Sravanthi,  Pavithra, Jyotsna, Hari Prasad, Gayatri, Suresh, Raghu  and many others for their help in making the program a grand success..