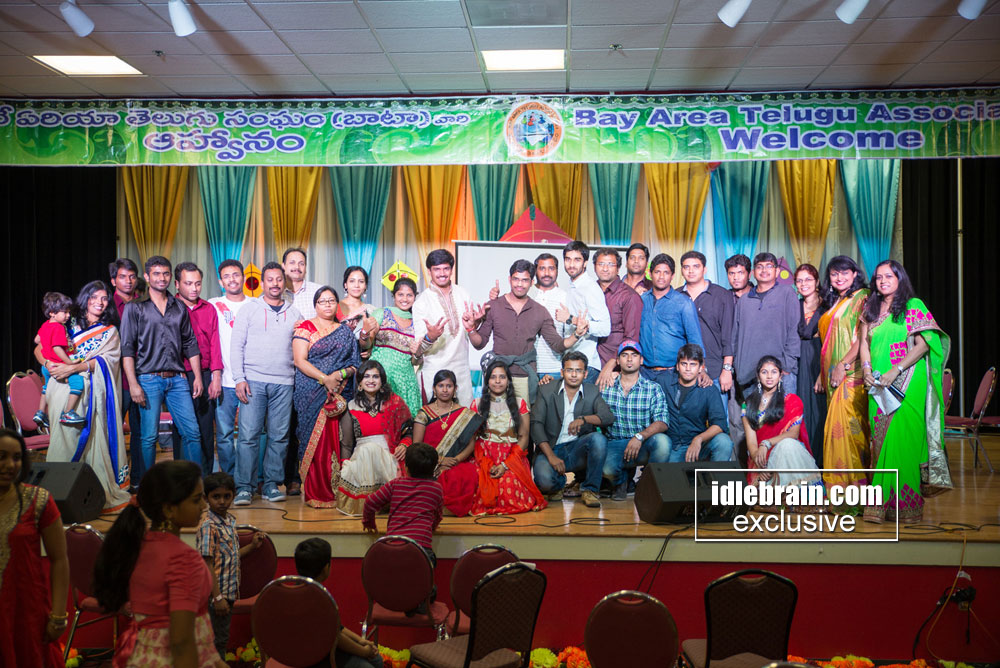 To feature your NRI communty news in idlebrain.com, please mail us at [email protected]
22 January 2015
Hyderabad
Bay Area Telugu Association (BATA) celebrated Sankranti festival in a grand style by hosting various activities such as Cooking, Muggulu (రంగవల్లి ముగ్గుల పోటీలు), Bommala Koluvu, Short Skit competitions, Kite Festival, Paatala Pallaki musical concert, Popular on-stage game show, Hilarious comedy skits ("Cinema Choopista Bhama" ) , a special talent contest "చుక్కలాంటి ఆమ్మాయి * చక్కనైనఆబ్బాయి" and foot tapping dances. Over 1000 guests attended the glittering event which started at 3:00 pm and went until 10:30 pm.
The auditorium was decorated promoting ethnic and festival look of Sankranti, and the main stage had multicolor backdrops and colorful kites. The decorations coupled with the traditional outfits by the audience & participants reflected a festive atmosphere. Also there was a special Sankranti set with Haridasu, Doodoo Basavanna with cows depicting the rich traditions followed in villages. Karun Veligeti, Sridevi Pasupuleti, Harinath Chikoti lead this effort and were ably supported by Bata team members. All the guests were greeted by the registration committee lead by Sumanth Pusuluri and team.
The program started with cooking competitions for adults (Super Chef), kids (Little Chef), colorful Rangavalli and Bommala Koluvu contest. Kids got the ingredients from home and prepared a food item of their choice on the spot. The enthusiasm and excitement shown by the kids and the wide range of food they prepared from pasta, Aloo Paratha, macaroni cheese, fruit custard, sandwiches and pulihora made it a very difficult decision for the judges.
Super Chef showcased the cooking talents of men and women; there were over 30 participants. Appetizers, Main dish & Desserts were the three categories. The cooking competitions were coordinated by Yashwanth Kudaravalli, Bharat & team. The judging panel included Vinay and Umakanth (Vara restaurants), Ravi Gondipalli and Lavanya Duvvi.
In parallel, Rangavalli and Bommala Koluvu competitions were kicked-off . Vijaya Aasuri and BATA President Kalyan Kattamuri welcomed the participants. All of the participants came in traditional outfits.The finished Rangavalli and Bommala Koluvu was a sight to see and brought nostalgic memories of India. Krishna Priya, Veena & Padma Sonti coordinated these competitions. Special Kite festival was also organized by Harinath Chikoti, Sai & team.
Along with these competitions, "BATA Karaoke Team" consisting of talented local singers presented super hit songs . The songs were very popular numbers from Telugu movies, with a mix of old melodies and peppy new numbers. Audience cheered every song and encouraged the singers.
Students from Paatasala ( Initiative by Telugu Times and BATA to promote and teach Telugu language) presented songs, poems, prayer, Skit & Folk dances. There are more than 6 locations with over 250 students in Bay Area. Paatasala Teachers and coordinators were specially thanked for all their support and hard work.
The main cultural program started at 5:30pm. Vijaya Aasuri (BATA Advisor ) officially kicked off the evening program by inviting all the kids for "BhogiPallu". The congregation of kids & devotional songs by parents and grandparents made it seem like a big family gathering – "VasudhaikaKutumba". The elders gave the blessings to all the kids.
Sri Shankaramanchi Parthasarathi (noted litterateur, writer and novelist) attended the program as special guest. He briefed the audience about his work in telugu literature and expressed happiness to see the efforts by BATA in promoting Telugu Culture. BATA President Kalyan Kattamuri, Kiran Prabha, Venu Aasuri along with the committee members felicitated him .
Next to follow was a befitting tribute to legendary director Sri K.Bala Chander and famous tollywood music director Chakri, both of them passed away recently. Kids and Youth performed dances to popular hits. This segment was choreographed by Sridevi, Srilu, Vijaya, Deepthi, Kiran & Siddu.
"Cinema Choopista Bhama" was a rib-tickling comedy skit that showcased a satirical representation of movie watching trend based on the online website reviews. This skit was written and directed by Anil Chintalapati. Anil, Aditya, Pavitra, Sravanthi, Prasad, Murthy, Chakrapani,Keertika & Rishi acted in this skit.
Special talent contest "చుక్కలాంటి ఆమ్మాయి * చక్కనైనఆబ్బాయి" was next to follow. It included various rounds like attitude/confidence, show your talent & judges questioning rounds. The contestants thrilled the audience with their talent. This segment was sponsored by CBazaar (http://www.cbazaar.com). Ms.Situ Wunnava (VP – Wells Fargo) attended as honorable guest and announced the winners. This segment will be aired as a special program in TV9, a media partner for this segment.
"Paatala Pallaki" a beautiful medley of old and new hits was the next program to follow. The audience thoroughly enjoyed the program and encouraged all the singers. Prasad Mangina who coordinated this segment introduced all the singers and thanked them for presenting an entertaining program. SeshaPrasad, Murali, Prasad, Shilpa, Keerthi, Suchitra & Kamesh were the members.
One of the most popular programs, was the On-stage quiz competition with Audio and Video based games show. It included movies, trivia and many more entertaining topics. The quiz was conducted in a very interactive manner where both the participants and the audience thoroughly enjoyed the program especially the grand finale. Kalyan Kattamuri and Vijaya Aasuri conducted this program.
There was a huge support for this event from the businesses. Prasad Mangina thanked all the sponsors for their continued support and invited them on the stage. Ravi Tax Services was the Grand Sponsor of the event. The event was Powered by You Smile Dental. Other sponsors include Scopus Consulting Group, MyTaxfiler, Nitin Jewelers, Lavanya Duvvi, Swagat Indian Cuisine, Peacock Indian Cuisine, Vara Restaurants, International Technology University (ITU), Shree Jewelers, Astro Vastu, & Positive Positioning. Media partners include Virijallu Radio, Desi 1170am,Telugu Times, TV9 & TV Asia.

Kalyan Kattamuri, President of BATA, thanked all the audience for gracing the occasion and making it a big success. He thanked all the participants for their enthusiastic participation in the competitions and cultural programs. He thanked all the sponsors for their invaluable support. He also thanked Pradeep & Sandeep for their help with photo & video coverage of the event.
Kalyan introduced the BATA executive team consisting of Sireesha Battula (Vice president ), Yaswanth Kudaravalli (Secretary), Sumanth Pusuluri (Treasurer ) & Harinath Chikoti (Joint Secretary).
"Steering Committee" consisting of Prasad Mangina , Ravi Thiruveedula, Ramesh Konda, Kamesh Malla & Karun Veligeti.
"Cultural committee" includes Sridevi Pasupuleti, Srilu Veligeti, Kiran Vinnakota, Taraka Deepti & Rathna Pandian.
"Logistics Committee"consists of Srikar Boddu, Naresh Gajulu & Hari Moyyi.
BATA "Advisory Board" Jayaram Komati, Vijaya Aasuri & Veeru Vauppla congratulated the team for making the program a grand success.
There were more than 100 volunteers who had put in countless hours during the past one month with relentless effort and great passion to make this event a grand success.
BATA Committee thanked all the volunteers Anantha, Kalyani, Swati, Krishna Priya, Sravanti, Aditya, Pavithra, Aparna, Shravanti, Padma Sonti, Deepika, Prasanth, Arun, Murali , Bharath, Sudhakar, Keerthi, Mansa, Swathi, Sirisha,Priyanka, Sony, Sruti Keerti, Sree latha, Sai, Praveen, Pradeep, SanDeep, Samardh, Sujata, Kranti and many others for their help in making the program a grand success.
BATA Committee also thanked the Sunnyvale Hindu Temple management for their support.