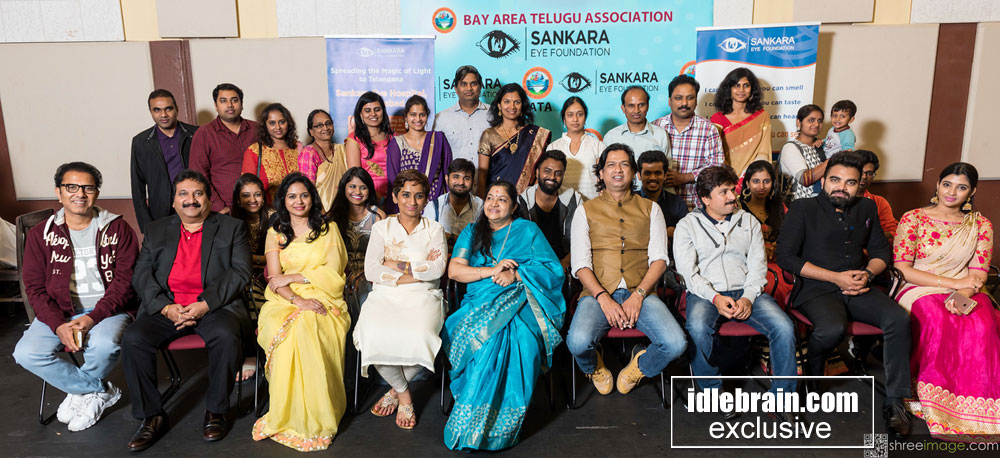 To feature your NRI communty news in idlebrain.com, please mail us at [email protected]
2 November 2016
USA
Bay Area Telugu Association (BATA) & Sankara Eye Foundation (SEF) raises $100K for upcoming Sankara Eye Hospital, Hyderabad

On the occasion of auspicious Deepavali festival, Bay Area Telugu Association (BATA) and Sankara Eye Foundation (SEF) joined hands again to raise funds for the newly planned Sankara Eye hospital to be built in Hyderabad, India.

To celebrate this event, Telugu musical concert "Super Masti" was conducted at Chabot College auditorium in Hayward, California. Popular singers such as Padmasri Chinna Kuyal K.S.Chitra, Vijay Prakash, Sunitha, Mano, Kalpana, Hemachandra, Vandemataram Srinivas, Uma Neha, and Anchors Pradeep and Syamala, and Jabbardasthi artists Chanti and Raghava enthralled the Bay Area audience for non stop 4 hours and a half.

The event's Presenting sponsors are Blue Arcus and Standav, Gold Sponsors are Cambridge Investment Research, Googain Inc, You Smile Dental, and Silver Sponsors are iBridge Inc, Mohan Chalagalla Realtor, and Food sponsors are Fremont Peacock Indian Cuisine, Swagat Indian Cuisine, and Media partners are Virijallu radio and Telugu Times, and the event was supported by Telugu Association of North America (TANA).

In spite of event being on Sunday and next day being a working day, stupendous response was received from the guests, and the team raised about $100,000 for the hospital. Well known community leaders, philanthropists, entrepreneurs, and volunteers from Telugu community joined the musical concert and everyone donated generously to reach an important milestone defying all expectations. 

The floor of the auditorium lobby was decorated with colorful festive decorations depicting the entrance with a typical Deepavali decorations. Prior to starting the concert, BATA has incorporated the traditional Deepavali event with awestruck performances from the children of ages from 5 yrs old through youth.

BATA Advisor Vijaya Aasuri and SEF Capital Projects coordinator Venkat Maddipati have welcomed the guests for the evening concert with a common message of supporting the great cause of giving gift of vision during auspicious Deepavali time. The music concert titled "Super Masti" opened with a prayer song by all the singers followed by many of the super hit telugu songs sung by Chitra, Sunitha, Mano, Kalpana, Hemachandra, Vijay Prakash, Vandemataram Srinivas and Uma Neha. The attendees gave standing ovations to several of super hit tunes of many flavors from all the singers. Anchors Pradeep and Syamala have done a superb job not only promoting the great cause, but also involved the guests and artists with their sweet humor and classical comments. Additionally, Jabbardasti artists Chanti and Raghava have totally kept the guests engaged and laughter with their comedy.

When the organizers appealed for the donations for the Hyderabad hospital, the contributions came in pouring from all the attendees totaling up to $100,000. The BATA and SEF organizers thanked the donors for their tremendous support for the event and the cause. Several donors donated $1000 and more and became founding members of the Hydetabad hospital.  Major donors Nagesh Konduru with $20K, Dr Murthy and Mrs Kalyani Vuppala of You Smile Dental with $10K, presenting sponsors Naren Yanamadala of Blue Arcus and Harsha Reddy of Standav with $10K each made the team's goal of $100K from this event possible.

It was overall a memorable evening of entertainment and a proud achievement by the audience in playing a key role in Sankara Eye Hospital, Hyderabad project. It is a testament to what talented musicians, a team of energetic and dedicated volunteers from BATA and SEF and most of all the generous audience and sponsors can come together to exceed expectations and raise the funds for this great cause.

Venkat, Vijaya, BATA advisor Veeru Vuppala along with SEF Hyderabad hospital project coordinators Karun Veligeti and Sudheer Chemudugunta took the lead in coordinating the efforts for raising funds for the Sankara Eye Hospital in Hyderabad.

Speaking at this occasion BATA President Mrs. Sireesha Battula and SEF Founder and Executive Chairman Murali Krishnamurthy praised and applauded the artists, audience, donors, sponsors and volunteers for the tremendous support.

SEF team thanked BATA for the continued support for the noble cause since 1999 and becoming the Sankara's partners-in-service at Sankara Eye Hospital, Guntur and upcoming hospital at Hyderabad. They mentioned that BATA is the only organization which attained parters-in-service in more than one Sankara Eye Hospital. SEF team also thanked all the artists who rallied the audience to support the Nobel cause.
SEF team thanked Vijaya and Kalyan Kattamuri of Virijallu for the overwhelming publicity of Sankara's cause in general and Super Masti event in particular.

Several of BATA committee members along with SEF members have worked hand-in-hand to make this event a grand success. 
BATA executive committee consists of: Sirisha Battula (BATA President), Yaswanth Kudaravalli (Vice President), Sumanth Pusuluri (Secretary), Harinath Chikoti (Treasurer), Srikar Boddu(Joint Secretary),
Cultural Committee – Sridevi Pasupuleti, Srilu Veligeti & Deepthi Satti
Logistics Committee – Kondal komaragiri, Arun Reddy, Prashant Chinta & Naresh Gajula
Steering Committee – Ravi Thiruveedula, Kamesh Malla & Kalyan Kattamuri,
Advisory Board - Jayaram Komati, Vijaya Aasuri, Veeru Vuppala, Prasad Mangina, Ramesh Konda & Karun Veligeti, thanked all the audience for gracing the occasion and making it a grand success and all the sponsors for their continued support.