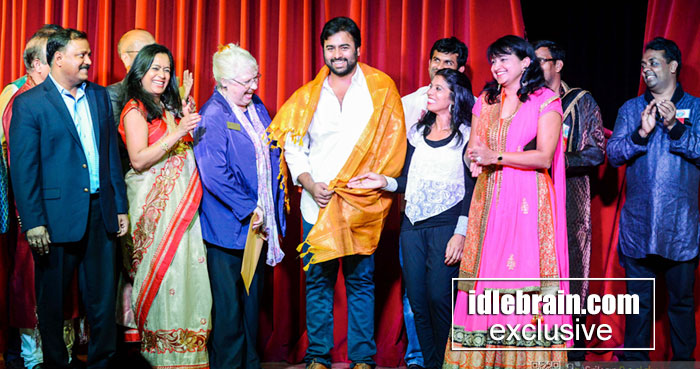 To feature your NRI communty news in idlebrain.com, please mail us at [email protected]
18 March 2015
Hyderabad
Bay Area Telugu Association (BATA) celebrated "Sri Manmadha Naama Samvatsara" (శ్రీ మన్మధ నామ సంవత్సర ) Ugadi sambaralu in a grand style at Sunnyvale Hindu Temple.  It is a BATA "flagship" event and is the most popular event in the Bay Area Telugu community. The event was sold out with more than 2000 attendees throughout the day. The event started at 9AM and went will 11PM with Youth Talents Show (Dance, Singing, Special talent competitions) and cultural programs with special attraction being BayArea Lo Evarigola Vaaridi, a comedy program by popular Mimicry artists Ravi Bhaviri & Reverse Gear Guru Swamy. Young talented actor Nara Rohit graced the occasion as the Chief Guest.
Ravi Tax Services served as Grand Sponsor and the event was powered by You Smile Dental. Others sponsors include MyTax Filer, Lavanya Duvvi, Nitin Jewelers, Swagat Restaurants, Peacock Indian Restaurants, Scopus Consulting, International Technological University (ITU), Shree Jewelers, Budwal & Associates, PNG Jewelers, Pacific Precious Metals, Vara restaurants, Sicher Global, Positive positioning & Astro Vaastu.
Media partners Desi1170 am, Virijallu, Telugu Times, 6TV, TV5 & TV9 promoted the event.
The arena decorations reflected indian traditions, values and culture. "Ramayana On The Wall" – a pictorial representation of Ramayana impressed everyone. Glittering "Giant Kalasam" on the main stage brought grandeur to the cultural programs. Ugadi Pachadi was served to mark the beginning of the Telugu New Year. 14th Youth Talent Show competitions, which were filled up in a record one week, were conducted in 2 separate halls with over 300 kids enthusiastically participating in in classical, folk/ film singing, dancing, Art, Essay Writing, Science Fair and Chess and Special Talent. The main cultural program started at 5:30 pm. Vijaya Aasuri (BATA advisor & cultural chair) welcomed all the guests and introduced the judging panel consisting of Durga sundar, Savitri Hari, Vishwas, Prema Mohd, Keerthi, Shesh Prasad, Manasa, Kalpakam Kowsik and Sridevi thanked them for judging the competitions.
The evening program started with program 'Naatya Ravali' – a spectacular classical dance presentation by the team of Nrityananda School of Music, a prestigious dance school in the Bay Area conducted by Hima Bindu Challa. What followed next what the display of talented kids from Sunnyvale, Fremont, San Ramon & San Jose. 'Chinnadana Nee Kosam' & 'A-Square B-Square" programs presented 2 different dimensions of dance. Synchronized dances, riveting costumes & cute expressions of the kids were received with thunderous applause. Black & White a unique dance concept was also presented. 'College Style' – a mini dance musical took the audience by surprise. Over 40 college students performed with exuberance & enthusiasm in this dance drama which was a conglomeration of college life style, incidents, anecdotes, love stories, break ups, exams & much more. High energy and supremely synchronized dances left audience spell bound & the funny one liners left audience in splits. Hero Nara Rohit joined the team for the finale which was received with cheers & whistles. This musical was written by Pradeep and was ably assisted by Kalyan & Anil.
The highlight of the evening was "Bay Area lo Evari Gola Varidi" a non-stop comedy program by popular mimicry artists Ravi Bhaviri & Reverse Gear Guruswamy. Impersonations, Parody songs, Funny Skits, Reverse Gear songs and many other unique items were part of this comedy program that thoroughly entertained the audience.
Special Guest Nara Rohit was felicitated by BATA Team. Rohit expressed his happiness for being invited and mentioned that he was pleasantly surprised and entertained by the high quality programs that were showcased and congratulated the team. TANA team comprising of Jayaram Komati, Satish Vemana, Murali Vennam, Ravi Potluri, Satish Vemuri & others congratulated BATA for it's continued contribution to the community. They explained several initiatives that TANA has been undertaking and requested community help & support. Jose Esteves (Mayor), Ash Kalra (Council member) & Tara Martin (Vice Mayor) were some of the VIP guests who graced the occasion.
BATA committee thanked the sponsors for their continued support and presented them with Plaques. Paatasala is a recent initiative by Telugu Times and BATA to promote and teach Telugu language, Paatasala teachers & coordinators were introduced. BATA Annual Magazine "Telugu Velugu - తెలుగు వెలుగు" was released by Nara Rohit. Editorial team thanked all the authors who contributed with their articles, poems & stories and sponsors.
Kalyan Kattamuri thanked audience for making it a sold out event, volunteers for toiling hard to make it a success and sponsors for their invaluable support. BATA executive committee comprises of: Kalyan Kattamuri (President) Sireesha Battula (Vice President) Yaswanth Kudaravalli (Secretary) Sumanth Pusuluri (Treasurer)  Harinath Chikoti (Joint Secretary) "Steering Committee" includes Ravi Thiruveedula & Kamesh Malla.  "Cultural Directors" includes Sridevi Pasupuleti, Srilu Veligeti, Kiran Vinnakota, and Taraka Deepti. "Logistics Committee" team consists of Srikar Boddu, Naresh Gajula, Prasanth & Arun.
BATA "Advisory Board" Jayaram Komati, Vijaya Aasuri, Veeru Vuppala, Prasad Mangina, Karun Veligeti and Ramesh Konda congratulated the team for making the program a grand success.
More than 100 volunteers put countless put in countless hours over 2 months. BATA Committee thanked all the volunteers Sravanti, Swathi, Anantha, Jhansi, Kalyani, Krishna Priya, Shravanti, Sony, Aparna, Neharika, Madhavi, Snigdha, Sudha, Pavithra, Jyotsna, Deepthi, Suresh, Hari Vinod, Padma, Gayatri , Narendra, Murthy, Latha, Hari, Giri, Srinivas, Chinna, Prakash, Santosh, Sai, Deepika, Nitya, Valli, Keerthi, Manasvi, Samatha, Maria, Yugandhar, Asha, Aditya, Pradeep, Samanth, Aditya, Avinash, Lakshman, Murali, Sai, Kranti, Sandeep, Srinivas, Veda, Ganesh, Venu, Manoj, Divya, Manasa, Teja, Laasya, Namrata, Akhila, Deepti, Shipra, Nisha, Lakshmi , Susmitha, Ravali, Kartika and many others for their help in making the program a grand success. BATA team also thanked Safari Kids, Sneha Restaurant & Swagat Restaurants for giving space for practices.
BATA Team signed off the event on a high note and promised to come back soon with more exciting events such as Chitra Concert (on May 2nd) , Naari (on May 9th) & Maya Bazaar (on May 30th).