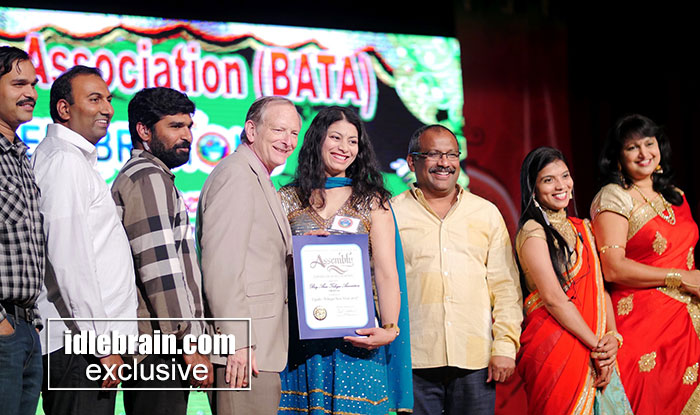 To feature your NRI communty news in idlebrain.com, please mail us at [email protected]
10 April 2017
USA

Bay Area Telugu Association (BATA)'s annual "flagship" event and the most popular event in the Bay Area Telugu community was a grand success, held at India Community Center, Milpitas, California. It was well attended by over 1500 guests throughout the day. The event started at 9AM with Youth Talent Show and Dhim Tana (Dancing, Singing, Special talent competitions), continued till 11pm with an array of cultural programs along with a Musical concert by celebrity singer Yazin Nizar.
There was a huge support from the business community. The event was held in association with Financially Savvy, Presented by Ramakrishna Venuzia, Powered by You Smile Dental and Ravi Tax Services, Grand Sponsored by PNG Jewelers, Sponsored by Realtor Lavanya Duvvi, Cambridge Investments, Realtor Manu Changotra, Googain Inc, CalHomes, Paatasala, and VTForce.
Virijallu, Desi 1170AM, Telugu Times,TV5, V6, HMTV, Aina TV, and TV9 were the Media Sponsors.
The venue's decorations reflected Indian traditions, values and culture. The vicinity of the venue was fully packed with vendor tables with variety of Indian traditional jewelry, clothing, real estate, financial and tax services, and food. Ugadi Pachadi was served to mark the beginning of the Telugu New Year. Kondal, Naresh, Prashanth, Yaswanth and the registration team welcomed all the guests.
This time, the 16th Youth Talent Show competitions were jointly organized with Telugu Association of North America (TANA)'s Dhim-TANA in view of TANA's upcoming 21st National Convention. The entries for competitions which were filled up in a record one week, were conducted in two separate halls with over 200+ kids enthusiastically participating in classical, folk/ film singing, dancing and special talent. Sumanth & Arun coordinated these competitions. Dheeraj, Srilu, & young team of volunteers served as emcee's.
During the program, BATA Advisory Board member, Dr. Ramesh Konda, invited the dignitaries Mr. Jayaram Komati (A.P. Special Representative to North America), Savita Vidhyanathan (Mayor, City of Cupertino), Chris Moylan (Director at US Congressman Ro Khanna's office), California Assemblymember Kansen Chu. The dignitaries have expressed happiness for being part of the festivities and congratulated the BATA team for their service in promoting Telugu culture. California Assemblymember Bill Quirk has also kindly attended the event and presented a commendation certificate to BATA team on this occasion.
The main cultural program started at 5:30 pm. Vijaya Aasuri (BATA Advisor) welcomed all the guests. The program started with a Tribute to Legendary singer Padmavibhushan Dr. Mangalampally Bala Muralikriahna. (పద్మ విభూషణ్ డా||మంగళంపల్లి బాలమురళికృష్ణ గారికి ఘన నివాళి). A creative Veena Naadamrutham (వీణ నాదామృతము). Next the Ananda Bhairavi - Kuchipudi classical dance (ఆనంద భైరవి - కూచిపూడి నాట్యము) was performed by Shiva Noopuram(School of Kuchipudi) Artistic Director Smt.Sindhu Surendra. Classical dances were performed to the tunes of singer Dr. Mangalampally Bala Muralikriahna.
Tooneega tooneega (తూనీగ తూనీగ) segment which was directed by Srilu Veligeti, Sridevi Pasupuleti, Sireesha Battula, Taraka Deepti, Aditya, & Samanth featured little children of ages 4 and above who performed adorable dances dances for Mummy Returns, Pade pade, Side side please, Champesave, Choti si zindagi, Neethone dance tonight, Bhajare nanda gopala hare. Followed by this, an energetic Yuva Tarangaalu(యువ తరంగాలు ), a dance extravaganza, was performed under direction of Desi Rhythms.
At this time, Paatasala team was recognized on this occasion; Paatasala is an initiative by Telugu Times and BATA to promote and teach Telugu language; the teachers & coordinators were introduced and commended for their contribution.
Cultural programs resumed with Maa Bossu Pelli (మా బాసు పెళ్ళి): Hillarious comedy play directed by Phani Rampalli brought laughter to the audience. Sandade sandadi (సందడే సందడి) under the direction of Srilu Veligeti, Sridevi Pasupuleti, Sireesha Battula, Taraka Deepti, Aditya, Samanth performed dances such as Choosa Choosa, Sannajajila, Adhire dhada puttinde , Naa manasu neelo, and Naalo nenu.
BATA's original! Tarangini - Godavari keratalapai prema kadha(తరంగిణి -గోదావరి కెరటాలపై ప్రేమ కధ), a spectacular musical dance drama, conceived by Aparna Pasumarthi and developed by Vijaya Aasuri, Srilu Veligeti, Sridevi Pasupuleti, Sireesha Battula, choreographed by Aditya, Samanth, Uday, & Srilu and technical and Led support by Hari, Kalyani, Karun, & Veeru received huge applauses from the audience.
Finally, the much awaited Musical experience by Tollywood Sensational Young and Talented Singer Yazin Nizar was indescribable. He sang many of his top hit songs non-stop for more than an hour by interacting with the guests, and the audience have enthusiastically danced for many of his tunes. Some of the popular songs that Yazin sang are CharuSeela.., SeetahKalam..., Apple Beauty..., Meghalu Lekunna .., etc. The program ended with Dhim-Tana and Youth Talent Show Prize distribution by Yazin Nizar and Bay Area TANA team, Sateesh Vemuri, Vinay , Rajnikanth, BATA committee thanked and recognized the sponsors on the stage for their continued support. BATA Annual Magazine "Telugu Velugu - తెలుగు వెలుగు" was released on this occasion. Prasad Mangina (Magazine Editor) thanked the authors who contributed with their articles, poems & stories and sponsors for the ads.
BATA president Dr. Sireesha Battula thanked audience and participants for making this yet another grand event. She applauded all the volunteers for toiling hard to make it a success and sponsors for their invaluable support. She introduced the following committee members : BATA executive committee Sireesha Battula (President) Yaswanth Kudaravalli (Vice President) Sumanth Pusuluri (Secretary), Harinath Chikoti (Treasurer), and Kondal Rao (Joint Secretary) "Steering Committee" includes Kalyan Kattamuri, Ravi Thiruveedula & Kamesh Malla. "Cultural Directors" includes Sridevi Pasupuleti, Srilu Veligeti, Vijaya Aasuri, and Taraka Deepti. "Logistics Committee" Prasanth and Varun. Marketing coordinator , Arun Janga. Sports coordinator Naresh Gajula. The newly formed Youth committee will be headed by Aparna Pasumarti.
BATA "Advisory Board" Jayaram Komati, Vijaya Aasuri, Veeru Vuppala, Prasad Mangina, Karun Veligeti and Ramesh Konda congratulated the team for making the program a grand success.