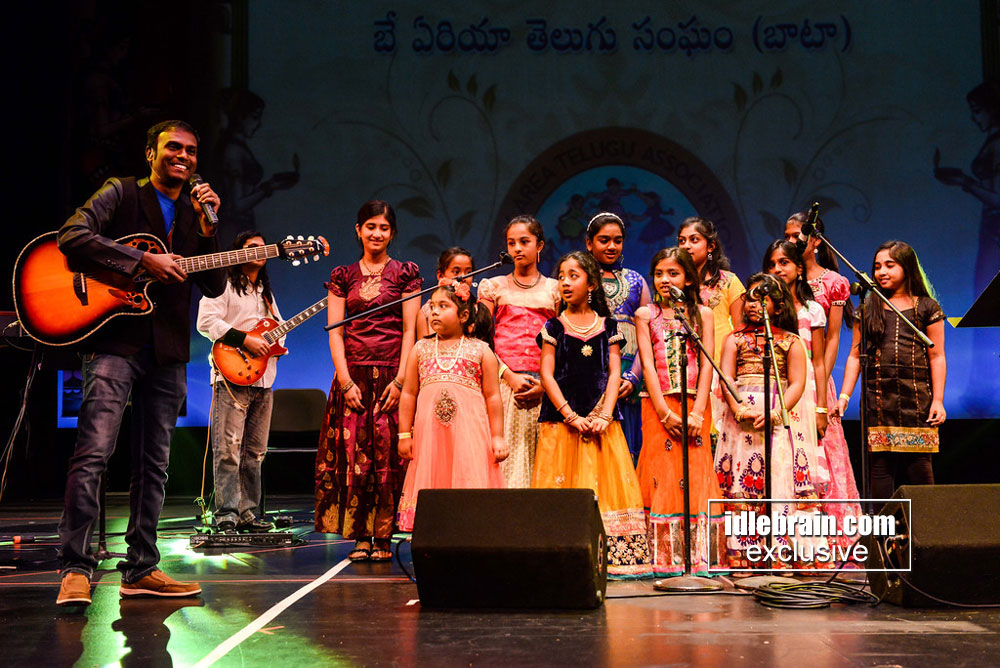 To feature your NRI communty news in idlebrain.com, please mail us at [email protected]
04 November 2014
Hyderabad
Bay Area Telugu Association's (BATA) "Diwali Dhamaka" program was a Grand Success. BATA Diwali program is the most popular Diwali program in the bay area Telugu community and this year was no different. The event was received with a thunderous response by the packed audience of more than 1000 people. The program started at 3pm and went till 12 midnight with various fun filled competitions for kids  & adults (arcade games, treasure hunt, bow&arrows, Free Face painting and balloons, Diya making & wheel of fortune), cultural programs, and the chief guest for the program was Young Music Sensation & Manam fame Anup Rubens.
There was a huge support from local businesses for the event. VisitorsCoverage.com served was the presenting sponsor and the event was powered by You Smile Dental. Other sponsors included MyTax Filer (Grand Sponsor),Ravi Tax Services (Grand Sponsor), Swagat Restaurants, Peacock Indian Restaurants, Lavanya Duvvi, Scopus Consulting Group, International Technological University (ITU), Budwal & Associates, Sirisha Homes, Positive positioning, Satwant Insurance, and Astro Vaastu. VARA Indian Cuisine was the Food Sponsor.
Media partners included Desi1170AM, Virijallu, Telugu Times, 6TV, TV5 & TV9 promoted the event.
BATA volunteers worked really hard in decorating the venue to reflect our Diwali traditions & festivities The main cultural program started at 5:00 pm. Vijaya Aasuri (BATA advisor & cultural chair) welcomed all the guests and thanked the Bay Area Telugu community for their continued support. The program started with "Natya Ravali" (classical dance ballet) presented by the students of Madhuri Kishore kuchipudi school.
The next program was "Navatharam Taarajuvvalu" in which little kids & teens performed excellent dances. There were over 100 "cute" little ones with synchronized dancing to variety of recent hit songs. The energy levels and the beats of the songs along with the gracious and elegant moves left the audience spell bound and the crowd responded with roaring applause.
"Bapu Ramaneeyam" – a befitting tribute to legendary director Bapu garu and Mullapudi Venkata Ramana garu was next. Scenes from Bapu-Ramanas movies were overlapped with specially recorded voices of the respective actors talking about Bapu & Ramana. This was followed by specially designed dances from each movie. It was a very distinctive program with themes from some of their super hits like Muthyala Muggu, Bhakta Kannappa, Manavoori Pandavulu, Radha Gopalam & Sri RamaRajyam. The dances were choreographed by Sridevi, Srilu, Deepthi and Vijaya. BATA team thanked Anu Mullapudi, daughter of Sri. Mullapudi Venkata Ramana, for her gracious presence at the occasion and for sharing some of the rare art works of Bapu garu for this special program.
Dr. Ramesh Konda, then, welcomed the dignitaries who attended as special invitees to the program. Raju Reddy (Entrepreneur and Philanthropist) , Dr. K.J. Srinivasa (Office of Consul General of India), Dr. Jampala Choudary (TANA Executive Vice President), Jayaram Komati (TANA Board Member) are some of the guests who graced the occasion. Speaking at the occasion, Raju congratulated BATA for doing Deepavali event in a grand fashion. Importantly, he mentioned that cultural activities such as Deepavali event will preserve and pass on the culture and traditions to the younger generations. Also, Raju urged that each of us have potential to make a difference in the community by contributing to the social improvement activates. Raju mentioned that he is closely involved in Kakatiya Sandbox initiative which is benefiting several people in the rural communities. Dr. Srinivasa expressed his happiness being part of such as splendid program that is aimed at preserving and promoting Indian traditions. Dr. Jampala stated that he was impressed with entire program. He updated the guests about the upcoming TANA conference (Detroit - July 2015) and mentioned that BATA team always played a key role in TANA's success.
Ro Khanna (Democratic Candidate for US House of representatives - CA 17 district) also graced the event, speaking at the occasion Ro Khanna requested the strong Indian community to support his campaign and be part of a historic event.
On Behalf of BATA marketing team Prasad Mangina invited all the sponsors on to the stage. Prasad thanked the sponsors for their continued support and requested BATA members to support the sponsors. The dignitaries presented plaques to the sponsor's.
Ramesh then invited the Paatasala (Initiative by Telugu Times and BATA to promote and teach Telugu language) team. Speaking on the occasion Subba Rao (Paatasala MD) expressed pleasure on the great progress & thanked the executive team, teachers & coordinators.
Fashion show by Vibha (a popular boutique in the Bay Area) with elegant models and spellbinding outfits lightened up the stage. Popular actress Shravya Reddy was the show stopper and this program was sponsored by Vinaya Gopisetti (Vibha)
Then came the most awaited and anticipated program of the evening: I - The Musical. BATA has attempted different genres in the past - Skits, Musicals, Dance-Dramas, Ballets & more. With the intention of creating something original and completely out-of-the-box, BATA team came with the novel concept of "I", a Musical made by 120 artists (dancers, singers, actors, technical crew) entirely from the Bay Area. The musical featured hilarious entertainment coupled with action, romance, sentiments, twists, songs, dances, dazzling costumes, spectacular sets & props, bravura performances and most importantly unique and first-of-its-kind concept. Audience watched the entire one hour musical with absolute silence, attention & constant applause. Aditya, Aparna, Sravanthi, Kamesh, Deepika, Prasad, Rajesh, Deepthi, Sean, Shiva, Venkat, Anil, Prasad, Prasanth, Lakshman, Murali, Srinivas,  Veda, Yaswanth & Sai acted in the Musical. Ravi, Murali, Shilpa, Krishnakanth, Keerthi & Prasad sang the "specially re-written" popular hit songs. Srikar assisted with the video production. The highlight of the musical was the supremely synchronized backdrops, sets & props which provided striking visuals and this major feat was accomplished by the team of Karun, Hari & Kalyani.  Vijaya Aasuri, Srilu, Sridevi, Ratna & Deepthi choreographed stunning dances. Kalyan & Kiran scripted the musical and Kalyan handled the screenplay & direction. The musical got thundering applause and the final act of all cast & crew coming together was the icing on the cake. I - The Musical was indeed the highlight of the evening.
Next to follow was the Musical concert by Popular Tollywood music director Anup Rubens. Indreneel (Mogali Rekulu fame) performed a classical kuchipudi dance item. And popular ETV show "Thadaka" fame comedians and mimicry artists Jitendra and Siva. They both performed comedy skits and mimic'ed popular actors and politicians.
The grand finale was the introduction of "Manam" fame music director Anup Rubens. Anup expressed happiness with the response he received in Bay Area and expressed delight to be the chief guest for an event with a prestigious organization like BATA. On popular demand, he performed some of his popular hits from movies like Manam, Ishq, Gunde Jaari Gallantainde, Jai, Poola Rangadu, Oka Laila Kosam & Loukyam etc. Anup came with a unique idea of making local kids sing one of his popular numbers from Manam along with him and raise funds for the HudHud Cyclone Relief Fund. It was no surprise that the single song alone helped raise $8000. Singers Prudhvi Chandra and Lipsika sang enthralled the audience with their songs. The crowd thoroughly enjoyed the musical program and the finale medley by Anup was spectacular. Everyone in the audience (kids & adults) cheered, danced & clapped to their hearts content and sang along Anup & the team.
During the program, BATA organized a fund raiser in support of Hud Hud flood devastation relief. More than $20,000 (~12 lakhs) were raised. These funds will be donated to AP CM Relief Fund.
Towards the end of the program, Kalyan Kattamuri (BATA President) thanked all the committee members and volunteers in making the program a grand success. Kalyan also thanked Chief Guest Anup Rubens and wished him a great success in his future endeavors. He introduced the BATA executive team consisting of Sireesha Battula (Vice president ), Yaswanth Kudaravalli (Secretary), Sumanth Pusuluri (Treasurer ) , Harinath Chikoti (Joint Secretary).
"Steering Committee" consisting former BATA presidents Prasad Mangina , Ravi Thiruveedula, Ramesh Konda, Kamesh Malla & Karun Veligeti.
"Cultural committee" includes Sridevi Pasupuleti, Srilu Veligeti, Kiran Vinnakota, Taraka Deepti & Rathna Pandian.
"Logistics Committee"consists of Srikar Boddu, Naresh Gajulu & Hari Moyyi.
BATA "Advisory Board" Jayaram Komati, Vijaya Aasuri & Veeru Vappla congratulated the team for making the program a grand success.
There were more than 150 volunteers who put in countless hours during the past one month with relentless effort and great passion to make this event a grand success.
BATA Committee thanked all the volunteers Narsimha Rao garu (Make up), Shiva, Anantha, Kalyani, Sravanti, Gayatri , Narendra, Aditya, Aparna,Shravanti, Sindhu, Meghana, Sean , Deepika, Prasad, Veda, Yashwant, Lakshman, Murali , Sai, Keerthi, Bhuvana, Karthika, Sruthi, Mansa, Swati, Sujatha, Priyanka, Nikhil, Arun, Deepika, Sony, Aishwarya, Prashanth, Srinivas, sudhakar, Samanvi, Vanitha, Pranavi and many others for their help in making the program a grand success. .