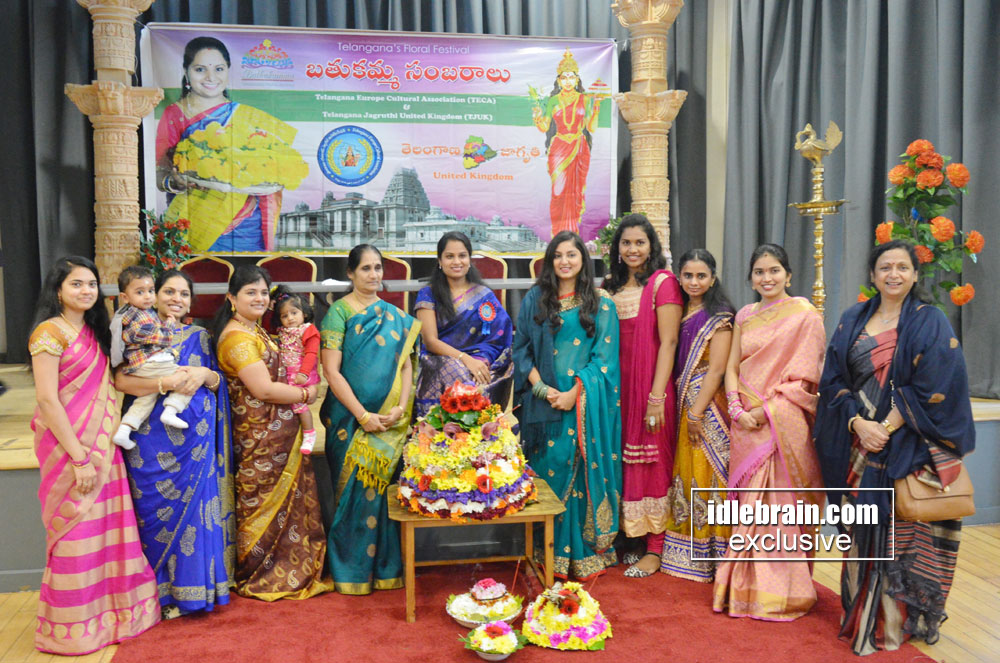 To feature your NRI communty news in idlebrain.com, please mail us at [email protected]
26 October 2015
Hyderabad
Telangana Europe Cultural Association (TECA) in collaboration with Telangana Jagruthi (TJUK) has organised Bathukamma festival on Sunday 18th October 2015 in Birmingham, UK.
The event was organised in Europe's largest hindu temple set in 30 acres of land. The event was attended Councillor General of India Mr J.K Sharma, Dr. Prakash Sahay, Balaji temple trustee, humble and noble person Dr. Narayana Rao, Entrepreneur Dr. Raja Pappu and many other dignities across UK.
Councillor General of India Mr J.K Sharma said he is amazed to know about Bathukamma festival and glad to see people coming together and celebrate traditional festivals. Govt of India and his office is always there to help and support Indian community in Birmingham.
Dr. Prakash Sahay said I am originally from Jharkhand, India and I personally know the challenges for a new born state as they have gone through the same phase when Jharkhand formed. However now in present India more youth committed for their region and country development therefore growth will multi folding fast. As long as state government focus more on Law & Order, friendly policing, literacy, natural energy like Solar power etc it helps the region to grow faster. He is happy to be the part of Bathukamma festival, participated and offered his good wishes to all attendees.
Temple Trustee, well known noble person Dr. Narayan Rao said he is honoured to be part of Bathukamma festival and cultural events like these keep our community together and keeps up the spirit of share the joy. He appreciated TECA & TJUK for keeping our culture and traditions live to pass onto the next generations.
TJUK president Sampath Dhannamaneni wished happy Bathukamma to the attendees and explained how Telangana Government and TJUK supporting state development keeping traditions and culture live.
TECA representative Sheshendra Sheshabhatter said that we are happy to see so much support from the dignities, Telangana community to make this event success. We welcome individuals to register with us to share their thoughts to do more similar events and also to help and support in Telangana development.
TECA core committee members Sheshendra, Vishnu, Kranthi, Shashikanth, Venkat, Shivaji, Upender, Ajay, Vipin, Naresh, Murthy, Teja, Harish, Madhu and women's wing members Rekha, Ramya, Sravanthi, Soundarya, Hema, Usha, Soumya, Mounika, Sonali, Volga and many more members have wished the attendees a happy and prosperous Bathukamma wish​es. Event was coordinated by Mimicry Phani Madhav from India.
TECA has invited new registrations from their website for future events.