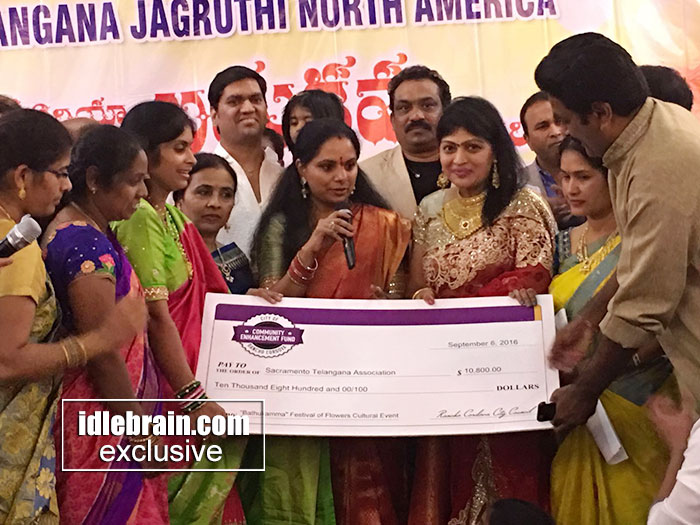 To feature your NRI communty news in idlebrain.com, please mail us at [email protected]
04 October 2016
Hyderabad

Smt Kavitha Kalvakuntla- Bay Area Bathukamma and Dussera Samburalu by Telangana Cultural Association and Telangana Jagruthi a grand success
Bathukamma Festival was celebrated by Silicon Valley in a distinct way and grandeur on 2nd October 2016 afternoon, as part of Silicon Valley Navarathri Celebrations/Bay Area Bathukamma and Dussera Samburalu by Telangana Cultural Association (www.TelanganaCulture.org) and Telangana Jagruthi and supported by Telangana American Telugu Association.

This was 12th Bathukamma Festival being organized by TCA on its banner and 14th by this group and achieves very high significance this year, by way of participation of Smt Kalvakuntla Kavitha, Member of Indian Parliament and president of Telangana Jagruthi in a special and short visit exclusively for this event.

The week long celebrations were held with an auspicious start of Bathukamma and Dussera Samburalu festivals at Royal Palace, Fremont on 2nd October and will culminate on 9th October at San Ramon with Saddula Bathukamma festival.
Bay Area Mega Bathukamma and Desersa Festival 2016 as it was called by TCA, has attracted more than 3000 people to play and enjoy the traditional Bathukamma Festival. The months of September, October and November bring an aura of celebration in the air across Indian Community in USA with many festivals, variety of foods, new clothes and biggest of all an occasion for families and friends to get together, and also to pass the culture and values to next generation.

This event has been received very well and with active participation in the Bathukamma workshop for kids on 1st Oct at Veda Temple premises with 100s of kids participating in it. TCA has conducted this Bathukamma Workshop event explaining the significance of the Bathukamma Festival and training Kids and Women on how to make and arrange a Bathukamma.. This has been conducted by TCA for last 10 years and has now become a major part of TCA's agenda in preserving and promoting Telangana culture for and among the next generation of kids in USA.

On the day of the event Smt Kavitha has started the event with "Making of Bathukamma and by leading all the women in traditional Bathukamma songs and dances" in the beautiful grand Royal Palace.. several people joined hands with her in this beautiful event with chorus singing.
The Royal Palace was filled with women dressed in traditional way by wearing colorful saris and girls in Parikinis. Majority of the men came in traditional dresses while rest had their own choice for comfort on a very wonderful day. The very big hall in the midst of the Fremont town turned out to become pale in front of the colors thrown by colorful women in Sarees and Bathukammas. The palace and adjacent areas were filled with all sorts of colors with Bathukamma and colorful dresses of Indian folks.

TCA's Uday Jonnala moderated the festival along with support from Abhilash Rangineni and Chandrakala Siramdas Cupertino Vice Mayor Ms Savitha, San Francisco Indian Consulate General community relations chair Venkat Kuchibotla, etc attended the event and have leant their full support
Kids from all ages participated very actively and willingly to sing, dance and volunteer which motivated the TCA organization efforts to preserve and pass on our culture to the next generation

Many of the gathered felt nostalgic, and for some the circular venue and colorful women folks reminded the Necklace Road Bathukamma in Hyderabad which is famous for Bhatukamma its richness.

Everyone in the gathering was seen discussing the beautiful memories from the child hood in rural side and men were discussing current political scenario in the state. Some of the elders who were on a USA visit were seen explaining about why the women folk in Telangana do this festival for health, wealth and for the long lives of their husbands and families. And they already started inquiring for next year Bathukamma Festival. TCA team truly promoted Bathukamma Festivals without boundaries, and made it an occasion to bring all people of different regions, language and nationalities onto one massive festival platform.

A group of elderly women led by TCA team were requested to act as judges to select the well-made Bathukammas out of the many Bathukamma at the venue. The top fifteen Bathukammas were selected and given awards by the judges. The Bathukamma created by Neelima Singi Reddy was adjudged as the best Bathukamma of the event.
While addressing the Gathering Smt Kavita applauded overseas telanganites for their part in contributing to the cause for rich cultural heritage of Telangana. She said Telangana got its identity through bathukamma festival. She explained how organizations like TCA can help preserve and pass on the rich telangana culture to next generations overseas. She also assured Telangana Jagruthi support for true telangana organization which were formed over a decade ago and stood by Telangana cause. Crowd cheered her in a big way and warmly received at the SFO airport and at the event center.. smt Kavitha surely left a mark in busy silicon valley life
The main executive team ensured the event is taken care in every aspect, TCA Fonduing team consisting of Vijay Chawa, Biksham Palabindela, Bhasker Maddi the current chairman, Chandrakala Siramdas President and ,Buchanna Gajula, other key people including Prasad Gattu, , Uday Jonnala Vice President of TCA, Madhavi Annam Secy of TCA and Abhilash Rangineni Gen Secy. of TCA, Dhanujay Reddy Boda treasurer, Vinoy Mereddy Jt Secy.
Other prominent telanganites who are always be part of TCA events to support were, Bhaskar Bandikallu, Raju Yasala, Sadanandam Kanikaram, Baleswar Indarapu , Mahipal Annam, Srinivas Gujja,Sagar Kotha, , Ravi Chandra Anantha, Sridhar Gurram. And supported by other volunteers, TATA Yuva team and other well-wishers and close friends, etc....
The event was fully supported by TATA and Its Yuva Team: TATA's President Smt Jhansi Reddy, BoD Vijay Chawa, RVP Appi Reddy, Cultural Srinivas Manapragada, Minorities Committee Chairman Iqbal gattu, Youth Coordinator Govardhan Reddy Tokala were part of this big celebration.
The event which was in partnership with Telangana Jagruthi, was represented Sreedhar Bandaru, TJ president, North America, Sumanth Garakarajula Gen Secy, Raj Gowlikar, Murali BommanaVeni, Naresh Chalimeda, Satish Pasupuleti, Satyapal Reddy, Ramana Kancheti, Karunakar, Sohail. The sumptuous dinner prepared by Telangana Jagruthi team stood as highlight for the event..
TCA thanked all participants and sponsors for making it a momentous and memorable event in Bay Area and with the participation of Smt. Kavitha Kalvakuntla