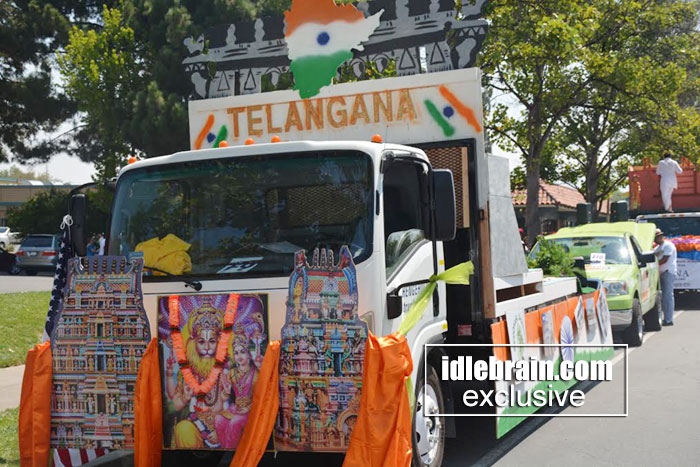 To feature your NRI communty news in idlebrain.com, please mail us at [email protected]
19 August 2015
Hyderabad
For the third consecutive year Bay Area Telanganites represented state of Telangana and participated in Grand Parade on 16th July 2015 at Fremont CA, the biggest Indian event in Silicon valley organized by Federation of Indo Americans (FIA).
Bay Area Telanganites presented tableau showcasing "Mana Ooru Mana Cheruvu", depicting Mission Kakatiya (a flagship program in Telangana) by having Kakatiya Kala thoranam as background, a massive model of dindi dam structure, also showing water flow from the dam into lakes/tanks thereby irrigating large area of agricultural fields and forests. Front part of Tableau was highlighted with famous Yadadri temple and its deity Lord Narasimha swamy. Float also included major development activities happening in Telangana with focus on Haritha Haram, T-Hub, Make in India, Hyd Wifi, Water Grid.
Thousands of people gathered on the parade route, on the streets of Fremont that were blocked for regular traffic all day for the festivities, to view the parade. During the parade, the parade participants as well as the spectators shouted the patriotic slogans such as "Bharath matha ki, Jai", "Matharam matharam, vandematharam", "Jai Jai Talli, Telangana Talli", "Jai Telangana, Jai Jai Telangana", "Jai Hind, Jai Jai Hind", etc.
Float was led by 500 Telangana cultural ambassadors from San Francisco Bay Area. Also, while the float was moving in the parade, Hundred's of Telanganites danced in circle in front of float with synchronizing steps and clapping in unison while songs were played out from musical system. A lot of Americans and other state representatives have joined the chorus to dance in unison to Janapadha music. Swathi Yerram and Revanth Raj explained theme of the float along with significance of Mission Kakatiya, Yadadri Temple and major developmental initiatives undertaken by Telangana Government.
Along with Telangana Float , other significant participants were from Rajasthan (RANA),Tamil Manram, West Bengal,Assam, Orissa,HSS,BATA,Kannada Koota,Maharashtra Mandal etc.
Our core team includes Srinivas Manikonda, Srinivas Ponnala, Hari Gakkani, Naveen Jalagam, Rajani Kanth Kosanam, Uday Kiran Jonnala, Santosh Addagulla, Srikanth Surakanti, Revanth Raj, Shireesh Rao, Venu Kommera, Goutham Pailla, Yugender Reddy, Jagan Baerelly, Srinivas Perumandla, Abhishek Dodda,,Mahendra Gudur, Surender, Pradeep, Sridhar Borra, Rajesh Vattipelli, Swathi Yerram, Deepthi Kommareddy, Srinath Muskula and many more.
Special thanks to our sponsors Satya Bathula (Nitya Software), Murthy Vuppala (Usmile Dental) and Sheetal Gampawar.
Bay Area Telanganites would like to thank each and every individual who helped in building the tableau, joining us in grande parade, directly or indirectly giving us moral boost and being part of this event and supporting us for the spirit of Telangana.
- Bay Area Telanganites