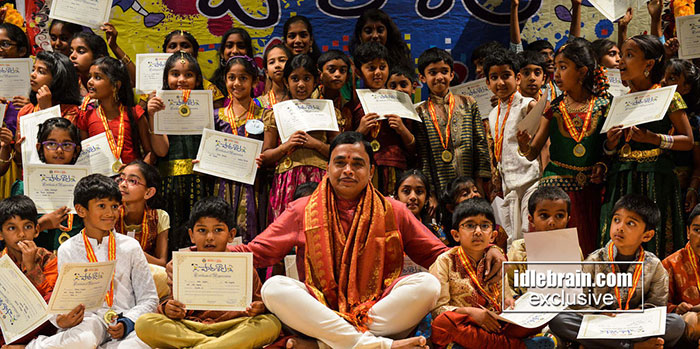 To feature your NRI communty news in idlebrain.com, please mail us at [email protected]
18 June 2014
Hyderabad
Bay Area Telugu Association (BATA) and Telugu Times have conducted the 1st Annual Day celebrations of Paatasala in the Bay Area on June 15th, 2014. The program was a huge success with over 450 guests (students and their parents, grand patents, friends, and relatives) joining the program. The program was attended and addressed by distinguished guests Sri. Jonnavithula Ramalingeswara Rao (Poet & popular film lyricist), Milpitas City Mayor Jose Esteves, Fremont City Councilmember Anu Natajan, and Fremont Unified School District Board Member & Trustee Lily Mei. The five-hour long program was a great treat for all the guests as it contained very attractive songs, poems, small skits, fancy dress depicting well known Telugu personalities, speeches by organizers and distinguished guests. The auditorium and the venue was very well decorated with flowers, colored banners, and other arts that created the festive atmosphere. Most importantly all the guests and organizers wore Telugu/Indian traditional dresses.
Sumptuous lunch was served to all the attendee's. It included traditional items which are near and dear to all telugus. Pulihora, Kobbari Annam, Tamota Pappu, Vankaya Pakodi, Avakaya, Gongura, Gadda Perugu, Spinach Pakodi & Laddu. Swagat Indian Cuisine, Peacock Restaurants & Dosa Biryani sponsored the lunch for over 450 + attendees.
Program started with a welcome speech by BATA advisor Vijaya Aasuri thanking the guests, students, and parents for attending the Paatasala annual day event today. During her speech, she highlighted that a small thought of providing Telugu language education has become an idea and now a reliable and proven program for anyone who would like to learn Telugu. She also thanked Telugu Times for taking up this initiative and providing all the support to BATA for executing it in the Bay Area. Vijaya then introduced Dr. Ramesh Konda, Director of Paatasala in the Bay Area. While speaking at this occasion, Ramesh mentioned that combined effort of BATA and Telugu Times in creating Paatasala has turned out to be a grand success, and today there are six centers of Paatasala running successfully in the Bay Area. Ramesh described that the entire curriculum is based on Potti SriRamulu Telugu University. The curriculum has been divided into four-years course such as Telugu Paluku, Adugu, Parugu, and Velugu. In the beginning year, students will learn Telugu alphabets, and they will learn incrementally how to write, read and speak in Telugu throughout the program. On popular demand Paatasala also added "Taarangam Taarangam" program for kids ages between 4-6 yrs.
Paatasala Curriculum Director, Dr. Geeta Madhavi Kala, explained that the curriculum was specifically created for the students who are in US, and aligns with their school year, and easy to learn. Geeta also mentioned that teachers/students feedback was regularly reviewed and adjustments were made wherever necessary to improve the program quality and is very pleased with the progress from students..
The main cultural program on the stage started with the prayer song on Lord Ganapati "Suklam Bharadaram" sung by teachers from all locations. Sunnyvale Paatasala performed "Saraswati Namastubyam" & "Guru Brahma" slokams. Next to follow was the opening dance to the special song written by Dr. Geeta Madhavi on the occasion of Paatasala annual day. San Ramon and Dublin paatasala kids performed this program and towards the end kids from all locations joined them. It was a treat to watch over 100 students, teachers & co-ordinators on the stage during this dance.
San Jose Paatasala kids performed "Bhuvana Vijayam", in which kids dressed up as Krishna Deva Rayalu, Appaji, Asta Diggajalu was a treat to watch.
Dublin kids, performed special songs on the occasion of "Father's day". Also played "Raa Randoi" a special dance ballet, on the sweetness of Telugu Language. It was a treat to watch the kids perform it so professionally. San Ramon kids performed "Jejellamma Jejelu" song.
Foster City kids performed "Jaya Jaya Jaya Priya Bharata" (song), "Thenela Thetala Matalatho" (Song) and "Telugu Basha Teeyadhanam" Dance. Fremont Paatasala performed Saraswati prayer song, Chemma chekka song and "Kamalapallu" skit.
Sunnyvale Paatasala performed comedy skit "UppuKappu Rambu", it stressed the importance of joining a planned curriculum like Paatasala for the kids to learn their mother tongue. Next to follow was fancy dress "Telugu Sirulu" depicting well known Telugu personalities like Telugu Talli, Alluri SeetaRama Raju, Rani Rudrama, Nannayya, Tikkanna, Yerranna, Kavayitri Molla and Tenali Raamalingadu.
BATA committee members & volunteers assisted the attendees for any questions or clarifucations they had about the curriculum or the program. Special demo on E-Learning was also arranged. Attendees could login to E-Learning at the event site, and their kids were really excited and showed lot of interest and enthusiasm in joining Paatasala on the spot. On this occasion a special registration drive was offered and lot of parents registered their kids on site to avail the special discounts.
Milpitas City Mayor Jose Esteves, Fremont City Councilmember Anu Natarajan, and Fremont Unified School District Board Member Lily Mei were the distinguished guests at the event. Speaking at the event, Mayor Esteves stated that he is very happy to see the opportunity for the kids to learn their native language through Paatasala. He mentioned that the diversity is the key for the growth in the Silicon Valley, and he congratulated BATA and Paatasala in promoting the diversity through Telugu language and culture. Mayor Esteves presented commendation memento on behalf of City of Milpitas to BATA on this occasion. Lily Mei expressed her happiness to see a tremendous growth of the Paatasala within one year. Lily mentioned that she was there on the occasion of inaugural function of Paatasala and today she is seeing the annual day. She congratulated entire BATA team and Telugu Times for the great work in promoting the native language. Anu Natarajan had also expressed her happiness over the Paatasala initiative in promoting the Telugu Language. She mentioned that it is important to provide our cultural background so that the kids will appreciate their origin and help promoting diversity. Anu has congratulated BATA team for the tremendous community services in the form of Paatasala in promoting the Telugu language.
The Chief Guest for the program Sri Jonnavithula Ramalingeshwar Rao garu delivered the keynote speech at this event. He said, he was really happy to see the interest shown by all the teachers and parents to teach Telugu to their kids and he was not surprised to see how well the Telugu language is flourishing on "America Nela (Land)". He also stressed the importance of introducing the beauty of Telugu Language to the kids at early age. Jonnavithula also mentioned that NRI Parents and kids are doing a lot of service to Telugu language in preserving it and in propagating its greatness. He mentioned that people at back home in India should take this as an example, and do similar things to preserve and promote Telugu culture. Jonnavithula mentioned that one of the ways you can impart Telugu to kids by having kids watch classic old Telugu movies in which Telugu language was used in different senses. Also, he mentioned that several of the Paatasala kids who had performed on the stage have very good voice and command on Telugu, and they can easily participate in competitions like "Paadutha Theeyaga", etc. Jonnavithula mentioned that the motivation provided by the parents will help a lot to the kids in the process of learning Telugu. He commended BATA and Telugu Times for starting Paatasala initiative.
On this occasion, Telugu Times and BATA presented "Akshara Rayabhari" title (birudu) to Sri Jonnavithula Ramalingeshwar Rao garu. The audience gave a standing ovation to Sri Jonnavithula garu on this occasion. Commenting on the title, Sri Jonnavithula said it puts more responsibility on him to promote Telugu language and its culture.
The surprising and the special moment of the program was the graduation walk by the Paatasala students. Teachers and students from each center took graduation walk onto the stage to receive their certificates of completion from the hands of Jonnavithula. Parents were mesmerized to see the kids take graduation walk with the graduation music playing in the background. Teachers and Coordinators were acknowledged for all their hard work and making the program a resounding success. Jonnavithula presented appreciation memento to them.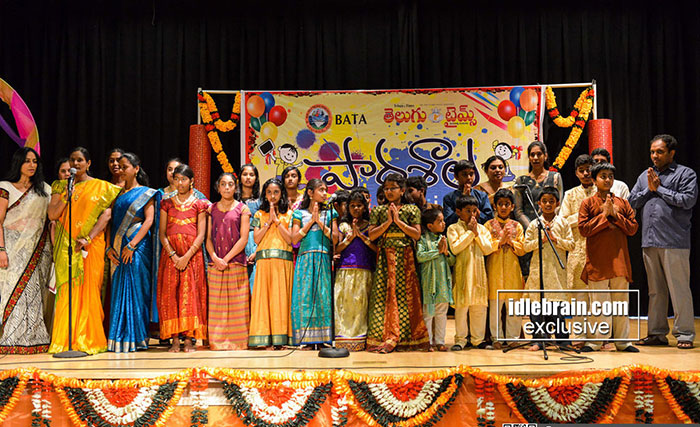 Below is the list of Teachers and Coordinators of Paatasala in the Bay Area.
Dublin:
Sri Durga Garikipati & Kiran Vinnakota – Coordinators
Sri Durga Garikipati - Primary Teacher
Swati Nagboth & Saraswathi Varkur - Secondary Teachers
Foster City:
China Adusumalli – Coordinator
Dr. Prakash Bolleddula - Primary Teacher
Chandra Rentachintala - Secondary Teacher
Fremont:
Ramadasu Puli – Coordinator
Padma Viswanadha - Primary Teacher
Sridevi pasupuleti - Secondary Teacher
San Jose:
Prasad Mangina & Hari Chikoti – Coordinators
Gayatri Palepu - Primary Teacher
Naren Palepu & Srikanth Dasaradhi - Secondary Teachers
San Ramon:
Sri Durga Garikipati & Kiran Vinnakota – Coordinators
Sridevi Yerneni - Primary Teacher
Sri Durga Garikipati - Secondary Teacher
Sunnyvale:
Prasad Mangina – Coordinator
Padma Sonti - Primary Teacher
Manasa Colluru - Secondary Teacher

Jayaram Komati garu and Subbarow Chennuri garu who spearhead the Paatasala program were thrilled by the response and congratulated BATA team, the paatasala team for all the hard work in making the program a grand success.
Throughout the school year the kids were given "Paatasala Dollars" based on their performance in the class & at home. The kids were able to redeem them for attractive gifts at the event.
During the program Kalyan Kattamuri (BATA President) conveyed his cheerfulness over the Paatasala's grand success within an year after inception. Kalyan mentioned that BATA does many events throughout the year that include Telugu festival celebrations, musical concerts, sports events, and fund-raising events for different non-profit organizations. He invited all the sponsors and VIP guests on to the stage and acknowledged them for all the continued support they are giving BATA and towards Paatasala. Kalyan introduced BATA committee consisting of Sirisha Battula (Vice President), Yaswanth Kudaravalli (Secretary), Sumanth Pusuluri (Treasurer) Harinath Chikoti(Joint Secretary).
"Steering Committee" consisting of former BATA presidents Prasad Mangina , Ravi Thiruveedula, Ramesh Konda & Kamesh Malla.
"Cultural Committee" includes Sridevi Pasupuleti, Kiran Vinnakota,Taraka Deepti & Rathna Pandian.
"Logistics Team" includes Srikar Boddu, Naresh Gajula & Hari Moyyi.
BATA "Advisory Board" Jayaram Komati, Vijaya Aasuri & Veeru Vuppala congratulated the team in making the program a grand success.
BATA committee thanked all the volunteers, Narasimha Rao garu (Make up & Dresses), Arun Reddy, Prasanth, Yugender,Sravanthi, Kalyani, Krishna Priya, Swati, Charita, Siddu, Ram Dasu Puli, Suresh, Srinivas, etc..
The sponsors of the event include G&C Global Consortium, Ravi Tax Services, You Smile Dental, MyTaxFiler, Peacock Indian Restaurants, Scopus Consulting Group, Swagat Indian Restaurants, International Technological University, Budwal & Associates, PositivePositioning.com, AstroVastu Solution, Shree Jewelers, Desi 1170, Virijallu Ragio program, Safari Kids (Dublin, San Ramon, Sunnyvale locations), Aptive Corporation, Roots for Kids, and Candor PS, LLC.