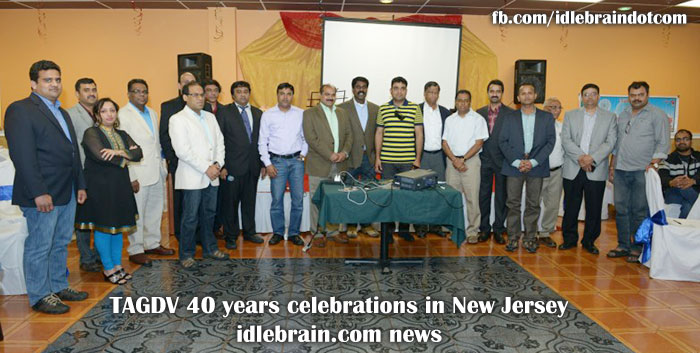 To feature your NRI communty news in idlebrain.com, please mail us at [email protected]
8 May 2013
Hyderabad
Telugu Association of Greater Delaware Valley (TAGDV) had kicked-off its 40th Anniversary celebrations promotion in New Jersey by organizing successful kick-off dinner on Saturday May4th at Coriander Restaurant in Edison, New Jersey. The kick-off dinner was attended by over 150 people to fill the capacity of the restaurant banquet hall. The entertainment program was provided by Krishna & Lalitha Rani. Renown Telugu writer & lyricist Mr. Krishna Vaddepalli attended as chief guest for the event.
Ravi Potluri, TAGDV President welcomed and thanked the audience and later explained to the gathering that this Event was organized as a curtain raiser and a kick-off for the upcoming TAGDV 40th anniversary celebrations which will be held on June 28th and 29th at Valley forge Convention Center, King of Prussia, PA.
The main attraction of the event was unconditional support from all four Telugu national organizations (ATA, NATA,NATS & TANA) & New Jersey local Telugu Association TFAS for the TAGDV 40th Anniversary celebrations. Telugu Community Leaders attended the event: Mahender Musuku - Executive Director - NATA, TAGDV Past President Damu Gedala, Ramesh Chandra BOD – NATA & TFAS, Parmesh Bheemreddy – 2014 ATA Convention Convenor, Mohana Krishna Mannava NATS – Joint Secretary, Vasudeva Reddy Chinna – TANA Joint Secretary, Mohan Patlolla - NATA Joint Treasurer, Manju Bhargava – TFAS President, Srinivas Ganagoni NATA Board of Director, Sreedhar Chillara – TV5 CEO (USA), Mr. Vallabhaneni Yugandhar Rao, Hari Eppanapally Lead India 2020, Ramana Reddy - NATA RVP, Balwanth Reddy ATA BOD, Srinivas Gandi TFAS-Secretary , Anand Paluri – TFAS Past President, Raghuveer Reddy - ATA, Ramesh Maganti – ATA, Subba Arumilli, Srinivas - Loksatta, Dakshin Sateesh, Deccan Spices, Indira Dixit, Divya Yeluri, Sreedhari Madadi, Ranjith Changanti, NRC Naidu, Ravi Boga, Vikranth Gunda, Satya Katta etc attended and supported the event.
TAGDV Past President Mr. Damu Gedala appealed all to attend the event on June 29th 2013 to witness and enjoy a spectacular cultural extravaganza showcasing 40 years of TAGDV cultural and community services. TV5 CEO Mr. Sreedhar Chillara announced that TV5 will be grand sponsor for the TAGDV 40 years celebrations. TAGDV EC conveyed special thanks to TV5 Management. Several donors who could not make it to the event but announced the donations are Ravindar Thota, Lakshmi Devineni, Daggubati Srinivasa Prasad, Arikatla Srinivasa Reddy, Ramana Ganne, AV Chowdary, Prasad kanagala etc.
TAGDV Executive Committee thanked all donors, supporters, members, and volunteers for making this event a grand success. All the attendees appreciated Coriander Restaurant's delicious food.
TAGDV Executive Committee members, Suresh Reddy, Sambaiah Kotapati Vijaybhaskar Polamreddy, Sreedhar Gudala, Kiran Kothapalli were introduced and acknowledged. More committee members were added to the organizing team who are being active helping the Telugu community. The enthusiasm shown by the audience is encouraging to organize the TAGDV 40 years celebrations.