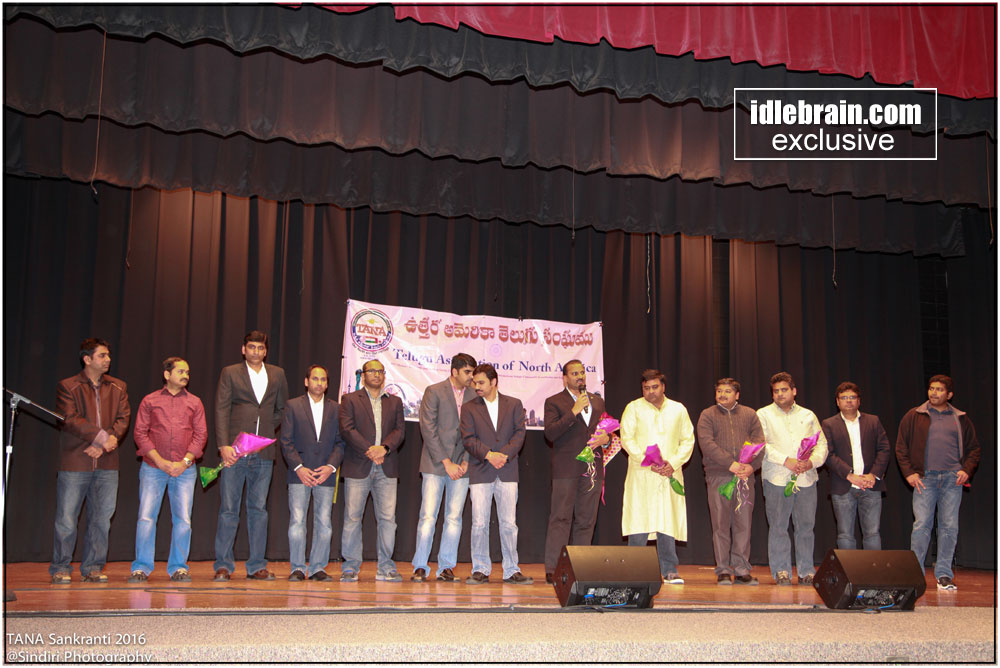 To feature your NRI communty news in idlebrain.com, please mail us at [email protected]
02 February 2016
Hyderabad
TANA (Telugu Association of North America) celebrated the Sankranti function on Saturday January 30th at Good Hope Middle School Auditorium, Mechanicsburg, PA. Super Singers Usha, Harini and Prudhwi performed as part of the celebrations which was attended by more than 400 people, historically very big turnout for any Telugu community event in the Harrisburg area.
The program was started by MC Srilakshmi Kulakarni followed by local talent's cultural performances. Fashion show by kids, men and women added beauty to the evening with a very good variety in the themes chosen and participant's ages. Tollywood Super hit songs by singers received thunderous applaud from the crowd. Sankranti Celebrations turned into a Dance Party by the singers who gave energetic performance on-stage and in the middle of audience. The young and old all were dancing to the tunes of the singers. Fancy dress and Rangavalli competitions conducted and prizes given to the winners.
TANA Past President Mohan Nannapaneni and TANA Joint Secretary Ravi Potluri attended as guests. TANA video screened as part of the event and Chief Guest Mohan Nannapaneni gave the captivating speech explaining the activities of TANA and explaining the necessity of taking the membership in TANA which was well received by the audience. Inspired by the TANA video and Mohan Nannapaneni's speech, Mr. Raghu Tadavarthy, successful entrepreneur came forward and announced 10 lakhs(15,000$) donation towards building an orphanage home in Kakinada through TANA foundation. Mohan Nannapaneni & Ravi Potluri richly felicitated Raghu Tadavarthy.
This event was coordinated by Mr. Satish Chundru (TANA Harrisburg City-coordinator) with the support of TANA Harrisburg team Narendra Pamulapati, Venkat Singu, Kishore Konka,Sashi Jasty, Sandeep Mamunuri, Venkat Chimili, Venkat Narne, Srini Kakarla, Srini Kota, Sambha Nimmagadda etc.
TANA team thanked Harrisburg Telugu Association Committee members for extending their support for the Sankranthi event. Delicious snacks and Dinner served at Cafeteria. Satish Chundru conveyed vote of thanks to all the attendees, sponsors, and volunteers. Organizers thanked TV9 & NTV Management & hreya Sindheri and volunteers for their support and hard work. Audience appreciated TANA's efforts for bringing the program to execution and for the contributions to the community.